If you're a beauty blogger, influencer, or content creator you will want to reap the rewards of your efforts by monetizing your content and followers. Possibly, you are brand new to the world of beauty blogging and want to get your toes wet in this lucrative market. On the other hand, you may be an experienced beauty products marketer looking for the latest and best affiliate programs for beauty bloggers.
Whatever your situation is, in this article, we will take a look at what it involves to promote affiliate offers and how you can make money with beauty affiliate offers. Then, we will dive into some concise reviews of the 11 best affiliate programs for beauty bloggers, which will guide you on your path to creating a consistent income.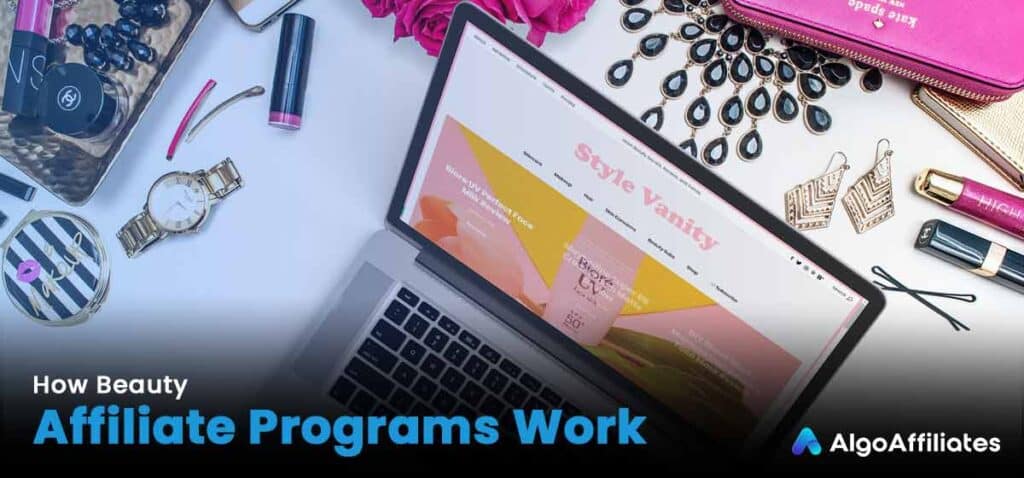 How Beauty Affiliate Programs Work
The concept of affiliate marketing is rather simple. You promote or recommend a product or service of a merchant (advertiser), and you get compensation for your efforts. Essentially, you are connecting potential consumers with a seller.
To expand on this, let's look a little deeper at the steps involved.
Find beauty and makeup offers to promote that will be suitable for your audience
Put up banners, ads, and links with your unique affiliate tracking links
When a potential customer clicks on your link, a cookie gets stored by their browser which associates them to your affiliate account i.e., they are tracked as your referrals
If the customer makes a purchase or completes some other specified action e.g., registering for a trial or sample, you are awarded a commission by the affiliate program
The affiliate program pays you all commissions earned daily weekly or monthly
While these are the major steps involved, each step can be broken down further. The most detailed and intricate component is marketing. There are many strategies, techniques, marketing channels, and more that can be used.
Affiliate Marketing Beauty Products
One of the most crucial components to becoming a successful affiliate marketer, whether it's for beauty, wellness, makeup, or any other niche is doing research. Understanding your target audience and creating a clear marketing strategy and plan is of vital importance.
A beautiful thing about the beauty market is that it is evergreen, so the demand for beauty products is constant, even during an economic downturn, wars, and pandemics.
According to a study by Forbes in 2019, they estimated that by 2024, the global beauty market will be worth in excess of $800 billion. With such a massive opportunity in front of you, all you need to do now is capture your slice of this.
If you want to make excellent money with affiliate programs for beauty bloggers, you will need to invest time developing your marketing skills, tactics, and most importantly, your own personal formula ("secret sauce") that will work for you and deliver consistent results.
Some of the ways you can promote beauty affiliate offers:
Product Reviews – A huge number of consumers today look for reviews online to help them decide which brand or product is best for them. As a beauty blogger or influencer, you can create product reviews of beauty and makeup products. Whether you have a written review or a video, be genuine and professional. Your goal is to become a trusted source of information.
Unboxing Videos – Another very popular way to promote products is unboxing videos. You can put these on your blogs and social media channels. Unboxing videos can be highly effective but do not confuse these with reviews. An unboxing video is simply an introduction to the product and the first impressions of the product. A review on the other hand is more detailed and should be based on your experience of using the product.
Tutorials – A very effective technique for beauty bloggers are tutorials. These can be in the form of written blog posts or videos. For example, you may want to teach your audience effective techniques for applying lipstick. Then, within your tutorial, you can mention the names of cosmetics and the most popular and trending beauty products. Don't forget to include your affiliate links for the products, so your visitors can buy them.
There are many other ways to earn as a beauty affiliate blogger, but always keep in mind that as a beauty blogger, you don't want to turn your blog into a banner farm of endless beauty affiliate offers.
You should aim to provide honest, fair, and reliable information. Your followers will appreciate this, which will translate into commissions for you, without having to "hard sell" to your audience.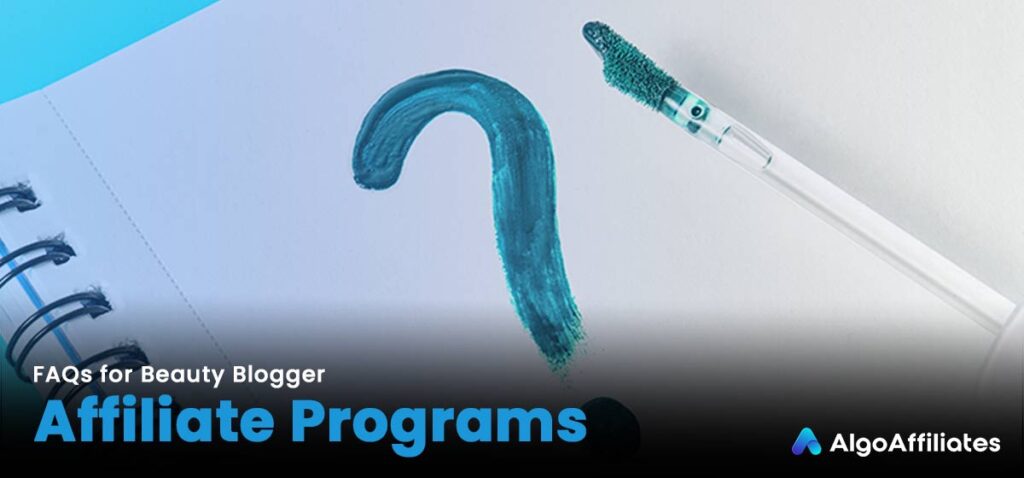 FAQs for Beauty Blogger Affiliate Programs
1.     Can I really make money blogging about makeup and cosmetics?
Yes! There is plenty of money to be made from this gigantic niche. As a blogger, your goal is to build a loyal following who enjoys your content and appreciates your recommendations. This process takes time and hard work, but once you start getting consistent traffic, the hard work will pay off.
There are affiliates who make a few hundred dollars in commission per month and there are some who make 5 and even 6-figure incomes. It all depends on how much effort you put in and of course making sure you work with the ideal affiliate programs.
2.     What are the best beauty products to sell online?
There is no simple answer to this question, and it depends on many factors. Beauty blogging is a very broad topic. The best beauty products to sell online are those that complement your content. If your blog posts are aimed at professional makeup artists, then you will want to promote professional makeup brands.
On the other hand, if your posts are aimed at an audience of teens and young adults, you will want to focus on brands and products that will appeal to them. For example, if your audience is of a younger demographic, you won't get any sales if you are promoting anti-ageing products intended for a middle-aged demographic.
The bottom line with affiliate marketing is you have to keep testing, and trying new approaches, different offers, and promotions. Based on the results of these campaigns, you can then identify the best beauty products to sell online.
3.     What are the best beauty affiliate programs
There is no single affiliate program or programs for that matter that we can say categorically are the best. There are many general factors to consider such as:
Product range
Commission rates
Conversion ratios
Payment terms
Marketing content and tools
Once a beauty affiliate program meets the basic expectations mentioned above, you then need to consider your audience, the focus of your blog, and demographics. You also need to consider your experience, and if the affiliate program caters to your specific needs. What works for one affiliate may not necessarily work for you.
4.     Should I supplement my marketing efforts with paid media campaigns?
A key component of affiliate success is the ability to scale up your marketing and get more traffic. One of the ways to achieve this is to "buy traffic" which could be running a campaign with an ad network, buying media, or running PPC campaigns.
If you are an experienced affiliate marketer, that understands your audience, then scaling with paid campaigns can be an excellent way to take things to the next level.
However, if you are still figuring things out and don't have knowledge and experience with paid media, then you will want to first make sure you know your viewers, what they want, what will work for them, and that things are running smoothly with your chosen beauty affiliate programs.
Once you have a good handle on things, pick a paid media option, such as Facebook ads, and master the art of building and managing campaigns. Then, open your budget and scale. When you know what works and delivers commissions, pick the next network.
5.     Should I target men and women?
It is a given then women are your primary target audience, however, more and more men are also looking for quality skincare and cosmetics. The male market share is still tiny in comparison to that of women, but according to research by Grand View Research, the male cosmetics market is set to grow by 9.1% CAGR.
This projected growth shows that it's a budding market and those affiliates that start focusing on the male market now, should see great results in the medium to long term.
The golden rule of affiliate marketing is to test, test, and test! This means trying new strategies and measuring the results. When trying to break into the male cosmetics space, you will need to try many different approaches and not give up if you don't immediately succeed.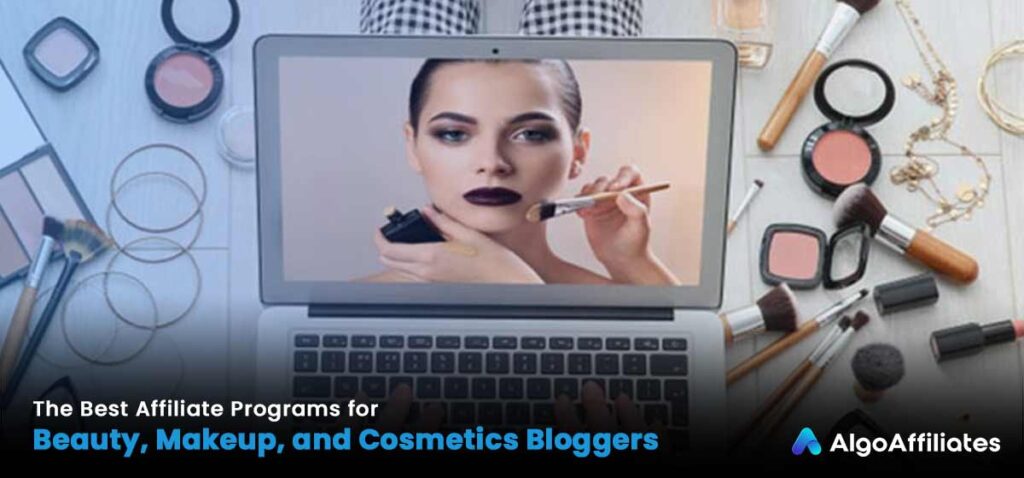 The Best Affiliate Programs for Beauty, Makeup, and Cosmetics Bloggers
Our first 7 affiliate programs mentioned below are more general and most are big established brands. When you first start monetizing your beauty blog with affiliate offers, you will more than likely want to promote these big recognizable brands.
Once you have momentum and things are turning over, you may want to start adding smaller or more niche brands and products. Essentially you are starting with the low-hanging fruit and then branching out. Here are some of the best affiliate programs for beauty and makeup bloggers.
1.     Clinique Beauty Affiliate Program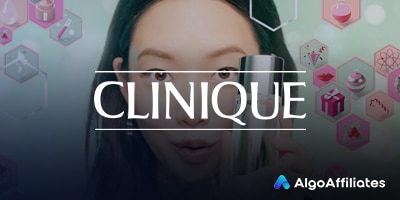 Clinique is a brand name that needs very little introduction. Clinique Laboratories, LLC is a US company that specializes in skincare, cosmetics, fragrances, and toiletries. Clinique is a subsidiary of the world-famous Estée Lauder Companies.
Founded in 1968, Clinique became famous for launching the first dermatologist-developed products. Their skincare products are well known for their top quality and safety, and for not containing any harmful ingredients.
The Clinique affiliate program is ideal for beauty bloggers because you can have absolute confidence that you are recommending excellent products from a world-famous global brand. Another huge benefit of promoting Clinique is they have products for men and women, to give you an even bigger target audience.
Clinique Affiliate Program Key Facts:
Commission: Up to 8% of sales
Cookie life: 7 days
Platform Provider: FlexOffers, Viglink
2.     Sephora Beauty Affiliate Program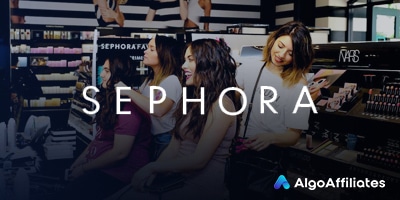 Odds are pretty good that you've seen or shopped at one of the 2,700 stores that Sephora has in 35+ countries. However, despite its brick-and-mortar stores, Sephora has become a giant in the online space for its beauty and cosmetics offerings.
Sephora is owned by LVMH Moët Hennessy Louis Vuitton. Yes, the same company that is renowned for its luxury goods.  Their online store boasts more than 340 brands with over 45,000 products to choose from.
Sephora is extremely active through social media, and they have a range of AI-powered apps to assist customers to find the perfect products and colors and provide beauty tips. The Sephora affiliate program for beauty bloggers is an absolute must, thanks to the abundance of products to promote.
Other perks to promoting Sephora are that they offer free shipping on orders over $50, plus with every order, they send free samples. You will also gain access to sneak peeks of new products, regular promotions, newsletters, banners, and more.
Sephora Affiliate Program Key Facts:
Commission: 5%-10% of sales
Cookie life: 1 day
Platform Provider: Rakuten
3.     MAC Beauty Affiliate Program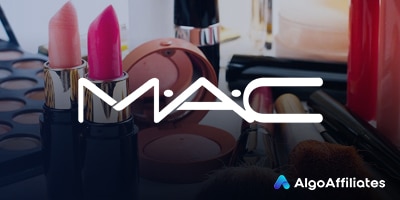 If you are into beauty products and cosmetics, then you will surely know the MAC brand. MAC's mission is "to enable limitless self-expression by turning makeup into art for ALL." Beyond their store-based presence in 120+ countries, they are just as strong online.
Promoting MAC as a beauty blogger is a no-brainer. Their online store is super intuitive, they offer plenty of promotions and coupons and certainly no shortage of products. All you need to do is put up ads and offers with your affiliate links on your blog and the brand virtually sells itself.
To kick-start your affiliate earnings, be sure to add their top sellers to your content because these are some of the best beauty products to sell online.
MAC Affiliate Program Key Facts:
Commission: 5%-10% of sales
Cookie life: 1 day
Platform Provider: Rakuten, Skimlinks, Sovrn
4.   Algo-Affiliates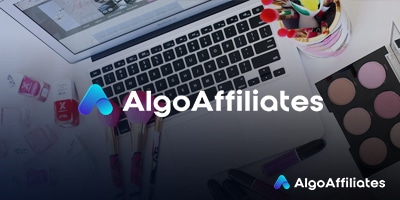 When it comes to affiliate marketing of beauty products, it's important to think beyond just makeup and cosmetics. Adding health, dieting, and nutra products are other lucrative niches. Algo-Affiliates is a leading affiliate network with a plethora of these offers that are ideal for beauty bloggers.
At Algo-Affiliates, our team is made up of experienced performance marketers that are dedicated to helping all our affiliates achieve. We provide you with all the tools, content, tracking, support, and more.
To further boost your affiliate earnings, our AI Smartlinks ensure your viewers see the most relevant offers, which in turn results in more conversions. Join Algo-Affiliates today and your dedicated affiliate manager will help you monetize your beauty blog more than ever before.
Algo-Affiliates Key Facts:
Commission: Up to 75% CPS & up to $82.50 CPA
Cookie life: 1 day
Platform Provider: Rakuten, Skimlinks, Sovrn
5.     Elizabeth Arden Beauty Affiliate Program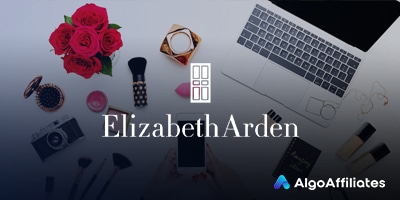 Elizabeth Arden is a truly legendary makeup and cosmetics brand with a rich history of more than a century. The first Elizabeth Arden store, called Red Door Salon, opened its doors in 1910 on Fifth Avenue in New York City.
The Elizabeth Arden brand is synonymous with innovation in the makeup industry and even pioneered the concept of a "makeover". If you are trying to figure out how to sell beauty products online, Elizabeth Arden products make it super easy to turn your beauty blog readers into buyers.
If you want a makeup affiliate program for beginners, this is a great place to start. Elizabeth Arden has regular promotions, special offers, and of course seasonal events that will have your followers coming back for more and more.
Elizabeth Arden Affiliate Program Key Facts:
Commission: Up to 75% CPS & up to $82.50 CPA
Cookie life: 1 day
Platform Provider: Rakuten, Skimlinks, Sovrn
6.     SkinCeuticals Beauty Affiliate Program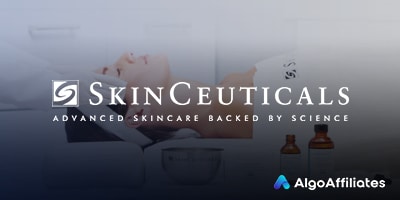 SkinCeuticals was founded by Scientist Sheldon Pinnell, M.D back in 1994 and the company has been innovating ever since. While you might not know the brand as well as some of the others mentioned above, SkinCeuticals products are of extremely high quality.
The SkinCeuticals affiliate program is ideal for beauty bloggers to promote as they have an excellent online store with plenty of useful information. They run regular promotions and specials, plus they provide free shipping and free samples with every order.
When it comes to promoting SkinCeuticals as an affiliate, you should bear in mind that the products are very high-end, so targeting the right audience is very important. Budget-conscious buyers are probably not the ideal customers.
SkinCeuticals Affiliate Program Key Facts:
Commission: Up to 10% of sales (depending on which network)
Cookie life: 30 days
Platform Provider: Rakuten, Awin, Sovrn
7.     Avon Cosmetics Beauty Affiliate Program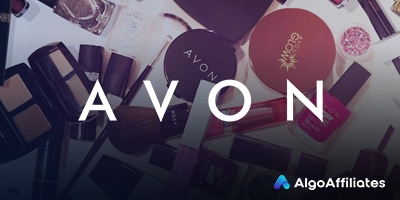 The Avon brand is another titan of the cosmetics and beauty industry that dates back more than 130 years. What really put them on the map and made Avon a household name are their world-famous, door-to-door salespeople. Interestingly, despite our digital world of today, they still have door-to-door sales in some regions.
Promoting Avon is an ideal opportunity for all beauty bloggers. If you want easy beauty products to sell online, then you should strongly consider their affiliate program. The combination of brand, quality, and value for money will appeal to a very broad audience.
Whether you already have a beauty blog or just getting started and have been wondering how to sell beauty products online, the Avon Cosmetics affiliate program is the solution.  Another great perk of promoting Avon is they also offer haircare products, fashion, and amazing gift packages ideal for the holiday season.
Avon Cosmetics Affiliate Program Key Facts:
Commission: Up to 10% on the first purchase. Up to 8% on repeat purchases
Cookie life: 30 days
Platform Provider: Awin
Makeup Affiliate Programs for Beginners
You're probably wondering what makes a makeup affiliate program ideal for beginners. Programs for beginners cater specifically to the less experienced affiliate by providing extra personal advice and assistance. They obviously also cater to the experienced beauty blogger affiliate too.
Often, the best beginner programs are those that are owned and managed in-house by the brand, and not managed by some massive 3rd party network. With that in mind, here are some options to consider if you are a beginner in the world of cosmetics and makeup affiliate programs.
8.     Beauty Bakerie Affiliate Program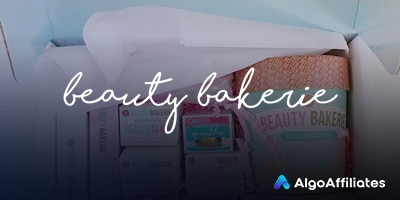 Beauty Bakerie might be a brand name you are not as familiar with as some of the other large brands already mentioned. However, this fledgling makeup company that was founded in 2011 by Cashmere Nicole is now sold in over 1,000+ stores globally.
The brand is young, hip, and energetic and will certainly appeal to a younger audience. If your beauty blog is aimed at a younger audience, then adding Beauty Bakerie is a must. Some of the other key selling points are their commitment to healthy, cruelty-free, vegan, and gluten-free cosmetics, as well as inclusiveness and philanthropy.
As a beginner beauty affiliate, once you have signed up for Beauty Bakerie, make sure to get in contact with your assigned affiliate manager and tap into their knowledge and experience of what will deliver the best results and commissions.
Beauty Bakerie Affiliate Program Key Facts:
Commission: Up to 8% of sales
Cookie life: 30 days
Platform Provider: AWin
9.     Glambot Affiliate Program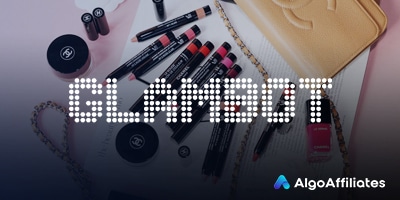 When you are just beginning your journey into the world of beauty blogging and, or beauty affiliate programs, there is a lot to learn and do. This is why you may want to consider getting started with Glambot.
Glambot is an online beauty store that offers thousands of products from almost 100 cosmetics brands, both new and used. Yes, they have a used makeup offering, which is worth reading about. However, as mentioned, they have new products and so you can promote many different products all from the same affiliate program without having to sign up with multiple programs.
Another key benefit of joining Glambot is they have a really comprehensive affiliate rewards program to help keep you motivated to earn more. For example, if you achieve $1,500 in commissions in a month, they will give you a $300 bonus. That is a whopping 20% extra commission!
Glambot Affiliate Program Key Facts:
Commission: Up to 8% of sales
Cookie life: 30 days
Platform Provider: AWin
Organic Beauty Products Affiliate Programs
Our list of the best affiliate programs for  bloggers would not be complete without putting the spotlight on some organic beauty product affiliate programs.
There is no denying that people are becoming more and more health and environmentally conscious when choosing products to buy. While there have been organic makeup options for many years, the demand has picked up in recent years.
Let's take a look at some organic beauty and cosmetics affiliate programs you might want to consider.
10.  Yves Rocher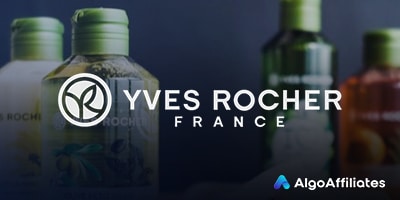 This French cosmetics perfume and skincare company was founded in 1965 and has grown into a huge global cosmetics company. They employ more than 13,500 people and sell their products in 88 countries in more than 3,000 stores and generate approximately €3 billion a year in sales.
Yves Rocher is very much focused on sustainable development, and they were even awarded the prestigious "Environmental Heroes of the Year" award in 2020.
The company has its own botanical garden called Le Centre d'Etudes et de Recherche en Cosmetologie (Center for the Study and Research of Beauty Care) which is used to further its research into organic cosmetics.
Yves Rocher should be on your list of affiliate programs if you plan on blogging and promoting organic products. Plus, they offer free shipping, a free gift, and 3 free samples with every order.
Yves Rocher Affiliate Program Key Facts:
Commission: Up to 15% of sales
Cookie life: 30 days
Platform Provider: Viglink
11.  LOOKFANTASTIC®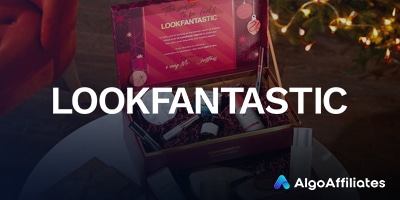 LOOKFANTASTIC is an interesting one on our list as they sell their own brands as well as hundreds of other brands too. In fact, their online store claims to have over 22,000 cosmetics and makeup products.
Doing a quick search of their site, you will discover that they have thousands of organic products. When you're ready to blog about organic beauty products, you will not be short of options to promote and to start pulling in commissions.
There are plenty of benefits for shoppers like cheap global shipping, welcome coupons, and exclusive offers available through their comprehensive app.
LookFantastic Affiliate Program Key Facts:
Commission: Up to 15% of sales
Cookie life: 30 days
Platform Provider: Awin, CJ, Sovrn
In Summary
The opportunities to make a living with affiliate programs for beauty bloggers are huge. Whether you are new to affiliate marketing, or a seasoned pro, the beauty affiliate programs mentioned above are a great start.
One of the biggest benefits of being a blogger and affiliate is you don't need to build a store to sell beauty products from home, nor do you need to purchase inventory or deal with shipping and payments, and more. Affiliate marketing lets you focus on the topic you love, while the merchants take care of everything else.