Most people have considered making money from their websites, blogs, videos, or other online content, or even starting up a blog about something they are passionate about in order to create an income stream.
As with everything online, there are so many options and opportunities that it can easily be overwhelming to decide how to make money, choosing affiliate programs, adverts, or other sources.
Check out our extensive article to find the best affiliate marketing programs to deliver a steady income.
Affiliate marketing is a lucrative business, particularly for anyone who has significant traffic coming to their site. However, to be successful and join the ranks of super affiliates, you need to know how to find the best affiliate programs to make money. 
Thanks to the impressive results generated, many companies are willing to pay handsomely to have a 3rd party advertise their products and services. Therefore, these programs keep mushrooming by the day, which makes finding the best affiliate programs to make money a bit more challenging. 
But don't worry. If you're wondering how to find the ideal programs, you're in the right place. This article includes some insightful information to help you choose the best programs. Keep reading for some more information!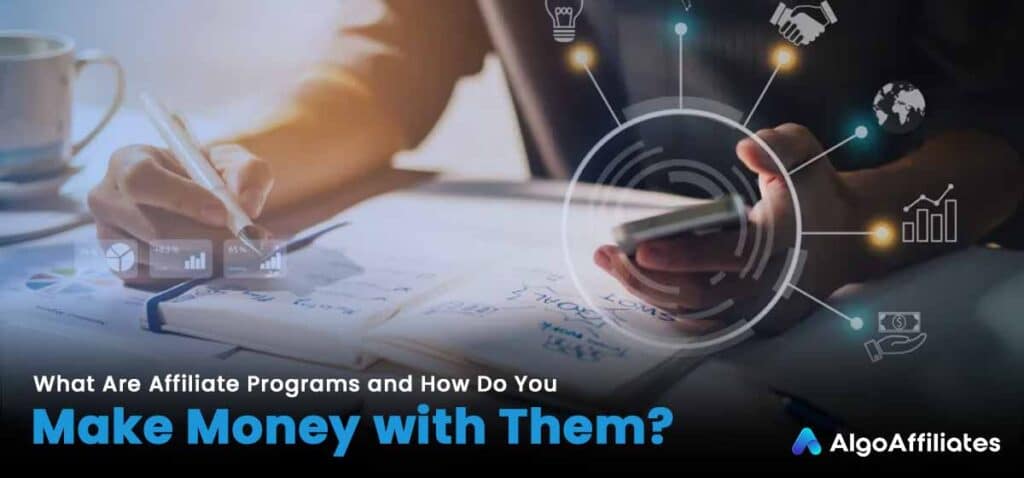 What Are Affiliate Programs and How Do You Make Money with Them?
Not long after the consumer internet was born, adverts started popping up on websites. Then came online retail stores and the digital shopping boom that shows no sign of slowing down.
While major shopping brands have their own advertising and marketing, thousands of other brands rely on affiliate marketing programs to highlight their products, raise awareness and show off current or seasonal deals.
All of this means that if you write about, for example, aviation or holidays – there are dozens of airlines, travel brands, and tour operators looking to leverage your content to market their products.
If you write about mom and baby topics, then there are thousands of brands out there, from niche organic baby food providers to home educators and much more.
The benefit to your site or blog is that affiliate marketing programs share the wealth, giving you a share or commission for each sale or subscription. Therefore, it is well worth investigating which marketing affiliate programs are ideal for your audience and that will deliver the best returns to maximize your income.
Not only does consistent affiliate income encourage you to be a better, more active blogger but it also helps build communities, with programs providing content, links, custom offers, and more, all of which keep people engaged and, hopefully, buying.
By linking your content to relevant marketing opportunities, you can develop a solid income, and in some cases, tens of thousands of dollars per month if you attract a high-value audience.
You don't need technical knowledge to launch your revenue-generating affiliate business. Most affiliate programs are simple to join, with easy links and dashboards to monitor your revenue and activity.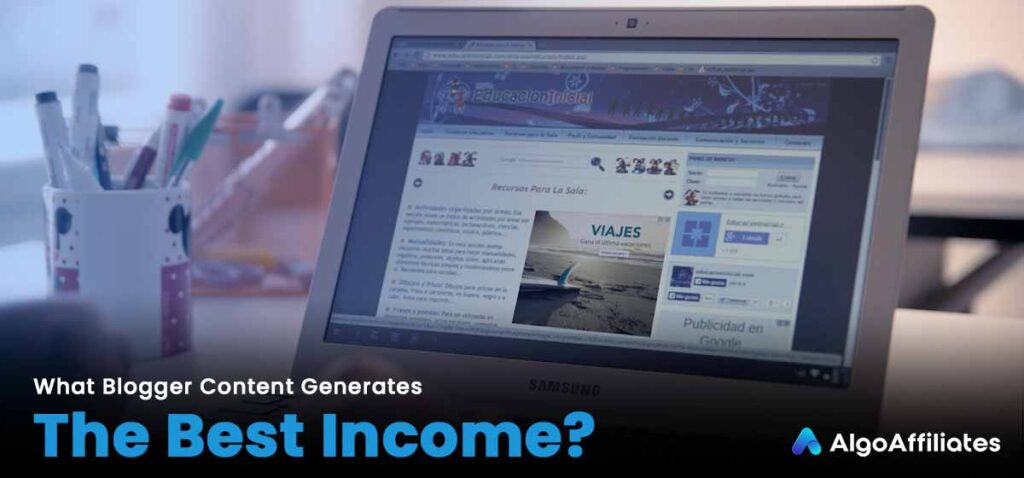 What Blogger Content Generates the Best Income?
As with all areas of business, there are many ways to make money. You can aim to use affiliate programs that offer low-cost items that you might sell many of, generating a small percentage of each sale, but building up over time.
Alternatively, you can use programs that offer high-value items, subscriptions, or services, and as an affiliate, you might get a decent percentage per sale, but you will need a core loyal audience that grows to generate a passive income.
Before you start your affiliate adventure, most programs expect a minimum level of content and a growing audience to make it worth their while partnering with you.
The trick is to find a subject you love or are keen to learn about. Then, develop posts and content that will attract an audience, and keep them engaged with relevant offerings.
The good news is that you can start with a general program like Amazon Associates for free with a new blog, and you can start earning from day one if you can attract an immediate audience.
Some other affiliate marketing programs charge a small fee to work with them, others provide a broad range of brands, while some work with specific content areas.
Whatever your decision is, identify the programs that will fit your blog and audience best. As a guide, these are among some of the best affiliate niches to make money:
Finance – Investing, savings, money management, trading
Entertainment – Movies, video games, reality TV, sports
Family life/baby – Baby products, health, and supplements
Education – Courses and diplomas
Across each niche, there's always a constant supply of news, shows, events, products, services, or interesting trends to discuss. The key to making your blog or website successful is to write about what your audience is interested in and to add your personal perspective and insights to make it different from the growing herds of similar content.
Understand Affiliate Marketing Before you Start Making Money
To choose the best affiliate programs to make money, you need to be familiar with the different types of affiliate marketing available. Once you have selected the style that works for you, it becomes easier to narrow it down to the best programs. 
There are three main types of affiliate marketing, which we discuss below:
Unattached Affiliate Marketing
This is an advertising model where you, the affiliate, have no connection with the products you're promoting or the targeted audience. Unlike other forms of affiliate marketing, here, you have no presence or authority in the product niche. Instead, all you need to do is place the affiliate links on websites or any other advertising platform and hope that someone clicks on the link and earns you a commission. 
Many new affiliates will be tempted to employ this marketing model because it is the least involving. You won't need to take the time to build an authoritative presence in a specific niche. Further, you can advertise as many products as you want since all you need is to place the links in the right place. 
However, this model isn't as easy as it sounds. For starters, it becomes a tad more challenging to convince people to buy the advertised products. Therefore, you may end up spending a lot on ad campaigns without much success in making sales. 
Another thing worth noting about this model is that it tends to focus more on generating income than satisfying the customers. Because you have no authority as an affiliate, you don't get to establish a relationship with the end-user. Instead, you focus more on earning your commissions, which, again, isn't guaranteed. 
Related Affiliate Marketing
Just as the name suggests, this type of affiliate marketing requires some sort of relationship between the affiliate and the products or services being advertised. Usually, the affiliate has some form of online presence, which may be a blog, podcast, YouTube channel, or any other social media platform. 
In related affiliate marketing, you only promote products and services in your niche. For example, if your blog focuses on financial advice and tips, you may become an affiliate for a company that has financial products, even if you don't use them.
In this advertising model, the affiliate is a trusted source, thanks to their influence and expertise in the said niche. However, they don't claim to use any of the products they use. Although you can make quite some money through this kind of affiliate marketing, you have to be careful to choose the right product. Promoting a product or service that your audience doesn't like could break their trust, making you lose your authority. Therefore, even if you know the company selling the product, ensure the product is legitimate and to be trusted. 
Involved Affiliate Marketing
Involved affiliate marketing is the most popular type of affiliate marketing and relies on the connection between the affiliate and the audience. In this model, the marketer only recommends products and services they have used and draws their reviews from personal experiences. 
This type of affiliate marketing is quite effective, especially for those who give honest feedback. As is the case with related affiliate marketing, you need to choose the right products to avoid ruining your reputation and authority in the niche. 
In involved affiliate marketing, you become the trusted source of information. Having to test out the products before recommending them may be a good or bad thing, depending on your niche. Some products may require that you use them for a while to get the complete experience, while others will not take much of your time. 
Although you are allowed to go for whichever type suits you best, we would recommend involved marketing. Sure, it will take some time to build up an online presence and become an authority in a particular niche. However, it pays out better in the long term, thanks to the trust and transparency established with the audience. With time, selling products becomes much easier since your site visitors trust your judgment. 
3 Factors to Consider When Choosing an Affiliate Program
So, you've already decided on the kind of affiliate marketing you want to do. What next? 
Once you have settled on a particular type of marketing, you need to find the ideal program. For this, you may choose to either venture out on your own and contact merchants by yourself or join an affiliate network, like Algo-affiliates. 
Deciding between the two boils down to preference. However, you may find that using an affiliate network boosts you significantly since you don't do the heavy lifting yourself. You only need to focus on generating leads and converting them into sales. Joining an affiliate program independently will require that you work with multiple programs, each with varying materials, tools, and platforms. 
Even if you join an affiliate network, you will have to pick out the best offers to make money. Here are a few things you should check to help you make the right choice. 
1. Type Of Affiliate Program 
Just as there are different forms of affiliate marketing, so are there various programs. The merchants will set their terms, making each program's inner details unique. However, they all fall under the following major categories:
These are, by far, the most popular programs available. For these programs, you will offer your audience coupons and discount codes. You then earn a commission for every purchase made. These programs are lucrative since they attract even new customers, increasing your earning potential. Besides, they are an excellent method of increasing traffic to your site. 
Influencer marketing programs
These programs are still relatively new, although they are gaining momentum in the digital marketing niche. Here, the affiliate is an authoritative voice in a particular niche and promotes specific products and services as a brand ambassador. Often, merchants offering these programs will look for affiliates with a large following and send them free samples of their products to advertise them to their audiences. 
Content marketing programs
It is worth mentioning that almost all affiliate programs will require some form of content marketing. However, some rely heavily on the same, hence their name. These marketing programs rely on website owners to create blogs and other web content promoting their products and services. As such, you must have a website and significant traffic to earn substantially. Content marketing programs also include those that require YouTube video marketing or any other kind of social media marketing. 
This is another popular choice for affiliate marketers. Email marketing programs require that you send a series of emails to the audience to get them to take a specific action. Although they are not too complicated, you will have to work with some email automation software to ensure your campaign succeeds. Therefore, it helps to be acquainted with some of the available options. It is also advised to understand what constitutes SPAM to avoid any legal issues. 
2. Type Of Product Or Service
We've already mentioned this before in the article, but we must insist that choosing the right product is crucial to your affiliate marketing business. 
Picture this; you have managed to build an online presence for a particular niche, which probably took a fair amount of time. By now, you have quite the following of people who trust your word and what you say. A new merchant comes along with some lucrative benefits for you as the affiliate. And since you know them, you decide not to review the product yourself but instead trust their word. The product turns out not to be good, and your audience lashes out on social media, tarnishing your name and all that you have built. Disastrous, right? 
When deciding the best affiliate programs to make money, first ensure that you are familiar with the product and its functions. Take your time to use and review the product or service. It also helps to read through what other users have to say across different platforms.
It would be best if you also considered whether the products are physical or digital. The latter will be much easier to advertise since all you need is an internet connection. However, if you are promoting physical products, you must keep in mind certain aspects such as packaging and shipping. Also, companies with physical products typically offer lower commission rates. 
3. Type Of Commission And Payment Structure
Affiliate programs differ in their commission and payments structure, reflecting a difference in how much money you make. Before getting into an agreement, check that you are familiar with the payment structure, and it works for you. Some programs will only offer a percentage of the sales as a commission, while others will provide both commissions and flat rates. 
Here are some of the common commission structures you should expect:
PPC- pay per click

: These programs pay out a commission whenever a lead clicks on the affiliate link on the marketer's site. In other words, affiliates earn commissions for generating traffic for the merchant. 

PPL- pay per lead

: Affiliates earn commissions whenever a site visitor enters a sales funnel by providing their contact information. These programs are particularly popular among email marketers since they store information in a database and use it to take the lead through different stages of the sales funnel. 

CPA/CPS – Cost per action / Cost per sale

: This is usually a flat commission per sale. There will be certain requirements that need to be met such as a minimum spend amount. These types of payments are also generally once-off. 

Recurring commissions

: These programs are popular among products and services that require commissions. The affiliate earns commissions as long as the referral keeps buying the products. 
Tips for Choosing the Best Affiliate Programs to Make Money
Choose a reputable affiliate network
Joining an affiliate network will lessen the burden of finding high ticket affiliate programs. If you choose a reputable option, such as Algo-affiliates you will access various a huge range of products across different niches. The best thing about affiliate networks is that the merchants are all vetted, reducing the chances of being part of a scam. 
Check out your competitors
The trick to finding an ideal program is identifying what will resonate with your audience. Look around at what other affiliates in your niche are advertising and see if you can learn a thing or two. If a program seems to be working for another affiliate with an almost similar audience, there are high chances that it will work for you too.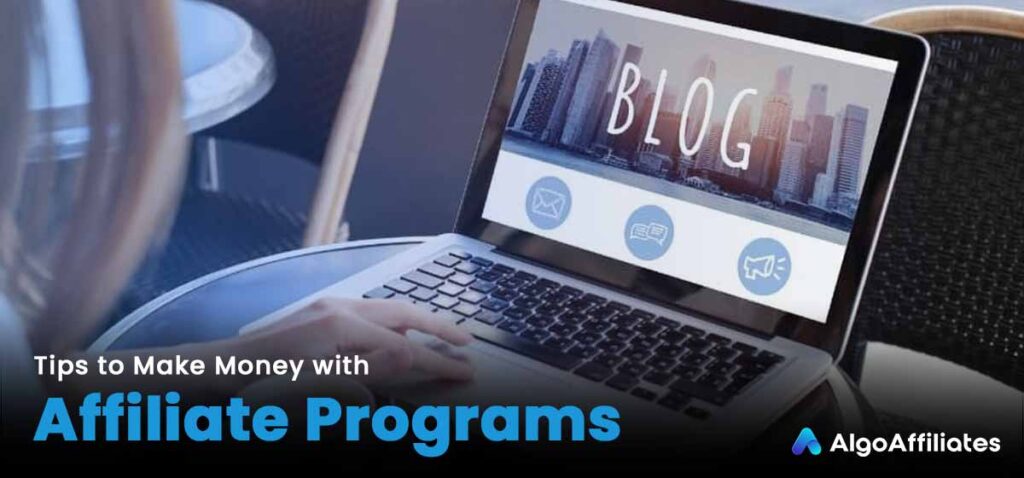 Tips to Make Money with Affiliate Programs
Enthusiasm and effort are the core ingredients that help people to make a name for themselves while promoting their content and brand to attract an audience. Mix those with the below tactics to generate results and an income:
Be unique and interesting – As mentioned above, have an opinion and dedicate time to making your content worthwhile for your audience. The more engaged they are, the more likely they will use your affiliate links and ads.
Create content that you are passionate about – Be it blog posts, videos, podcasts, interviews, or a light-hearted look at your subject, if you are starting with a blank slate, experiment to find what works for you.
Create for your audience – As your audience grows, find out what they like about you and your content, while always trying to add value that they will appreciate.
Build your brand – Be the "voice" of your content and aim to become an authority or influencer in your chosen niche. When your audience builds a connection with you, they will become loyal and follow your recommendations.
Create a content plan – Know what's happening within your niches and stay up to date with events, major news, and seasonal trends, and be ready to jump on breaking news.
Share on social media platforms – Pick the platforms that suit you and your audience. You do not need to slavishly use every social media platform.
Take these along with your own insights and inspiration to create a revenue-generating machine out of your content.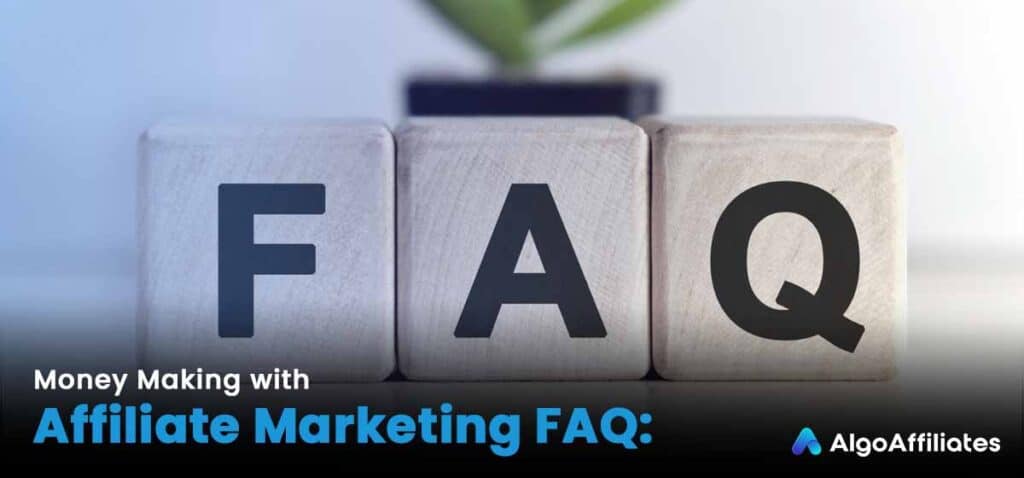 1.     What is affiliate marketing and how do I make money?
Affiliate marketing involves a 3rd party (affiliate marketer) who promotes the products and services of an advertiser (merchant / brand) and in return for your efforts, you are paid a commission. There is an intermediary between the affiliate and advertiser that manages the whole process, known as an affiliate program or network.
The program or network can be owned and managed internally by the merchant, but in many cases today it is outsourced to a specialist performance marketing company.
2.     How does an affiliate program make money?
The affiliate program or network, negotiate a deal with the merchant to pay them a certain amount for every lead, sale, or whatever criteria they agree on. Then, each time an affiliate sends traffic which performs the required action e.g., a sale, the merchant pays the affiliate program, and the affiliate program essentially shares this with the affiliate as a commission.
3.     What affiliate marketing programs should I use?
Pick one or more that will naturally resonate with your audience, so a fashion affiliate program would fit well with your beauty blog, while tech bloggers can choose from business or tech affiliate programs. If your blog covers a wide range of subjects, then a general affiliate program will probably better meet your needs.
4.     How fast will my blog's affiliate income grow?
That depends on your subject, your audience reach, and how fast you generate traffic. Approach your project with realistic expectations, but if your content attracts lots of attention and is shared widely, or a few posts go viral, then you can expect rapid revenue growth. You can also use paid traffic sources to grow your audience quickly but be sure to check the quality of the traffic or your ROI may suffer.
5.     What should I check about my affiliate program for my blog?
For any program, especially one with higher value rewards, read the small print, i.e., the terms and conditions carefully. Many have strict rules against competitive marketing or spamming readers with promotions or using competing affiliate programs.
Others, such as business, finance, and health programs, expect affiliates' content to be truthful and accurate. Some will also only work with blogs of a certain size or authority, so take note of any thresholds and only apply when you are safely over their required numbers.
6.     How long does it take to be approved as an affiliate?
It can vary from instant to a few hours or days. The acceptance may take some time depending on the size of the affiliate program, and its terms and conditions for approval. If they need to manually check your blog or application, it may take a few days.
Finding the Best Affiliate Programs to Make Money 
Many people get into affiliate marketing but aren't successful. One of the primary reasons for this is that they probably chose the wrong program. Although affiliate marketing largely depends on your efforts, you must also be keen to choose the right program if you want to make some money. 
Choosing the best affiliate program can certainly be challenging. However, joining an affiliate network ensures you don't go to the trouble of filtering out the programs. At Algo-affiliates, we have an expansive network of affiliates and merchants across the globe. Join us today to access this diverse range and get started on your affiliate marketing journey.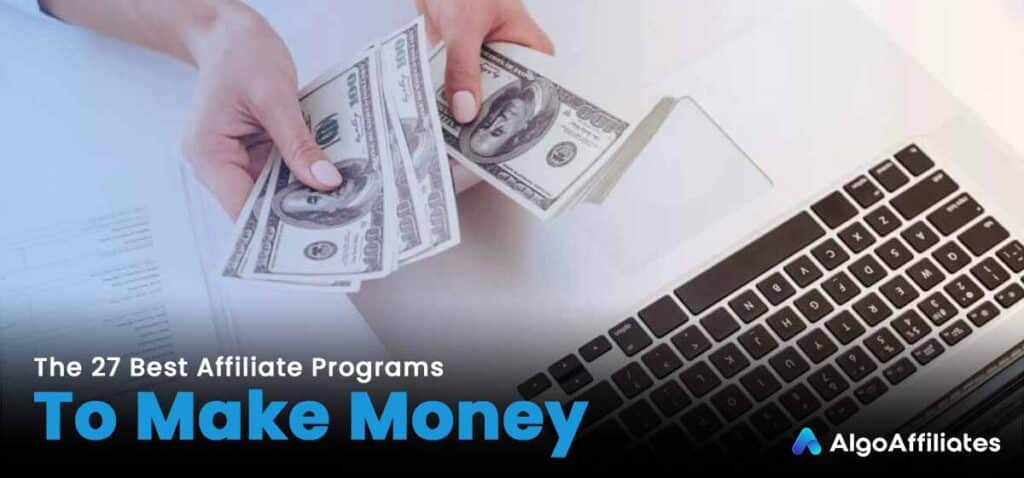 The 27 Best Affiliate Programs to Make Money
You've read this far, so you must be keen to get on with the money-making efforts. Whether as a hobby, a side gig to your main job, or you plan to go full-time, here are some of the best affiliate programs to make money with.
Easy-to-Use Money-Making Affiliate Programs
1.   Amazon Associates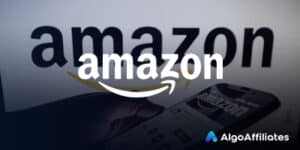 As the largest global online store, Amazon Associates is one of the easiest affiliate programs to work with, all you need is an Amazon account. Be aware that rewards are typically, and conveniently, paid out in Amazon gift certificates, but that has its uses too.
Since it sells pretty much everything, you can align your Amazon offers to the content of your site, which requires a little effort, but with the benefits of fast delivery and constant sales, it is easy to find something that will appeal to your audience.
Using the Amazon Associates dashboard, you can see what sells and how much money you will make. Unlike many other affiliate programs, you can put as many associate adverts up as you like, using international store links where appropriate.
Amazon commissions are pretty small, so you will need to put in some effort to attract either a massive audience or a smaller but high-paying audience to grow your affiliate commissions. You can also share links on Twitter and other social media to push products to your audience.
Amazon Associates key data:
Commission: Typically, around 5%
Payment: Monthly ($25 minimum payout) in Amazon vouchers or bank payment
Cookie life: 24 hours
Platform provider: Amazon
2.     Algo-Affiliates Network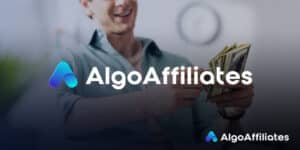 If you want to work with an affiliate program that is more interactive and engaging with its affiliates, then our own affiliate program, Algo-Affiliates could be for you.
At Algo-Affiliates, we offer a broad range of over 1500 affiliate offers to promote across some of the most lucrative niches including, finance, travel, weight loss, gaming, crypto, insurance, and plenty of others.
Our 24/7 traffic monetization algorithm and smart tracking tools focus on "performance marketing". Also, our AI-powered technologies help to identify the best offers for your audience in real-time so that they always see the ideal offer.
In addition, we're always looking ahead to strengthen relations with our partners and improve our service.
Algo-Affiliates key data:
Commission: Varies depending on the product
Payment: Weekly ($250 minimum payout)
Cookie life: Varies per offer (Generally 30 days)
Platform provider: Tune
3.     FlexOffers Affiliate Marketing Network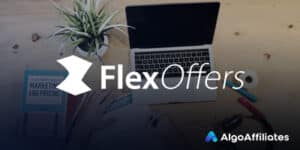 FlexOffers is a massive affiliate network with 10,000+ advertisers and over 65 networks and agencies all under one roof. When you partner with FlexOffers, you will benefit from their strong relationships, experience, and more. Their advertiser partnerships allow them to negotiate exclusive deals on your behalf.
The FlexOffers team acts works closely with its affiliates to locate new partnerships, expand advertiser relationships, and reveal money-making opportunities. They also provide various tools to help you achieve such as FlexOffer's automated affiliate links and comparison widgets to find the best products for your posts.
FlexOffers key data:
Commission: Varies
Payment: 60/30/7 days depending on performance
Cookie life: 30 days
Platform provider: FlexOffers
eBay Partner Network Affiliate Program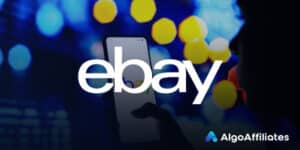 The eBay Partner Network helps you earn money without having to sell your stuff at auction. The affiliate program sends your audience to the brand's extensive stores and marketplaces which cover pretty much every market, from home and hobbies to games, electronics, and collectibles.
eBay is simple for affiliates to integrate offers into their mobile, web, and social platforms, and there's always something happening on the program, even if eBay is one of the web's oldest trading brands.
While the eBay Partner Network does have money-making opportunities, their commissions are fairly low. You may want to use eBay when just getting started but once you have consistent traffic and identified which products sell best, you might consider finding a dedicated program for those specific products.
eBay key data:
Commission: Varies by product category (up to 4%)
Payment: Monthly ($10 minimum payout)
Cookie life: 24 hours
Platform provider: eBay
Making Money with Finance Affiliate Programs
One of the best ways to make money online is to link up to finance brands offering savings, investment, trading, credit, and other financial services. These can ramp up to deliver long-term returns through subscriptions and high-value deals. As economic uncertainty continues, more people are looking to take care of their money or find better returns on their investments.
4.     Chime Affiliate Program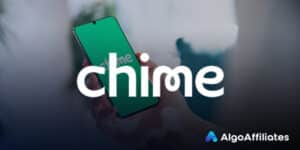 Challenger banks are new online-based brands desperate to get new customers, so they offer strong affiliate deals to get leads and sign-ups. Chime is a leading US-focused brand, whose app offers checking, savings, and credit accounts.
Chime is an extremely strong brand with hundreds of thousands of positive reviews. When you want to make money as an affiliate, it really helps to work with reputable brands, so you know that the leads you send will be taken care of.
The Chime Affiliate Program offers a potentially huge 10% on the recurring revenue from your sign-ups for the first year and a half that they use the Chime service.
Chime key data:
Commission: $10 per lead and 10% of monthly recurring revenue for 18 months
Payment: Monthly
Cookie life: 1 day
Platform provider: CJ Affiliate
5.     MoneyGram Affiliate Program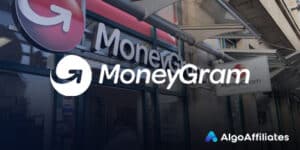 MoneyGram is a huge financial money mover for consumers and businesses and recently signed up as the title sponsor for Formula One team Haas.
Helping act as a financial link between families, friends, and businesses around the world, its Affiliate Program uses that as big news to help spread the word for Canadian and US customers.
MoneyGram key data:
Commission: Percentage of commissions
Payment: 30-day terms
Cookie life: 30 days
Platform provider: FlexOffers
6.     Revolut Affiliate Program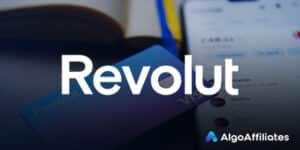 A global player, Revolut is fast expanding beyond traditional banking to help customers invest in crypto and other digital assets.
It offers specific affiliate programs for retail users and business markets. Commission rates are up to £20 and can be paid out by PayPal or bank account with 30-day payment terms.
Revolut key data:
Commission: £20 for personal accounts, up to £500 for business accounts.
Payment: 30 days
Cookie life: 30 days
Platform provider: Impact
7.     You Need a Budget Affiliate Program (YNAB )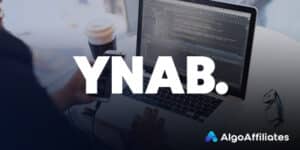 For those with a family or light financial advice blog or content, You Need a Budget (YNAB) could be the ideal affiliate program for you.
Their service is aimed at helping customers manage their money better  It promises users to help make savings of around $600, something that will have a strong marketing appeal.
The YNAB affiliate program provides plenty of resources to make it an attractive program and the scaling commission will assist you to make more money.
YNAB key data:
Commission: $6 per free trial, $8 per free trial after 100, and $10 for 200 trials.
Payment: 30 days
Cookie life: 30 days
Platform provider: Impact
8.     Credit Karma Affiliate Program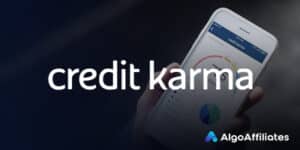 Offering credit scoring services across the US, UK, and Canada, Credit Karma is a major app-based service, always pushing for new customers.
It offers financial deals and credit repair advice to help customers get the most appropriate deals for their situation and boost their rating.
You stand to make a commission for every sign-up from your traffic. The very low CPL will mean that you need to send a large number of referrals if you want to make some decent money. Once you prove your worth, and that your leads are quality, try negotiating a better deal.
Credit Karma key data:
Commission: $2 per sign-up
Payment: 45-days
Cookie life: 30 days
Platform provider: FlexOffers
9.     Hectagon Affiliate Program
A fairly new affiliate program, Hectagon plays to the web 3.0 crowd. It offers a cut of decentralized autonomous organizations (DAOs) funding, helping get people together to make investments that are usually only done by venture capital firms.
With commissions of up to 10% for those with crypto, blockchain, and other fintech blogs that can attract the right sort of investors, this is a cutting-edge affiliate offering.
The crypto and Web3 space are growing at a rapid pace and present many lucrative opportunities to earn. If you're ready to step into the Web3 arena, then the Hectagon affiliate program should be on your list.
Hectagon key data:
Commission: 10% commission rate
Payment: 30-days
Cookie life: 30 days
Platform provider: Impact
10.  American Express Affiliate Program
If you don't get or want to be involved with fintech programs, then there are still plenty of old and familiar names that affiliates make money with. Take American Express, for example, a highly recognizable brand that has plenty of marketing power.
The American Express Affiliate Program offers commission on customer sign-ups and purchases made on their card. The credit card niche is highly competitive, so promoting an established and credible brand like AMEX could be your ticket to profits.
American Express key data:
Commission: Between $2.50 and $110 product-dependent
Payment: 30-days
Cookie life: 7-30 days
Platform providers: Awin, CJ Affiliate, Daisycon
11.  Coinbase Affiliate Program
Cryptocurrencies might sound, and often are complex, but plenty of marketing opportunities focus on making them easy to understand and invest in.
With consumer interest rising, Coinbase is a leading crypto exchange, and the Coinbase app makes it simple to buy and sell crypto and invest in the NFT market.
That makes a strong case to use it on a finance, crypto, or general blog. The Coinbase affiliate program offers a great way to make money with an affiliate program.
Coinbase key data:
Commission: 50% of trading fees across the client's first three months of activity
Payment: 30 days
Cookie life: 30 days
Platform provider: Impact
Making Money with Business Affiliate Programs
Business services are some of the most profitable areas for affiliates, especially SaaS.  There is a huge demand by businesses for services, products, and advice.
That along with experts sharing their experience and knowledge on research or business blogs creates a large affiliate space and plenty of high-return opportunities. Using research and case studies, you can identify opportunities for many services and use affiliate programs to make money.
12.  HubSpot Affiliate Program
HubSpot is an industry leader in the CRM (Customer Relationship Management) space. Their tools cover everything from marketing, to sales, content management, and customer service, among others.
HubSpot is hugely popular, and its affiliate marketing materials come with no end of recommendations and strong use cases to get prospects warmed up.
The HubSpot affiliate program offers a 15% recurring rate for 12 months or 100% for the first month's sales.
HubSpot key data:
Commission: 15% recurring for the first year or 100% of month-one sales.
Payment: 30 days
Cookie life: 90 days
Platform provider: Impact
13.  ActiveCampaign Affiliate Program
Every business needs a customer relationship management (CRM) tool and ActiveCampaign offers one that helps with marketing automation, customer success, and other features to boost a business's revenue and customer numbers.
This ActiveCampaign program comes with a 20% recurring commission to the affiliate that can easily add up over time, especially when businesses continue to grow and adopt more tools or acquire more users.
The trick to getting sales when it comes to CRM is not to sell features but rather the benefits of features.
ActiveCampaign key data:
Commission: 20% to 30% with recurring rates.
Payment: 30 days
Cookie life: 30 days
Platform provider: In-house
14.  SemRush Affiliate Program
In the web era, search engine optimization (SEO) is king, and few firms offer a better solution than SemRush. It helps businesses analyze their web traffic and ensure their SEO is competitive through a series of smart tools to boost online visibility and discover the latest marketing insights.
The SemRush affiliate program offers a $200 commission for a sale and has a massive cookie life of 10 years. SemRush is a strong brand that is well-known for its SEO and research tools.
SemRush key data:
Commission: 1cent per sign-up, $10 per trial, and $200 per sale.
Payment: 30 days
Cookie life: 10 years
Platform provider: ImpactRadius
15.  Perimeter 81 Security Affiliate Program
IT security is a major issue, yet many businesses lack the skills or time to implement and manage it properly. Perimeter 81 security is one of many vendors offering an affiliate program to get its product in front of more business leaders.
If you run a professional services site or blog, you could earn between $400 and $1,000 per sale by offering their next-generation network security tools for networks, the cloud, and application access using a VPN solution.
Perimeter 81 key data:
Commission: $400-$1,000 per sale.
Payment: Monthly (on the 5th of each month)
Cookie life: 30 days
Platform provider: PostAffiliatePro
Making Money with Affiliate Marketing Programs for Travel Bloggers
Wherever you are, we can all dream of travelling the world and writing about what's out there. Or, if you are lucky enough to be a keen city hopper, then you can relate those experiences to a keen audience.
From talking about local up-and-coming destinations near you to discussing the fluctuating travel and hotel market, there's a huge opportunity to tie in travel marketing affiliate programs.
16.  TravelPayouts Affiliate Network
An affiliate network dedicated to the travel market, Travelpayouts works with multiple affiliate programs together to deliver everything for every type of traveler.
With flights, hotels, car rental, insurance, tours, and activities, and working with major brands like TripAdvisor, Booking.com, and Expedia.com, it provides everything a travel affiliate marketer will need to build an audience and tempt them with all-year-round travel offers.
TravelPayouts key data:
Commission: Varies per program
Payment: 30 days
Cookie life: Varies per offer
Platform provider: Not specified
17.  HostelWorld Affiliate Program
If your blog is more about backpacking and taking the path less travelled, HostelWorld's affiliate program could be more for you.
If your audience is a younger generation, the HostelWorld program offers reasonable commissions on completed sales with performance reporting to identify hot destinations for the budget-conscious traveller.
HostelWorld key data:
Commission: 18% to 22% commission
Payment: 30 days
Cookie life: 30 days
Platform provider: Partnerize
Make Money with Beauty and Fashion Affiliate Programs
Beauty and fashion are a never-ending market of new products, reinventions, fashion hits, and misses. This means, there is always plenty to write about and engage your audience with.
Loads of brands are prepared to spend a fortune on marketing and affiliate marketing to get their products and latest designs in front of people who love fashion, beauty, and makeup.
Affiliate Programs for Beauty and Fashion Bloggers
18.  Chanel Affiliate Program
High up on the list of fashion brands is the mighty Chanel, offering a 10% commission rate on its always fashionable brands for the US market across fashion, jewelry, watches, makeup, and skincare. With its massive marketing budget, you can't go far wrong with partnering with Chanel.
Chanel Affiliate key data:
Commission: 18% to 22%
Payment: 30 days
Cookie life: 30 days
Platform provider: Partnerize
19.  Beauty Bay Affiliate Program
For the more modern and cost-conscious audience, there are affiliate programs like Beauty Bay offering make-up, accessories, and skin and hair care products. Example commission rates include:
Beauty Bay Own Brand – 10%
The Ordinary – 3%
Standard – 7%
Electricals – 2%
Discounted – 2%
Beauty Bay has a modern online store, and for affiliates, there is a wide range of new offers, incentives, commission rates, and marketing info to appeal to your readers.
Chanel Affiliate key data:
Commission: Up to 40% (typically 10% to 15%)
Payment: Up to 60 days
Cookie life: 30 days
Platform provider: Awin
20.  ReBag Affiliate Program
Bags are a huge market, and ReBag offers bags from leading brands including Burberry, Bvlgari, Cartier, Chanel, Chloé, Christian Dior, Dolce & Gabbana, Prada, Rolex, and many others that can sell for large sums.
If you have the right audience you can make a tidy commission on each sale, and Rebag's affiliate program will never go out of style.
ReBag key data:
Commission: 5% up to sales of $4,000 (3% for over)
Payment: 30 days
Cookie life: 15 days
Platform provider: ShareASale
Making Money with Book and Media Affiliate Programs
Old media continues to make a comeback, so much so it's like most of it never went away. From books to vinyl records, retro video games, VHS tapes, and music bootlegs, there are huge markets for new and used classics. These as well as digital services for classics or niche content create strong affiliate opportunities.
21.  Book Depository Affiliate Program for Book Bloggers
If you want to highlight the world of books on your blog, then Book Depository has them in most categories, including coming soon, new releases, and endless classics.
Whatever you are blogging about, there will be a suitable category or two, and around popular gift seasons, books remain a huge seller.
 Book Depository key data:
Commission: 5% on orders and pre-orders
Payment: 30 days
Cookie life: 30 days
Platform provider: Awin
22.  Hulu Affiliate for Streaming Media
Most streaming services (except Netflix) offer an affiliate program and one of the most interesting is Hulu, with a wide range of content not tied to one specific producer or set of stations.
The Hulu affiliate program is easy to use with a single referral link to create many media-based revenue opportunities, and as streaming and cord-cutting continue to grow, it is a great way to link to classics and rarer content.
Hulu key data:
Commission: up to $9.60 per lead
Payment: 30 days
Cookie life: 30 days
Platform provider: FlexOffers
23.  Green Man Gaming Affiliate
Video games are bigger than movies in revenue terms, and plenty of gamers are looking to rebuild their old youth collections as well as play the latest titles.
Green Man Gaming's affiliate program covers the newer market, but there are still plenty of rereleases, updated editions of classics, and more. The gaming market is never short of news, so with a little creativity, you can make some serious affiliate commissions.
Green Man Gaming key data:
Commission: 5% per sale
Payment: 30 days
Cookie life: 7 days
Platform provider: CJ Affiliates
24.  SecretLab Affiliate Program
At a tangent to gaming comes the huge gaming accessories market with everything from gaming rooms to stylish chairs.
SecretLab is the gaming market's leading brand and provides comfortable gaming chairs and accessories to keep people playing. Their wide range of branded and unique styles is sure to be a hit with your gamer audience.
SecretLab key data:
Commission: Up to 12% of sales.
Payment: 30 days
Cookie life: 7 Days
Platform provider: Not specified
Making Money with Food Blogger Affiliate Programs
Cooking and kitchens take up a huge part of our lives and are a great topic for bloggers to get creative. As a side benefit, they can also make money through affiliate programs selling kitchenware, recipe kits, specialist ingredients, kitchen goods, and the endless supplies that every kitchen needs.
Affiliate marketing programs are ideal for meeting the varied needs of the food blogger and helping them make money.
25.  Thrive Market
Writing about cooking gives bloggers an extra edge over other areas because as the reader's tastebuds kick in, they can imagine a delicious meal. There are plenty of cooking-based affiliate programs that can cater to those tastes.
Thrive Market takes the highly popular healthy-eating approach to family meals, with customers likely to make regular repeat orders and explore other options on their extensive menus once they subscribe.
Thrive Market key data:
Commission: $40 per annual membership, $4 for a monthly membership.
Payment: 30 days
Cookie life: 7 days
Platform provider: CJ Affiliates
26.  Dry Farm Wines
Wine subscription boxes are growing in popularity, allowing people to try new varieties over time, or to stick to their favorite alcoholic beverages.
Memberships for Dry Farm Wines start from around $170 (US-market only) and affiliates get 8% on the sale of a subscription. Plus, with plenty of extras to buy in the store, affiliates can quickly mount up to decent revenue streams for a foodie blog.
Dry Farm Wines key data:
Commission: 8% of sales
Payment: 30 days
Cookie life: 30 days
Platform provider: Refersion
27.  Snake River Farms
Thanks to rapid courier deliveries, meat by post is a safe and booming market, and Snake River Farms delivers high-end beef and pork, and other meats across the US market.
The Snake River Farms affiliate program will attract foodies with its Wagyu beef and other products, and affiliates get up to 10% on sales that can easily reach hundreds of dollars. You also get product review opportunities, which must be one of the best perks of any blogging job.
Snake River Farms key data:
Commission: 7% to 10% on sales
Payment: 30 days
Cookie life: 60 days
Platform provider: It Partners
In Summary
There are plenty of subjects and areas that bloggers, streamers, and content creators can use as the basis for their affiliate marketing efforts. Whatever area you are interested in, there are hundreds of affiliate programs to make money with that will align with your content.
Search, research, and try them out to see which delivers the best results with your audience, and then enjoy the revenue as it comes in, or work harder to boost your income to the next level.