Affiliate marketing continues to boom into 2023 as an avenue for brands and retailers to get their products in front of a receptive audience. Pay-per-click affiliate programs can provide a speedy and steady stream of revenue for affiliates but choosing the right PPC affiliate program or network is essential for success.
Affiliates and PPC ( Pay Per Click )
Affiliate marketing continues its impressive rise as a revenue generator for content creators and the brands they promote. According to The Performance Marketing Association and PwC, affiliate marketing in the US alone grew from $6.2 billion (2018) to $9.1 billion in 2021. The COVID lockdowns likely helped as more people shopped online and engaged with websites aligned to their hobbies, ambitions, and desires, but the trend has continued strongly post-pandemic.
Brands are keen to work with influencers and content (bloggers, YouTubers, Pinterersters, Tweeters, etc.) providers, who have a growing and loyal audience. As an affiliate, you will want to sign up with a marketing program that delivers speedy results in your area of interest. There are plenty of them out there, and they have a range of offers to deliver an income, including pay-per-click which can deliver fast results.
Pay Per Click is simply one of the varieties of earnings models in the sphere of affiliate marketing. Some of the other popular earnings models you will more than likely know are CPA, CPS, CPL, CPI, and Revenue-Share.

In the last decade, there has been a fundamental shift towards performance marketing, where affiliates are rewarded based on the performance of their traffic i.e., signing up or making a purchase, etc., and not simply a click.
This is not to say that PPC is not still a big business, with lucrative opportunities; bear in mind that Google makes a fortune of money from AdSense ads that are displayed on websites. It simply means when it comes to affiliate marketing, and working on a PPC model, there are fewer PPC affiliate offers than the other performance marketing models.
Advantages and Disadvantages of Pay-Per-Click for Affiliates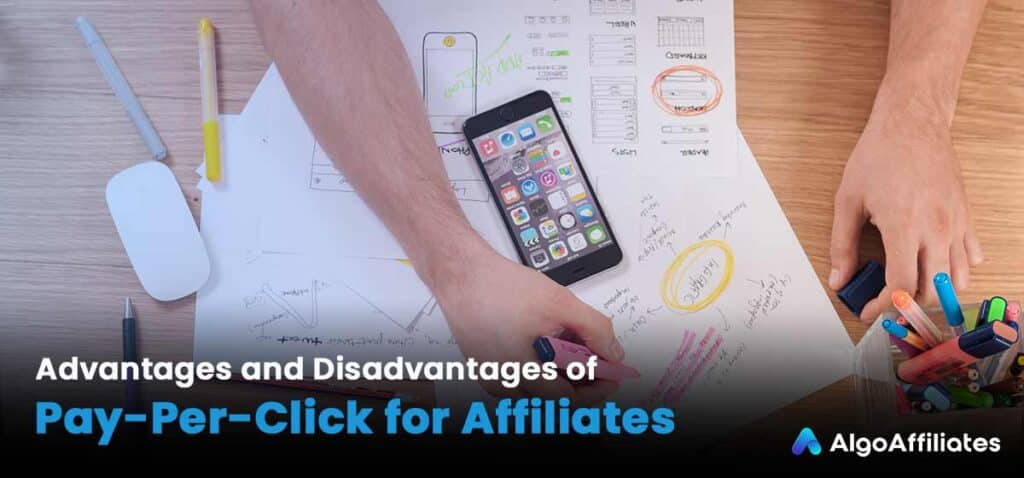 There are various elements, key performance indicators, and opportunities in the affiliate marketing ecosystem, with a range of benefits. These enable publishers to pick options that best suit the type of content they deliver and the audience they wish to build.
Here are some of the key advantages and benefits of PPC for affiliates:
Instant – Pay-per-click happens at the point when a viewer clicks on an advert, done and dusted with no further interaction required.
No Conversion Required – Unlike most other earnings models where the affiliate is reliant on the conversion of the referral to earn, with PPC once the viewer clicks through to the merchant, you earn.
Simplicity – With far fewer elements to manage and optimize than other affiliate offers, PPC ads are simpler and faster to implement and maintain.
Some key disadvantages of PPC for Affiliates:
Low Payouts – The amount paid per click is generally very low with some niches only earning a few cents per click. There are some niches that do command much higher payouts but in comparison to CPA or CPS, the values are much lower.
Traffic Volume – In order to make a good amount of revenue with PPC campaigns, you need large amounts of traffic that result in clicks. This can be a big hurdle for new publishers if they don't have a lot of traffic.
Arbitrage Profitability – This applies to affiliates that use paid traffic sources to generate traffic and then try monetizing the traffic with PPC. Without careful management and optimization, traffic can quickly erode profits.
Why Focus on Pay-Per-Click Affiliates?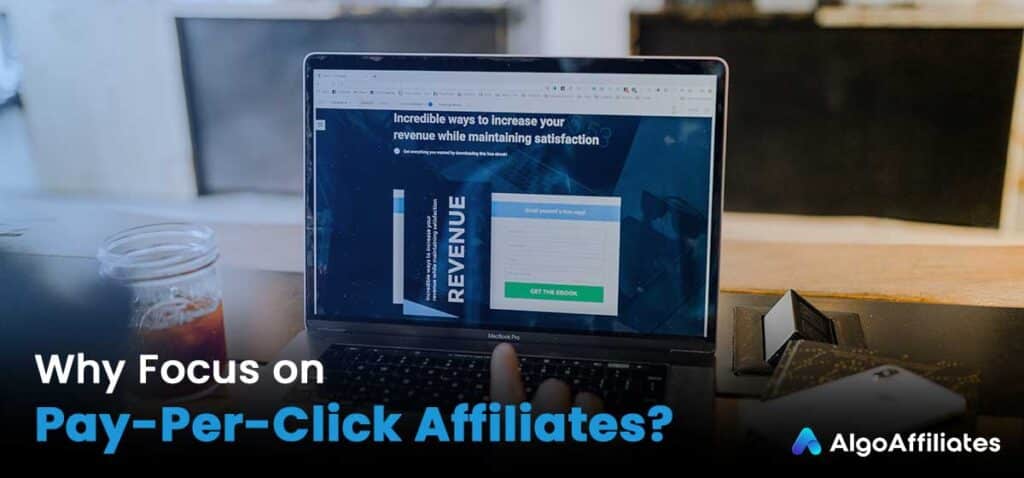 In effect, pay-per-click affiliate marketing isn't much different from signing up for Google AdSense, effectively one of the largest pay-per-click players, but there is a stronger focus on linking content and adverts together through the affiliate program.
PPC affiliate ads require the least level of engagement (sometimes referred to as unattached affiliate marketing), so you can move easily from trend to trend, to find the best content and marketing tactics that work for you.
Some key reasons why you should consider pay-per-click:
Easy to build content around keywords that adverts relate to
A steady stream of new adverts, videos, or other content
Fast income not reliant on conversions
Can build affiliate content around multiple markets quickly
Don't have to get hugely invested in one topic
Generally easier to monitor and manage than other affiliate methods
How to Find the Best Pay Per Click ( PPC ) Affiliate Program
There are two essential things that you need to evaluate when looking at different pay per click affiliate programs: their application requirements, as well as their payout terms. For instance, most programs require you to exceed the minimum monthly traffic threshold and may have requirements in terms of the traffic source.
It's also important for you to go through the payout terms. For instance, if you are a beginner and looking to join a program that requires you to generate 50k views in a month or more, you may want to reevaluate your decision. It's very difficult for new website owners to generate 50k page views in a month, after all.
Similarly, if you are just starting out, you should also take a look at the minimum payment threshold. If you sign up for a program that has a minimum payout of $500 or even $100, it can be quite frustrating watching the money eventually accumulate in your affiliate account.
Ultimately, it could be several months before you see any of it drop in your bank account.
Then, you also have to check other things, like the user interface and the formatting tools. Certain programs are more targeted towards beginners, whereas others are geared more towards advanced users. Perhaps the greatest factor you need to take into account is the amount of money that you can generate by joining the program.
There are several key metrics that can indicate your earning potential: revenue share, RPM, and incoming traffic. Essentially, this boils down to the effectiveness of your website. The more traffic you can get on your site, the more you stand to make. 
Comparing Payment Structures
One of the key things that you need to consider before joining any affiliate program is how you are going to get paid. As a beginner, you should definitely consider joining affiliate programs that pay instantly. Above all, you need to make sure that the information posted on their website is accurate and relevant. 
In some cases, advertisers may charge a fee to transfer money to your bank account. So, that might be something you need to factor in. There are several key things to consider here.
this is the minimum amount you must earn to become eligible for a payout. Some pay per click affiliate programs have a minimum threshold of $10, whereas others can go as high as $500. So, in case you fail to hit the threshold during one of the payment cycles, you won't be paid. You'll have to wait until the next pay cycle and hope you hit the threshold to receive your funds.
another important factor to consider is the payment cycle. This is the number of days that you are expected to wait until you can get paid from the program. Some pay per click affiliate programs pay at the end of each week. Others might have a longer payment period, such as a month. 
this is also critically important. Some affiliate programs pay via PayPal or popular payment methods like WireTransfer . Others also provide more options, such as Payoneer or Skrill. You might want to verify and decide the best one. 
The biggest question on your mind when finding and promoting with a Pay per Click affiliate program is how much you will earn per click. This is not an easy question to answer. The CPC value will vary depending on the niche, the product or service, the geo-location of the traffic (clicks from some countries are worth more than others), and various other factors. While knowing for example that you will get $0.10 per click is great, it doesn't mean much because the CTR (Click Through Rate) will determine how much you will actually put in your pocket. The tiniest factors can impact the CTR, such as the quality of the banners you serve and it can vary even for each size of banner, and location of the banners on your site. 
How to Promote PPC ( Pay Per Click ) Affiliate Programs on Social Media 
An affiliate network can help you find the right pay per click offers from different niches, including entertainment, gambling, finance, health and wellness, education, and many others. 
Today, you don't have to focus primarily on using conventional marketing methods. Instead, one of the best ways to promote affiliate products and services is through social media. Using a deliberate, well-planned strategy is an excellent idea for affiliate marketers who want to generate decent commissions. 
Find and Promote in Niche-Specific Groups
Social networks like Facebook make it easy for you to join relevant groups that are focused on specific topics and niches. As an affiliate, these should be your primary focus. You can search for groups that are closely tied to the niche you operate in. But, once you find such groups, it's important that you take a calculated approach to promote your affiliate offers. 
Many affiliate marketers use these groups to effectively drive traffic to their CPC offers. However, they are generally subtle with the way they market. First of all, you need to generate value for the members. Instead of shamelessly posting links as comments on every post, you need to provide interesting content that will drive the viewer to click on your banners or links.
Human brains are wired to provide a greater response when we see photos and videos. If you are just weaving in textual content, you are doing it wrong. You need to emphasize graphics as much as possible if you want to become successful as an affiliate marketer.
Many people who become successful with pay per click affiliate programs use product images in their content effectively. People are generally more likely to buy a product if they see it in a photo or a video. Social media platforms like Facebook and Instagram also use algorithms that dramatically increase the reach of posts that contain photos and videos. 
Obviously, Instagram is a photo-sharing app, so you need to make sure that you add photos and videos to your content. Apart from this, you also need to come up with interesting ad copy or captions to go along with this. 
Providing accurate information and detail is imperative to allow your users to make an informed decision. If you are able to combine the description of the product or service with the appropriate specifications, you can dramatically increase your success. 
Lengthy affiliate links g
People are generally cautious about clicking on a lengthier link. It is also a very common practice amongst successful affiliate marketers; they never post links without cloaking them first. The reason why you should shorten your URLs is that it greatly increases the chances of them being shared online by others. 
When using social media for promotion, you need to make sure that you create shareable content that others will pass on. Shortened URLs generally have a higher clickthrough rate. There are plenty of shorteners that you can use, with Bit.ly being one of the most popular choices. 
Social Media Can Help You Grow Your Email List 
Expert affiliate marketers are always looking at multiple ways to generate money. One of the best ways to use your social media following is to grow your email list. Eventually, you can send affiliate promotions to your audience via another channel, email, and maximize your income.
You should never rely on a single affiliate channel for generating traffic. So, if you are only focused on social media, you are doing it wrong. Instead, you need to work on building your social media following and growing your email list simultaneously.
Thankfully, all of the major platforms like LinkedIn, Facebook, and others, now give you the option of capturing emails. By offering interesting content as lead magnets to your audience, you can get their email. There are numerous things that you can offer as a lead magnet in exchange for contact information, such as a newsletter subscription, an eBook, a style guide, templates, and many others. 
While you might be wondering what the relevance is of collecting email addresses when you are a PPC affiliate, where your interest is in getting as many clicks as possible, you are partly right. Sure, there are many instances where you just want the click and move on, however, if there is an opportunity to build an email list, this list is valuable and something you can use to market products that pay healthy commissions. In essence, you can extract more value from the same traffic, over and over. 
An Active Presence Online Could Do Wonders
As an affiliate marketer, it can be easy to get waylaid and focus more on other channels, ignoring social media in the process. That's a bad idea. If you really want to maximize your revenue through social media channels, you need to maintain an active presence online.
Get an engaging cover photo and profile picture (you can use Canva to create custom templates), and then use those on Facebook and Twitter. You should also never ignore Instagram for getting more traffic. Create posts and schedule them regularly so that you can engage your audience.
Almost all major social media platforms, like Facebook and Instagram, give you a dedicated dashboard through which you can track the success of your campaigns. If you are running ads on social media, this will give you a better understanding of engagement and your reach. 
You can then eventually optimize and tailor the content carefully to increase the CTR. Keep in mind affiliate marketing on social media requires a hefty investment. Running paid ads or searches could, however, increase the chances of your posts going viral. 
Facebook has an array of filters that you can use to really target your audience and target them carefully. Even Twitter gives you the option of promoting tweets! 
10 Top Pay-Per-Click  (PPC) Affiliate Programs
Whatever type of content your site is about, affiliate marketing programs have spent years building up categories of related brands and adverts to suit the topic. They also have a wide range of payment options and thresholds. You will want to consider your options across each affiliate program before deciding whom to work with.
With that in mind, these are the leading pay-per-click affiliate programs you might want to work with to monetize your content. Note, most utilize a range of revenue and payment methods, but PPC continues to be a big part of many affiliate efforts.
1.    Google AdSense Pay-Per-Click Program
We may as well start with the elephant in the room, Google's giant AdSense which has dominated the online advertising market since the search engine became the dominant web platform for billions of users. While not strictly an affiliate program, our list would not be complete without Google.
Primarily, while AdSense is free to sign up for and use, the revenue per click has fallen dramatically over the years. That's because Google AdSense focuses increasingly on getting adverts and brands to work with it (the Google Ads side of the business), and less so on the sites that show their adverts at the other end of the funnel.
If you are just getting going with affiliate PPC, then you can use Google's AdSense calculator to estimate your income in different regions and subject areas. But for typical content creators, Google's ever-more sophisticated algorithms and systems seem increasingly complex to deal with.
Instead of affiliate managers and relations, for most sites, Google AdSense uses a mix of contextual, placement, personalization, and network targeting to reach the right audience, but it can lead to highly generalized and scattershot results appearing on your site.
PPC and AdSense partners get 68% of the advert cost, depending on the content area, how much the brand pays for placement, and other factors including impressions, which require high-performing sites to generate any substantial income.
Google AdSense's dashboard is smart to use, with earnings displayed across recent periods, your various site properties, and a performance comparison versus the previous month. There's a $100 minimum payout, and if you have a YouTube channel, you can also see video ad performance there too.
There is no harm in running AdSense alongside those of other affiliate programs but be careful of overloading your content with adverts and discouraging your audience.
Pros of Google AdSense:
Service is free for content creators
Easy to use with minimal webs skills required
Google does all the advertising management
Options to block unwanted adverts
Cons of Google AdSense:
Less flexible than a full-service affiliate program
Results have tailed off for small content creators
Can get banned from using AdSense, so read the rules carefully
2.    Algo-Affiliates Pay-Per-Click Program
While Google AdSense might be a basic starting point for many on their affiliate journey, the jump to a proper affiliate program can be quite an eye-opener. Take Algo-Affiliates, for example. We provide performance-based ads that are tailored to match your content with thousands of focused offers and funnels. These stretch across popular topics, finance, home improvement, health & beauty, business, technology, and more.
With powerful automation and a strong customer focus, from a dynamic and fast-growing player in the affiliate space, we deliver some of the highest PPC rates. We also provide expert support 24/7 to help affiliates in need of advice (try that with Google)!
Our smart dashboard shows your active offers, your current offer performance, and reports (also available on an iOS and Android app). A featured offers tab highlights the latest deals from our partners and makes it easy to add them as links or codes to your site. Building your editorial calendar or strategy around our offers is easy to manage, and you can see the results come in, to adapt or change as needed.
As an affiliate, our combination of technology and expertise will put the best adverts in front of your audience to deliver the highest click rates.
Pros of using Algo-Affiliates:
High commission and conversion rates
Excellent range of offers
Easy-to-use dashboard
Cons of using Algo Affiliates:
Need to expand payment options
3.    SkimLinks PPC Affiliate Program
Beyond the rather unfriendly sign-up process (a little UI/UX work guys?) SkimLinks offers a slightly different way to present adverts. As the affiliate, all you have to do is add some code to your website, above the BODY section, and when you're approved, you will see adverts they recommend based on your content.
In that respect, SkimLinks is rather like Google AdSense, but this time the payment split is 75/25 to the affiliate for PPC clicks, and those adverts come from other affiliate programs, so they are a defacto middleman, saving you working with different affiliate products.
If you are starting out that will save quite a few sign-ups and learning different systems, but you are at the mercy of their algorithm. On the plus side, there are no site size or traffic requirements, but they take up to three months to pay, which might be a pain for those looking for fast income.
Pros of using Skimlinks:
A largely automated system that simplifies things for publishers
No need to keep checking and adding links as they update automatically
Cons of using Skimlinks:
90-day payment terms aren't exactly speedy
4.    Outbrain PPC Affiliate Program
Taking another approach to PPC affiliate marketing, Outbrain has high entry requirements (some 3 million visitors per month) but offers access to some major brands. The functionality differs from traditional PPC in that Outbrain acts as a native advertising network.
Outbrain bills itself as a recommendation network offering programmatic affiliate advertising. All those sponsored stories at the bottom of news articles are just one example of what it can do. As such, your business (and you will need at least $300 a month or more substantial revenue to participate) can buy ad space from other affiliate publishers on the network.
Outbrain recently unveiled Keystone technology to help improve revenue opportunities, but if this is flying over the head of typical small publishers, perhaps this is one to miss. However, those with ambition, budget, and an interest in the technology of advertising will definitely find it worth investigating.
Pros of using Outbrain:
A unique way of approaching affiliate marketing
Integrates with Google Analytics for easier reporting
Focus on high-quality content
Cons of using Outbrain:
Affiliates are stuck using their formats and display options
Smaller earning potential than some other programs
5.    Media.net PPC Affiliate Program
Media.net claims to have over half a million adverts on its roster for affiliates to use. Through contextual and programmatic advertising, with machine learning to optimize programs, Media.net uses a custom display-to-search (D2S) ad format to match searches to deliver CPC ads.
The company claims to have hundreds of blue-chip clients on its roster, with a focus on media brands on its front page. It works with Yahoo and Bing search engines, to get away from Google hegemony and give it some competitive advantage.
Publishers can have up to three adverts per page for a sizeable impact, alongside Google AdSense adverts, so Media.Net (which has got to be a pretty worthwhile domain in its own right)  works well for those that want to hit their audience with targeted ads, and works across mobile, display, native and other formats.
Media.Net was part of a nearly $1 billion buyout deal in 2016 and a lot of its stats date to 2018, so there might be some concern this is a service past its best, but with decent payment terms and thresholds, it could have plenty to offer.
Pros of using Media.net:
Focus on Bing! and Yahoo for alternatives to Google traffic
Plenty of ads per page
Focus on high-quality content
Cons of using Media.net:
A lot of outdated content
6.    Bidvertiser PPC Affiliate Program
There are some varying players in the PPC market, with Bidvertiser going the bidding route for your content. That's fine if you have an established site, an authoritative voice in your niche, or simply strong traffic, but for everyone else, this is probably one to avoid.
Even so, you can sign up for Bidvertiser pretty easily, but if the ad placement bids don't come rolling in, then don't get your hopes up. Their play is in transparency and quality, which – again – is valuable for big players, but if there's no traction then all the focused segmentation, targeting, and optimization in the world won't help.
For those that do find affiliate value with Bidvertiser, there is a wide range of ad types to place alongside your content, and the service is approaching 500 million daily served adverts, so they must be doing something right.
Note that for publisher referrals, there's an up-to-$50 bonus when those pages start earning money, which is one way to start getting your wider network involved.
Pros of using Bidvertiser:
Bidding can boost the value of strong content and properties
Plenty of ad content types to deliver strong results
Cons of using Bidvertiser:
Could be a battle for less-than-stellar content or new niches
7.    Infolinks PPC Affiliate Program
Infolinks is another player that works in a similar way to Skimlinks (see above). Pushing their technology with real-time traffic analysis, Infolinks delivers the most appropriate adverts from brands including Kellogg's, Microsoft, Mastercard, and others.
Improving performance, Infolinks partnered with IPC Pricing (Impressions Per Connection) – a patented technology company in 2021 to award advertisers with real-time bonus impressions based on ad performance. That might make quite a difference for high-volume sites, ensuring that Infolinks' publishers enjoy better creative ads and higher click rates.
Pros of using Infolinks:
Highly automated and up-to-the-second advert delivery
Strong list of brands and ad types
Cons of using Infolinks:
8.    GuruMedia PPC Affiliate Program
GuruMedia focuses on Nutra, health, eCommerce, and other popular affiliate niches, this is ideal for content creators in these areas. GuruMedia promises a personal approach, which is always welcome in a land of giant all-digital operations.
Powered by Hitpath technology, and using a collection of partner applications for security, payments, and performance tracking, you can see how small affiliates can thrive and focus on the deals, not the back-office tech. That enables GuruMedia to work on the highest quality partners, sales and leads for the network and affiliates.
Pros of using GuruMedia:
A strong partner for those in the health/beauty/Nutra niches
Shows much of their offering up front, so no signing up only to be disappointed
Weekly payments for fast income
Cons of GuruMedia:
Could be better if they widen their niches portfolio
9.    Ezoic PPC Affiliate Program
Ezoic is a Google award-winning platform for publishers that focuses on delivering a stronger RPM for PPC operators. But look at the Ezoic site, and there's plenty across all areas of the publisher experience to like.
At its core, their aim is to improve your revenue, through better content performance, using intelligent technology for exceptional content. In reality, that means automated ad selection and placement to deliver the best ads for your audience. Interestingly Ezoic, claims that their publishers see a 50%-250% growth in revenue.
Ezoic has 6 different levels based on the publisher's traffic volume. The base level, called Access Now is for sites with less than 10,000 monthly visitors. Levels 1-4 and VIP are for sites with more than 10k visitors. As your traffic increases, you will rise up the levels. Each level offers bigger revenues, additional features, and access to more advertisers.
Pros of Ezoic:
Automated revenue-generating technology
Delivers user experience insights for better content
Cons of Ezoic:
You don't get much if you are on the Access Now level
10.Mediavine PPC Affiliate Program
If you thought Ezoic has stiff entry requirements, get ready for Mediavine, which really wants to work with the cream of the publishing crop. You'll need over 50,000 visitors per month to get to play with their Top 20 ComScore-rated business.
For Mediavine users, they provide a full-service ad management solution, doing all the back-end work to deliver a fast and fluid ad partner for content creators. That lets you get on with your content, while top ads will appear that should drive strong click-throughs.
In 2021, Mediavine launched PubNation, "to bridge that gap and provide these site owners with the same industry-leading ad revenue opportunities that content creators under the Mediavine Ad Management umbrella currently enjoy." You need 1 million-plus visitors per month to use this, again – it is focused on the high end, but is clearly delivering business-class tools for its users.
Pros of Mediavine:
Heavy-hitting smart technology for the best ad experience
Cons of Mediavine:
Enterprise-class technology suitable for larger sites
Pay Per Click (PPC) FAQ
1.    What is Pay Per Click Affiliate Marketing?
Affiliate programs that offer pay-per-click campaigns provide publishers with ads that the publisher then puts on their site. Each time a visitor clicks on the ad, the affiliate earns a fee, hence the name, pay per click.
2.    How Does Pay Per Click Programs Work?
Brands sign up with affiliate programs and provide a list of adverts and keywords or campaigns for their products. The affiliate can then choose the adverts (or they are automatically selected) that fit best with the content. The affiliate program's platform keeps track of clicks, payments, and performance to help optimize your revenue generation.
3.    What Are the Benefits of Pay Per Click?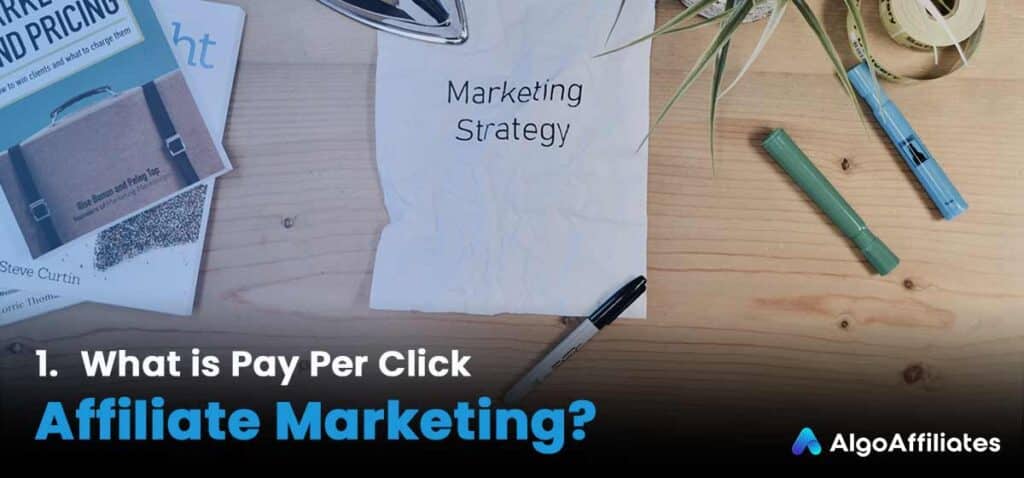 The major benefit of pay-per-click affiliate marketing is that once the visitor clicks the ad you earn. You don't need to rely on the merchant closing a sale i.e., converting your traffic. You also don't have to worry about how well the merchant retains the customer either which can have a big impact if for example you get paid a revenue-share-based commission.
4.    How do advertisers benefit from Pay Per Click?
In a nutshell, they are getting a new stream of potential customers to their front door. Obviously, it is a little more complicated for the advertiser because only a small percentage of clicks will result in a sale. Therefore, if the campaign is managed effectively, the advertiser should see a positive ROI.
5.    Are Pay Per Click Affiliate Programs Legal?
Yes, just like any other legitimate advertising or marketing business. The question comes up because some adverts (as with any market) might be pushing the boundaries through dubious claims or might not meet the regulatory or legal requirements in all countries.