Best Mobile Affiliate Programs & Networks
Mobile is the dominant force in online advertising and affiliate marketing. More people than ever use their smartphones or tablets to access content and will more likely click on links and adverts focused on mobile-first products. Statistics vary, but around 60% of all traffic comes from mobile devices and mobile advertising was worth around $116 billion in 2021.
As internet advertising and marketing have evolved, most affiliate programs need to be mobile-first or mobile-friendly to avoid being left behind and missing the massive opportunities that lie ahead. Whatever the approach, with billions of smartphone users out there, there is a huge audience for mobile content.
So, when looking for an affiliate marketing service to join, you need to ensure that it provides mobile offers. And, since the focus is on mobile, you should work with partners that offer mobile apps, games, and mobile-centric content to help your audience make instant clicks and purchases.
The Rise of Mobile Affiliate Content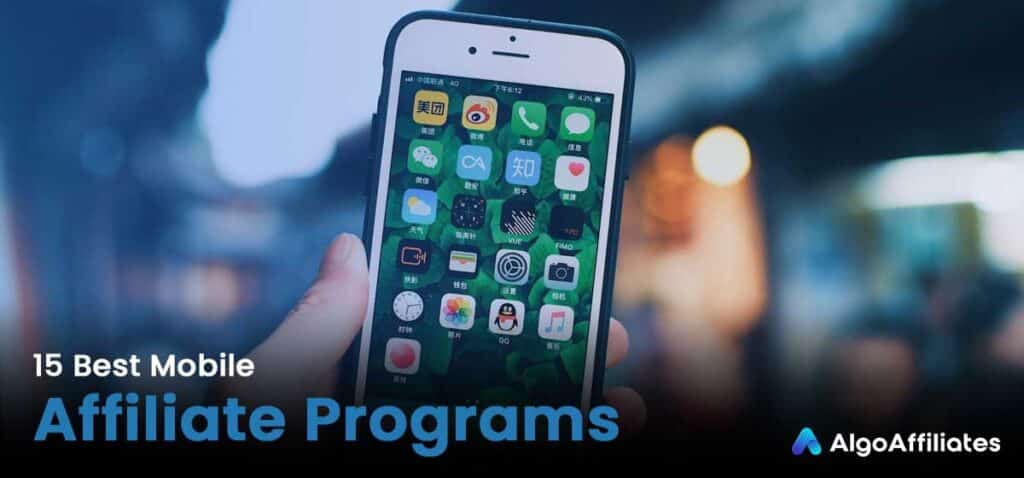 Affiliate content has always played a substantial role on the mobile scene, long before smartphones and apps. In the early days of Nokia and Motorola 2G handsets through the 90s, digital brands made fortunes selling ringtones, image backgrounds, games, and other content. With the rise of smartphones, selling music, apps, branded content, and console-quality games remains a booming business for affiliates.
When COVID hit, shopping from a smartphone was already huge, but it hit 35% of all peak shopping orders and now people do more than ever from their phones, including responding to adverts and marketing.
The key to this value is speed – while three clicks to order a pizza is great, navigating several menus and clunky checkout processes are often ignored. That's something that mobile affiliates can focus on, delivering fast business, whatever the market.
Today's smartphone and mobile phone affiliate programs are focused on high-value content and delivering it to people who cannot be bothered to scroll through the over-populated app stores on iOS and Android devices. Most apps do not get promoted effectively by the advertiser (merchant) or struggle to appear near the top of the charts, so many app providers turn to affiliate marketing to raise their profile and increase sales.
Top tips for working with mobile affiliate programs:
Many mobile affiliate programs promote the same types of content, so look for diversified offers and programs.
Mobile can be hard work, so look for strong automation and easy-to-follow dashboards.
Offerwalls are a popular mobile feature but watch the content that appears on them.
Monitor your audience to see if they like what they are seeing, and constantly optimize.
Mobile affiliates FAQs

1.    What Is Mobile Affiliate Marketing?
Among the many marketing and affiliate strategies, mobile is the fastest growing, purely on the basis that billions of people now use mobile devices like smartphones and tablets more than they do laptops or desktop PCs.
This huge user base makes mobile affiliate marketing a powerful strategy for advertisers and a highest income stream for affiliates. Typically, it drives sales or traffic through mobile website content, leading to sales of apps, content, or linking to other products.
 Revenue is generated through ad clicks, commission payments, subscriptions, and innovations like watching paid videos. Mobile marketing takes advantage of the average 5 hours per day that people use their smartphones, creating an excellent opportunity for marketers to promote their wares through affiliates. 
2.    Why Mobile Affiliate Marketing?
The future is mobile. There is no denying that mobile devices like smartphones and tablets are the most used devices to access the internet. With literally billions of people using their mobile devices for hours every day, it is a prime audience to market to.
As a performance marketer, one of your most crucial ingredients for success is the ability to adapt to changing consumer patterns. The mobile internet generation is only going to grow and those affiliate marketers that become specialists in mobile marketing will certainly reap the rewards.
3.    What Mobile Affiliate Platform to Choose?
This might take a bit more research than traditional affiliates but look for those that advertise products that will appeal to your audience. Take into account that mobile advertising changes pretty fast or be prepared to tailor your content to new and higher-value mobile adverts.
Mobile marketing has its specifics, which means when choosing a top mobile affiliate program to partner with, inspect what tools and mobile marketing content are available. Another consideration is the program's experience with mobile and what reporting they offer. For example, knowing which offers perform better with iOS or Android devices, can help you fine tune your targeting.
4.    Are mobile affiliates all just dating and video adverts?
No, as you will find most larger affiliate programs have a broad mix of offers. However, as dating and gaming deliver results for both affiliates and their programs, that's why they are so popular, and many programs focus solely on them. Do some digging and you will find mobile content that should fit with your blog or site content and audience.
5.    What are the risks of using mobile affiliate programs?
As mobile offerwalls and other content types can change so quickly, you will need to keep an eye on them. Ensure they show appropriate content, and edit the inappropriate ones out of your listings.
Otherwise, mobile affiliate programs are broadly similar to the regular types, with the same benefits. If you go with an established brand in the affiliate market, it will be hard to go wrong, while some newer companies might play fast and lose with content or payments.
A well-managed mobile affiliate program will support and protect your business efforts, and help you improve your results. It might take a bit of trial and effort to find the right one for you, but the results can be huge.
6.    Can I really make a fortune with mobile affiliate marketing?
As with any type of performance marketing, there are super affiliate success stories, plenty of people doing pretty well, and countless more that fail to keep up their efforts or drift along collecting minimal income.
Somewhere on that scale, you will find your place. Making the effort brings reward but it takes good content, audience building, and the right affiliate program to work with you.
Learn from the affiliate programs that have plenty of advice and real-world experience and look to your content peers for inspiration to deliver great content. Somewhere in that mix, you will find a level of success, and hopefully, the drive to push further.
There is a reason that affiliate marketing is called performance marketing, and it all comes down to your performance. Achieving a 7 figure income annually is certainly possible but it takes time, investment, and commitment.
17 Best Mobile Affiliate Programs:
Due to the success of smartphones and the billions of users around the world, there are plenty of programs that affiliates can investigate to find the ones that match their subject area. Positives for mobile affiliates include they are easy to be accepted for and get working, but the income stream can be small until your audience grows.
Due to the rapidly changing trends of mobile, not every mobile affiliate offer will be a fit for all affiliates. Check out these top 15 mobile affiliate programs and find the best one to work on your site that meets the needs of your audience.
1.    CPALead Mobile Affiliate Program
CPALead offers a way for mobile sites and content providers to get paid for each app that your audience installs, from games to productivity, dating, entertainment, and more.
In the mobile world, speed is everything, so CPALead dishes out daily payments (minimum $1) to all publishers working on a CPI (cost-per-install). With a live bidding marketplace, marketers pay higher for the best traffic, so strong-performing sites with quality traffic can make a substantial income from mobile web or in-app traffic.
Signing up for CPALead takes less than a minute, and you are instantly presented with a slick dashboard that provides the latest offers, including games, TV players, surveys, VPNs, and other apps. These can be shown on your site via offer walls, SDKs, APIs, native ads, and other formats. It is very easy to set up and operate, just check that the adverts you choose are appropriate for your market/region.
You can see how much you will make with each mobile offer and how successful they have been, and with a couple of clicks on the filters, you can find the most suitable adverts to match your content or market.
Pros of using CPALead
Very easy to set up and run
Cons of using CPALead
The quality of offers varies wildly
2.    Mobiglide Mobile Affiliate Program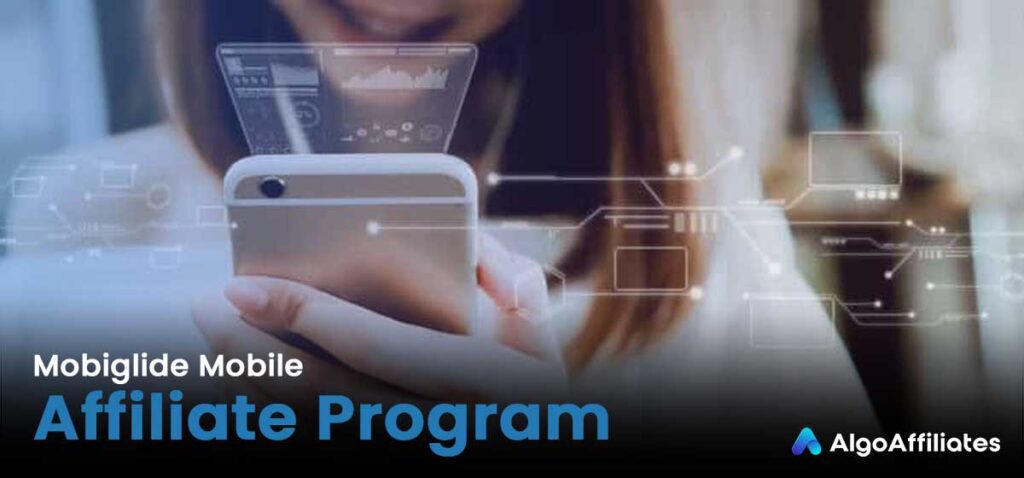 Mobiglide looks slick at the front end and is simple to sign up for as an affiliate. Based out of Hong Kong and pitched as a mobile-first technology media company, Mobiglide claims to deliver over 270 million clicks a day, generating 100,000 daily conversions globally. It provides a range of campaign types including CPI, CPA, CPL, and PPC campaigns, with over 1,500 advertisers, agencies and app developers.
Typical mobile affiliate offers you can promote on your site include dating, e-commerce, games, lead generation, and Nutra/health apps or services. The minimum payout is $100, so new affiliates will have to put in some effort to see a commission, but lively sites should have the traffic to reach those goals easily.
Pros of using Mobiglide
Functionally strong and plenty of offers
Cons of using Mobiglide
$100 minimum payout is at the higher end for mobile affiliates
3.    Algo-Affiliates Mobile Affiliate Program
Algo Affiliates offers a performance marketing approach to affiliate deals, with thousands of affiliate offers to promote across a wide range of subjects. With a 24/7 traffic monetization algorithm and smart tracking tools, affiliates can earn extremely well with Algo Affiliates network.
Algo-Affiliates, focuses on delivering the strongest service for affiliates across the mobile and traditional web. Our mobile offers have strong CPA payouts and are focused across high-activity niches and hit hot trends including fashion and beauty, solar power for home improvements,  and many others.
With AI-powered Smartlinks we help you achieve more with less work. Yes, we are all about efficiency and working smarter, not harder, to reap even more rewards.  Our experienced affiliate managers will help you identify the best mobile affiliate offers that deliver solid results.
Pros of using Algo-Affiliates
Powerful and smart service
Cons of using Algo Affiliates
A $250 minimum payout is quite high, especially for newcomers
4.    Mobidea Mobile Affiliate Program
Mobidea is a mobile-focused affiliate program and it offers products across dating, coupons, mobile content, games, music, health, and videos. With weekly payments and free smart tracking, it is a modern solution that is easy to sign up for and can deliver excellent returns for most affiliates.
Offering targeting by vertical, country, carrier, device, and operating system, it is highly granular with an offer wall to deliver the most appropriate content. So far, Mobidea has over 800 advertisers and 130,000 affiliates. It offers a VIP affiliate program for those that generate over €10,000 with more frequent payouts, no fees, and a dedicated expert to work with you.
If you're on your game, you may get access to invite-only offers for credit card and video-on-demand private affiliate networks, with worldwide offers and the highest payouts. How's that for an incentive? And that's just a few of the extra features that make Mobidea more than your average mobile affiliate program.
Pros of using Mobidea
A team that is happy to guide you to master affiliate marketing and strong incentives to work with them
Cons of using Mobidea
Not ideal for complete beginners to affiliate marketing. You should have all the basics in place first.
5.    Amazon Mobile Associates Program
If you've been in the business long enough, you'll remember that Amazon once launched a smartphone, the Fire Phone, but has since focused on putting adverts on its range of Kindle devices and Fire tablets. As with the usual Amazon Affiliates, anyone can sign up and gain up to 12% on sales.
Amazon Associates has a mobile education center explaining the best ways to deliver and promote mobile content and provides mobile banners to make it easier to share affiliate offers. There are also ways to make your app content shoppable by adding links to any page on Amazon. Beyond that, it is the usual mass-market Amazon affiliate products, with good rewards for some, all laid out on a basic dashboard.
Amazon has its own app store for Android titles, and these can be shared in your mobile content, easily, providing access to big names like Minecraft, Paramount +, and many others. All of this makes Amazon useful for those crossing from traditional affiliate offers to mobile and learning the ropes of what works.
Pros of using Amazon Associates
Provides access to a mix of mobile and traditional affiliate offers
Cons of using Amazon Associates
Not the most advanced or friendly of affiliate networks
6.    Yeahmobi Mobile Affiliate Program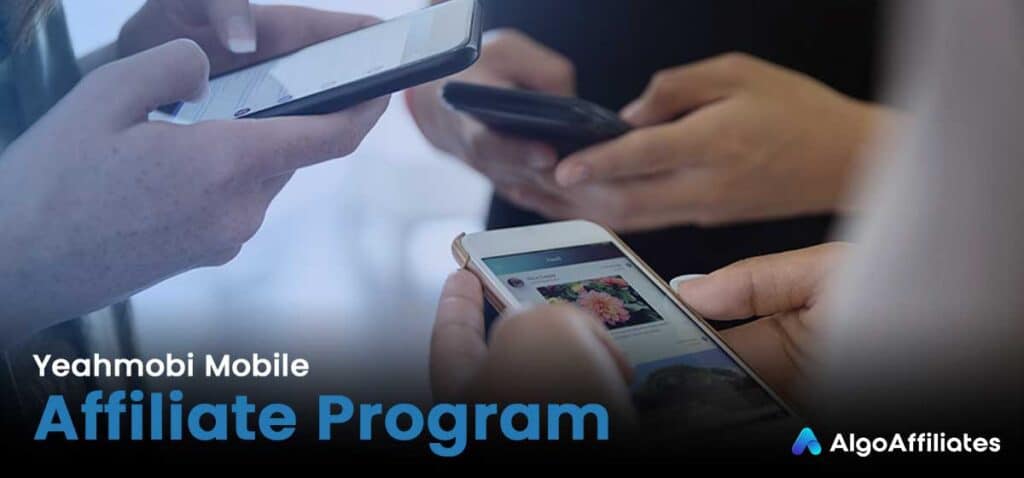 Yeahmobi takes a different approach to content, putting adverts in mobile games and rewarded videos (where affiliates are paid if people watch them).  It supports around 500 app developers and serves ads through those games, so affiliates can promote the games and get money through adverts.
Based in China, Yeahmobi serves around 2 billion daily ad requests globally, so there is plenty of opportunity, and it works with publishers and affiliates from around the world. Using customized advertising strategies and algorithms works better to deliver strong advertising performance.
Yeahmobi has received over $130 million in funding and has apps in various categories including consumer apps, mobile games, cross-border e-Commerce, online finance, lifestyle, and travel. But it is not clear about payments or other details up-front.
Pros of using Yeahmobi
A unique approach to affiliate marketing
Cons of using Yeahmobi
Some of their content is outdated, so be sure to check with your affiliate manager before blasting your campaigns with traffic.
7.    CJ Affiliate Mobile Affiliate Program
CJ Affiliates is one of the longest-established affiliate programs on the web, and it added a mobile focus to its service way back in 2013. One that has evolved with the trends and times to offer a fluid mobile program for affiliates and advertisers. It is also a big mover and shaker, recently merging with VIVnetworks affiliate marketing agency to expand its offerings.
The CJ site plainly explains the relationships between all the parts of the affiliate landscape, making it ideal for beginners. And it offers mobile-optimized affiliate links (under the omnichannel integrations banner) on most products to bring its huge range of deals, brands, and adverts to the mobile audience.
This all means that across your audience's devices including mobile web and in-app, CJ can provide the appropriate ads to reach your audience.
Pros of using CJ Affiliates
Deep linking tools and analytics for faster revenue generation
Cons of using CJ Affiliates
A thorough sign-up and approval process may hamper your ambitions
8.    Leadbit Mobile Affiliate Program
Leadbit manages several digital and affiliate marketing projects, operating in Europe, Asia, and Latin America. It offers a technology-led approach to mobile marketing focused on content on demand, trials, dating, finance, and other niches. All with instant payments, promotions, real-time reports, and exclusive offers for affiliates.
Signing up with Leadbit is easy to do, and using custom tracking software, affiliates get detailed insights into where the money is coming from, with one-click, PIN code, click per install or click per lead offers. Leadbit offers weekly payouts when you hit $50 in commission, and you can expect great support and advice.
Pros of using Leadbit
An impressive collection of offers
Cons of using Leadbit
Not available in the US, seems more focused on events.
9.    MobItEasy Mobile Affiliate Program
MobItEasy is a mobile-focused affiliate network that wants your mobile traffic to promote its partner adverts and content, with the reward of high commissions, regular payments, marketing tools, and professional support.
MobItEasy uses AI to provide direct offers that can monetize your mobile traffic across CPA, CPL, and CPI campaigns. Content involves games, TV shows, entertainment apps, and more. Only a few seem suitable for the US market, so check your audience and geographics before signing up with them.
With rotating links/tags linking to offers with the highest EPCs based on geo, carrier, and handset, MobItEasy can deliver results for publishers large and small.
Pros of using Mobiteasy
A broad range of apps and content
Cons of using Mobiteasy
Geo limitations, so check what will suit you
10.Profit Pixels Mobile Affiliate Program
Most mobile-only affiliate programs tend to be at the lighter end of the marketing scheme of things. Profit Pixels focused firmly on the forex, crypto, and trading space with lucrative CPA deals. That makes it ideal for money-making blogs, investment content, and other financial sites.
The service is relatively new but offers high-converting deals based on those lucrative trades and investments – if you ignore the pummeling that the crypto markets have taken in recent years. And Profit Pixels tries to limit geographic limits so you have more to work with. They also provide pre-built landing pages to make your marketing even more effective and easier.
Pros of using Profit Pixels
Finance-focused affiliate offers
Cons of using Profit Pixels
Russian-based business, but works well in English
11.Offerglobe Mobile Affiliate Program
With all the focus on apps and content, it can be easy to forget that smartphones can also be used to make phone calls. And the good old pay-per-call affiliate market is alive and well and looking for business. Offerglobe is one such player, with offers for every useful service under the sun from dentists to plumbers, pest control, HVAC engineers to credit, and health insurance services.
Massively focused on the US market, Offerglobe delivers a strong pay-per-call system. Note that the advertiser pays for the phone call, so this is very different from the premium rate call marketing approach of old.
Offerglobe's tracking solutions help publishers promote products and services through many marketing channels. There's also the benefit of higher conversion rates on high-end products and complex services that require a personal touch to sell.
Pros of using Offerglobe
Pay-per-call delivers strong results and applies to a wide range of content publishers
Cons of using Offerglobe
Seems limited to mainly US businesses as advertisers
12.Mobipium Mobile Affiliate Program
Calling itself a mobile performance marketing network, Mobipium aims to help affiliates achieve more profits through its self-service platform. Their offers include apps, games, contests, and other mobile content with premium exclusive offers for high-performing affiliates.
Based in Portugal but operating as a nomad digital business with remote staff, Mobipium advertises in over 150 markets worldwide. They have delivered more than 7.8 million conversions and 1 billion clicks, highlighting the value of mobile affiliate programs.
With auto-optimization, they can take some of the work out of running mobile affiliate offers, and look like one of the easier options for those who want to take advantage of mobile without the constant tweaking.
Pros of using Mobipium
An exciting range of offers ranging from Grand Theft Auto to Vodafone
Cons of using Mobipium
Seems like quite a small operation (although, lean and mean can be a positive)
13.Pulsar Ads Mobile Affiliate Program
Pulsar Ads is a mobile-first affiliate program that handles ads for millions of smartphone-using prospects that might see your content. With targeted mobile traffic, you can pick from 2,000 different campaigns on offer with various payment models.
Users of Pulsar Ads can find anything from cyclone vacuum cleaners to Bitcoin offers alongside the usual offers like coupons, dating, and tech. There are plenty of offers for the major countries and regions, and Pulsar is one of the few affiliate programs that's worth following on Twitter to see the latest offers.
Pros of using Pulsar Ads
Slick, wide-ranging, and professional service
Cons of using Pulsar Ads
None that stand out at the time of reviewing
14.Adsterra Mobile Affiliate Program
Running since 2013, Adsterra offers both traditional and mobile affiliate support, with a focus on both mobile web and app traffic. With a range of formats including videos, and different approaches to pushing adverts to your audience. There is plenty to explore through the self-service platform with lots of Android-device content, mobile utilities, and platforms.
With powerful security, anti-ad-blocker technology, and a variety of payment options that trigger from just $5, Adsterra is slick and efficient. It enables affiliates to boost their mobile performance, and there's a lifetime 5% referral program to encourage others to join plus exclusive offers for top-performing affiliates.
With a proven track record and a strong focus on mobile, Adsterra is one of the stronger players you should be looking at for your mobile affiliate needs.
Pros of using Adsterra
Heavily automated to make it easy to manage and deliver results
Cons of using Adsterra
Many offers are the typical low-end mobile fodder
15.VortexAlpha Mobile Affiliate Program
Focused on the North American, UK, and Australian markets, with local offices and account managers in each territory, VortexAlpha is a top mobile affiliate contender. It concentrates on typical mobile services including iGaming, finance, shopping, surveys, and health.
These are all delivered through a slick dashboard and performance tracking platform. They claim to deliver high-paying ads and work with some major brands, but your mileage may vary, and with a $250 minimum payout, smaller affiliates might be waiting a while for payday.
Pros of using VortexAlpha
Simple to set up and run your offers, with helpful tools and dashboards
Cons of using VortexAlpha
The VA blog is heavily focused on casino offers, which might not be for you
16.CrakRevenue Mobile Affiliate Program
CrakRevenue takes its affiliate operations seriously, driving large and growing returns to a booming user base. Sign up now (December 2022) and new affiliates get double commissions. But it is not only the marketing end where CrakRevenue works hard, their tech is also improving with the company offering new Smartlinks that deliver a reported 17% improvement in ad performance.
That sort of hustle and vibe makes CrakRevenue an affiliate program to keep an eye on, with 700 offers available across beverages, health, dating, and sweepstakes. With various tiers as you rise up the affiliate ranks, more perks and bonuses are waiting for you.
Pros of using CrakRevenue
Lots of activity and promotional effort
Cons of using CrakRevenue
Heavy focus on dating offers. Would be good to see more offers for other niches.
17.PayV Mobile Affiliate Program
Poland-based PayV offers CPA and revenue shares to mobile-focused affiliates with offers crossing the games, crypto, entertainment, dating, and similar offers for a global audience. Affiliates can benefit from their in-house tracking platform with a smart-looking dashboard that provides detailed statistics and fast payouts.
The minimum payment is set at $100, but they are noted for their approachability, friendly support, and advice, with direct offers and publisher help. Note that if you had a poor experience with their previous brand WapEmpire, you might want to consider giving this refreshed program another try. However, things seem to be going well for the new company.
Pros of using PayV
Very easy to get started and run your first campaigns
Cons of using PayV
Doesn't stray far from the usual herd of mobile offers and its previous incarnation left affiliates unpaid