Dating Affiliate Programs:
In 2022, the total number of online dating service users globally was estimated at 366 million. Data also revealed that the online dating scene generated roughly $2.8 billion last year. The number of users is expected to surge to 440 million by 2027. As the number of people in this space grows, so too will the earnings potential.
As an affiliate marketer, online dating is one of the niches you might consider casting your net. However, before you do so, there are some fundamentals you need to understand. Also, you will need to join some of the best dating affiliate programs for top converting and paying offers.
This article looks at what you need to know about dating affiliate programs and some of the best ones currently available in the market.
What Are Dating Site Affiliate Programs?
Dating affiliate programs are those programs that allow you to make money when you promote the services offered by online dating platforms. There are hundreds of online dating affiliate programs currently available to choose from.
However, you will need to look at some of their features before you make a final decision.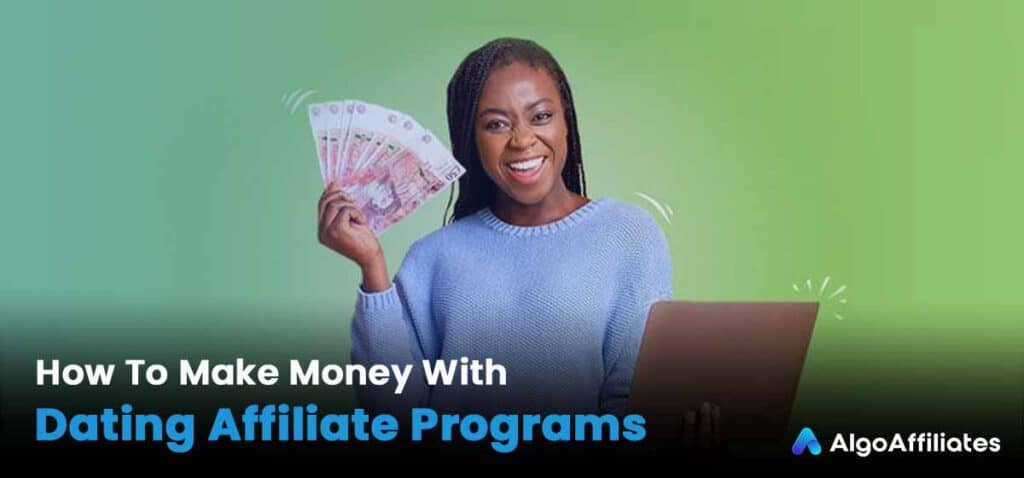 How To Make Money With Dating Affiliate Programs
To make money as a dating affiliate marketer, there are some strategies you should consider, which include:
Deep links help you make money as a dating affiliate marketer. You can insert your affiliate link to the dating offer you are promoting whenever you mention the platform in a review. With the use of reviews, the reading flows naturally, and your audience gets a chance to check out the service and register or subscribe to the services offered by dating websites. You can make a listicle with all the best online dating websites and include your links in the appropriate places. This will redirect readers to your affiliate page and help you get conversions.
With this strategy, you will be using links to make it easier for your audience to subscribe to the services offered by a dating platform. You can include the subscription link at the end of your article or your social media posts, ensuring that your readers can take action whenever they wish. In your review, you can include subscription prices and other important data.
Banner ads are certainly not new, but with the number of ads that consumers are exposed to all the time, many have "banner blindness" and simply ignore the plethora of ads on the internet and in apps.
The banners you choose should stand out from the crowd. You may even want to consider making your own banners that will be unique and make a statement. Obviously banner placement is another critical component and will require some testing to find the optimal positions.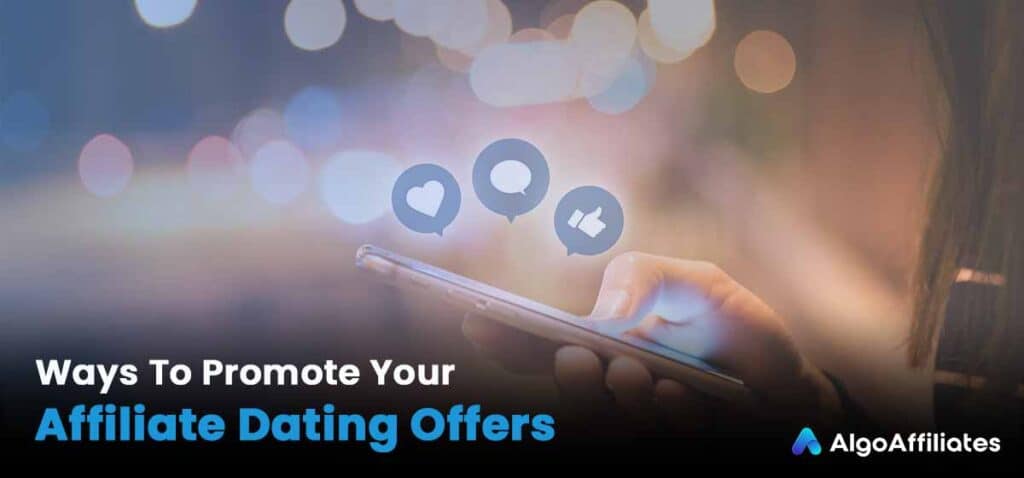 Ways To Promote Your Affiliate Dating Offers
To promote dating programs, there are various strategies you can employ. Here are some ideas to keep in mind:
Launch a niche-specific website or start a blog where you discuss relationships and marriages.
Generate a free lead magnet to give away in exchange for email addresses, like an eBook. This strategy helps you to build your private list of potential customers.
Make sure your social media pages include offers, allowing you to increase your audience, create further awareness, and drive traffic to your website or direct to the dating site.
Since you will be dealing with dating and relationships, it might be effective to build relations using your social media accounts. You can do this by entering discussions and interacting personally with those interested in using online dating services.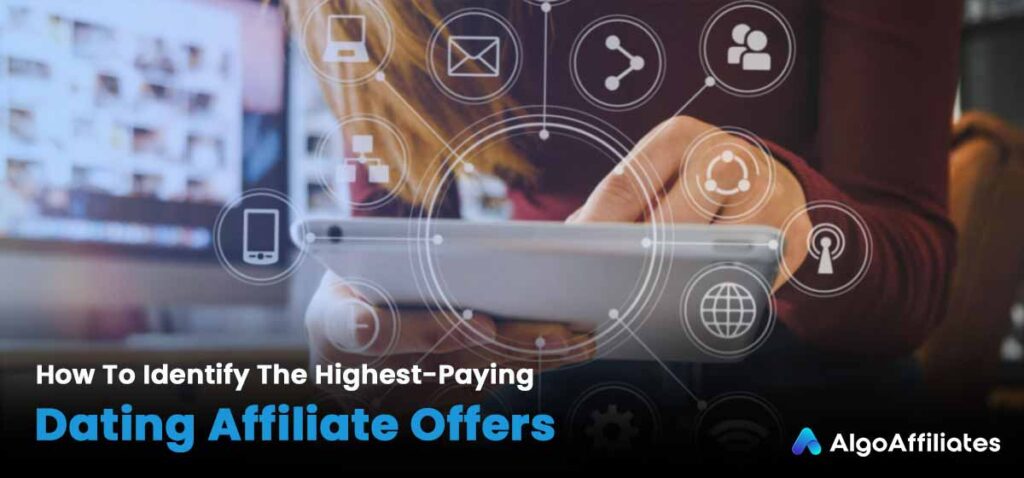 How To Identify The Highest-Paying Dating Affiliate Offers
To identify the highest-paying affiliate programs, there are certain things you have to look at. Some of these factors include:
Conversion and commission rates
The first things to look at are the conversion and commission rates. If the commission rates are high, but the dating website doesn't convert most of its visitors, then you are most likely not going to make money from it. The best platforms are those with high commission rates that also have consistent, high conversion rates.
The dating websites boast about the number of marriages they help bring to reality every year. You can look at this metric to help you determine the best ones to use. A platform that has a high success rate in terms of relationships and marriages will get more traction and will convince more people to join. You can use the metric as one of your selling points and convince your prospects to register with a dating platform.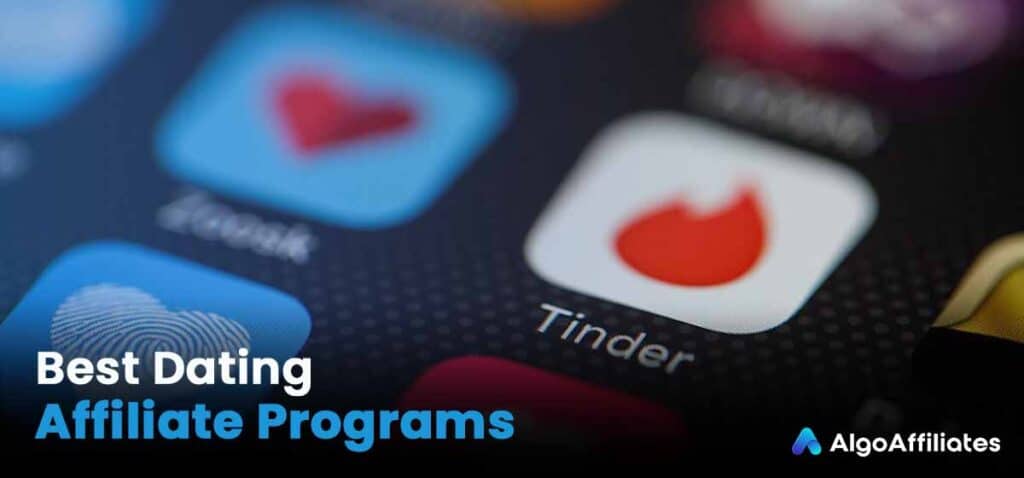 15 Best Dating Affiliate Programs
1.     Match
Match has set the trend as one of the most popular dating sites in America. Currently, this dating site records more than 30 million visits monthly and operates in 18 countries around the world.
As one of the biggest players in the online dating industry, its dating affiliate network is worth looking into. The Match affiliate program can be accessed via CJ Affiliate. The program grants affiliate marketers up to 50% commission for every successful referral. The 120-day referral period also serves as extra motivation for affiliate marketers.
In the past, marketers could access Match affiliate services on Rakuten, but it is currently only available on CJ Affiliate. Match currently has three affiliate dating subscription offers. These offers include:
Three months – $27.99/month (total $84) – $42 commission
Six months – $23.99/month (total $144) – $72 commission
12 months – $20.99/month (total $252) – $126 commission
For affiliate marketers in the United Kingdom, Match has a dedicated dating site for you. The dating affiliate offers for those in the United Kingdom are:
One month – $37.99/month – $25 commission
Three months – $24.99/month (total $75) – $41 commission
Six months – $12.99/month (total $78) – $57 commission
Furthermore, Match's UK program pays marketers for leads. In this regard, the referral period and commission are decided based on the device that a user registers with:
Desktop – 1-day referral period with a flat $5 commission
Mobile – 30-day referral period with a flat $2.50 commission
2.     Christian Café
The online dating niche is perhaps one of the most competitive in the world, solely because of what they are selling: relationships. Due to the massive competition, online dating platforms have to be creative, and an excellent way to do that is to target a sub-niche.
This is what Christian Café has done. This online dating platform targets Christian singles who desire to have a God-centered relationship. Christian Café has become one of the most popular sites for Christians looking for relations and currently has millions of members globally.
Furthermore, the platform has recorded countless success stories over the years. As a marketer, there are millions of Christian singles you can refer to this platform and earn handsome commissions in the process.
Christian Café currently pays its affiliate partners 40% for every successful sale. The membership on this platform costs $149, which means you can earn roughly $60 per referral.
To join this dating site affiliate program, you will need to get an account with the Pepperjam affiliate network. Christian Café has one of the best commission rates amongst the top Christian-focused affiliate programs.
With a cookie duration of 120 days, your referrals have enough time to try out the free version before paying for the membership. Hence, giving adequate time to record a sale. You can receive your payment via PayPal or Direct deposit.
3.     eHarmony
This is one of the most popular dating sites in America. While it is popular, it is small compared to Match, as it records less than 5 million monthly visits. In addition to the United States, eHarmony is also present in a few countries, including the United Kingdom, Australia, and Canada.
Similar to Match, the eHarmony dating affiliate program can be accessed via CJ Affiliate. The 45-day referral period on eHarmony is decent, while the program also offers a 20% commission rate. Similar to Match, the eHarmony dating affiliate program offers three subscription plans. They are:
Three months – $56.95/month (total $171) – $34 commission
Six months – $29.95/month (total $180) – $36 commission
12 months – $17.95/month (total $216) – $43 commission
eHarmony has been around for more than 20 years and has a strong brand. What makes eHarmony unique is the way couples are paired with each other. On the platform, users are required to complete a detailed relationship questionnaire, which is then used to match them with people they are compatible with.
eHarmony uses behavioral matchmaking technology to help people find love. The platform claims that it is responsible for thousands of new marriages every year across the countries it operates.
4.     Algo-Affiliates
Algo-Affiliates is one of the best and leading affiliate network in the industry. Over the years, we have grown our catalog of offers to include a wide range of niches, including dating.
When you join Algo-Affiliates, you will enjoy top-notch services thanks to our focus on details, and our commitment has always been to build partnerships that will ensure our affiliate marketers continue to earn well from our range of offers.
We also have an excellent team of creative marketers that work diligently to ensure that everything you need, including banners and landing pages, are well optimized to deliver top, consistent results always.
With a wide range of online dating platforms available on our list, we offer excellent commissions when you promote with Algo-Affiliates. We also offer personalized support, custom deals, and other perks, making Algo-Affiliates your true partner when it comes to affiliate dating offers.
Adult Friend Finder
This is one dating platform that doesn't sugarcoat what it does. Adult Friend Finder is a platform where adults meet each other and do adult things. Basically, it is a hookup platform. Adult Friend Finder is not like the other dating platforms we have discussed so far. It has more than 50 million monthly visits, which is one of the best on this list.
This is because people on Adult Friend Finder are far more interested in the physical side of dating. Their major focus is not spending hours messaging each other. It is also a unique platform because it runs its dating affiliate network in-house.
Adult Friend Finder also has a well-detailed affiliate landing page containing all the necessary information about its dating affiliate program. Its program is divided into four categories based on the commission structure:
Percentage: You stand to earn 35%-75% (based on the unique orders) and 35%-55% for reoccurring orders.
Per Order + Rev-Share Payout: You can earn a fixed commission depending on the total number of orders you generate daily (between $50 and $130).
Per Order Payout by Country: Marketers also earn a fixed commission based on the country (usually between $20 and $130). For those in the USA, the commission is around $70, while Switzerland has the highest commission rate of $130.
Cost per Lead: The fourth option allows you to earn $5.00 per lead, and it is only available in selected countries.
5.     Cupid Media
Cupid Media launched 22 years ago and has become an industry standard when it comes to online dating. Over the past two decades, Cupid Media has been responsible for helping more than 30 million people look for relationships globally.
What makes Cupid Media interesting is the various options available it provides. The company has a network of 32 sites, including popular ones like Black Cupid, Interracial Cupid, Columbian Cupid, Asian Dating, Christian Cupid, and so many more.
Cupid Media offers users specialized dating services, allowing them to gain access to a diverse group of individuals. This is a huge plus for affiliate marketers as it gives you more options to target a wide range of people. The platform matches users based on various preferences such as religion, race, ethnicity, lifestyle, and more.
In terms of commission, only a few platforms match what the Cupid Media affiliate program offers. Cupid Media offers a 75% sales commission, and with a 30-day cookie duration, you have ample time for your leads to join any of their networks. The affiliate program is handled in-house.
6.     Sugarbook
When it comes to sub-niching, Sugarbook is one of the dating affiliate programs you should consider. Unlike some of the programs we have looked into so far, Sugarbook offers a different type of dating service.
On this platform, women looking for sugar daddies are connected with older men looking for younger women who desire financial support with a mixture of romance. Sugarbook goes a step further by creating a social network for its users.
This means that visitors on the platform get to meet and chat with their prospective sugar daddies in real time- a feature that more dating apps could integrate in the future.
The services on Sugarbook are targeted at a specific audience: rich men looking for younger women and women looking for older men who like spending money on their girlfriends. If you are promoting their services, this makes it easier for you to identify your target audience.
For every successful referral to this dating affiliate program, you earn a flat $24. The commission rate is similar to what is attainable in the online dating industry. You can receive your payment via PayPal or Direct deposit. The cookie duration on the platform currently stands at 30 days.
7.     Cougar Life
As mentioned earlier, due to the huge competition in the online dating space, several companies have to sub-niche so they can attract their target audience. Cougar life is one of those platforms.
This niche dating site targets women in their 40s who are looking to date younger men. At the moment, most of their members are in Canada and the United States. Similar to some of the programs on this list, the Cougar Life dating affiliate program is done in-house.
Cougar Life has a 30-day cookie period, with a commission rate of 80%, making it one of the highest in the industry.
The subscription plans are expensive, which means you stand to make a lot of money when you refer your traffic to this platform. The subscription plans are:
One month – $40/month – $32 commission
Three months – $29/month (total $87) – $70 commission
12 months – $12/month (total $144) – $115 commission
With such high commissions available on Cougar Life, you can make a lot of money if you have an audience interested in their services.
8.     JDate
Earlier, we mentioned Christian Café, a dating platform for Christians. This time, we will focus on those of the Jewish faith. JDate is one of the leading faith-based sites that target Jewish singles.
Shidduch is a traditional matchmaking and dating advice system that has been used by Jewish families for centuries. However, in today's modern world, it is far less in use with non-religious Jews. Hence, the importance of platforms like JDate.
JDate leverages the power of technology to allow Jews to continue this rich and ancient tradition but in a more modern way. JDate has recorded thousands of successful stories over the years, making it a leader in the industry.
In terms of the website, it is pretty much the same as what you find on other leading online dating platforms. The standard commission is $2 per sale, which is poor compared to the online dating affiliate programs we have mentioned so far.
However, this service caters to a very specific niche in the market, which means it has the potential to be very lucrative. Similar to some of the programs here, JDate has a 30-day cookie duration.
9.     Elite Singles
The next dating affiliate program on our list is Elite Singles. Elite Singles identified a major problem in the online dating ecosystem before some of its competitors did. The platform made it easier for singles to connect with each other based on their locations, relationship preferences, education, and an in-depth personality test.
Thanks to this approach, Elite Singles has ensured that people don't have to wait months on end before finding the right match. When you have so much in common, it is easier to build a relationship.
As an affiliate marketer, you will earn a flat $7 for each lead you generate for this online dating affiliate program. Elite Singles can be an excellent platform for you to promote because they claim they register more than 300,000 new sophisticated and ambitious professionals monthly.
The cookie duration is 45 days, which is longer than what you can find on some dating affiliate programs. In terms of payment, you can receive your commission via Payoneer, check, and bank deposit.
10.  Silver Singles
Silver Singles is another online dating site that is focused on a particular niche. The platform is aimed at people above 50 years in the dating scene. I know what you might be thinking: there isn't enough market for this particular group in the dating ecosystem.
However, that is not the case. People within those age brackets might be facing their first or second divorce and, at that age, might find it hard to go back into the dating pool. This is where platforms like Silver Singles come in.
This platform allows you to tap into the older market, with most of them enjoying a lot of disposable income. Silver Singles leverages a personality test, ensuring that your audience is matched with the best options. The users also enjoy a lot of support, such as advice on creating an attractive profile.
Silver Singles also offer free accounts, which you can offer your audience before they upgrade to the premium version once they like the services available. The commission rate is low, as you will earn a flat $7 for each referral.
However, you should consider promoting Silver Singles because of the lucrative sub-niche it targets. The 30-day cookie duration is similar to what is attainable within the industry. In terms of payment, you can receive your commission via Payoneer, check, and bank deposit.
11.  Parship
This is one of the most popular dating websites in Europe, as Parship has extensive coverage in the Netherlands, the United Kingdom, and Germany. Parship's affiliate program can be accessed via CJ Affiliate.
Parship has a 45-day referral period and operates a per lead and per sale earnings model. Whenever your lead registers and completes a personality test, you will earn a flat $2. Parship requires its users to carry out their personality tests within 12 minutes.
For you to earn the commission, the country of residence of the user must be the United Kingdom. In addition to this, if the user ends up paying for a Parship subscription, you stand to earn an extra 25% of the subscription amount. The three major subscription plans on Parship include:
Three months – $37.95/month (total $113) – $28 commission
Six months – $24.95/month (total $150) – $37.5 commission
12 months – $18.95/month (total $228) – $57 commission
Hence, while you will make money when your lead registers on Parship, you will make even more money when they pay for any of the above subscriptions.
12.  Single Parent Meet
The reality is that dating is not as it is portrayed in the movies. Meeting other people and navigating life for single parents is a tough task. Singles already find it hard to meet people with similar interests and have to put in a lot of effort when it comes to dating.
As a single parent, you will need to multiply the effort required to achieve the same result.
Thankfully, the Single Parent Meet platform helps address some of these challenges. The platform makes it easy for single parents to meet other single parents. This is an excellent sub-niche in the dating space that already markets itself.
Membership on Single Parent Meet cost $14.99 per month, and you can earn around $7 per successful sale. Single Parent Meet has excellent performance metrics, which means they do a very good job of converting traffic into paying customers. The cookie duration of 120 days is very generous.
13.  Zoosk
This is perhaps one of the most recognizable dating websites in the world. It has more than 40 million registered members and records more than three million messages between its members every day.
Zoosk became popular thanks to its use of behavioral matchmaking technology. The program leverages data insights from its user base to pair members with the best available options. Its dating affiliate program is powered by CJ Affiliate.
However, the commission rate of $4 per successful registration is low. This means that you will need to drive a lot of referrals to the platform before you can earn decent money on Zoosk.
Similar to Algo-Affiliates, Zoosk excels in the area of providing marketers with a wealth of advertising materials, helping them to attain high conversion rates. As a popular brand, you can easily sell Zoosk's services to your audience.
14.  CatholicMatch
The online dating affiliate program to round up our list is CatholicMatch. This is another niche-focused online dating affiliate program, and it targets singles in the Catholic community. The platform claims that more Catholics join its platform than its competitors.
The platform has been around for decades and has millions of users globally. With a large number of people in North and South America following the catholic teachings, you have a huge audience to promote the CatholicMatch services.
Its affiliate program is on par with some of the best dating affiliate networks. CatholicMatch's affiliate program is powered by CJ Affiliate and offers a generous 75% commission per sale. The 30-day cookie window is also decent.
As an affiliate marketer on CatholicMatch, you will have access to top-notch creatives and offers. Some of the offers available here include promotional and vanity coupons, a dedicated support team with an affiliate manager, and marketing experts.
FAQs – Dating Affiliate Programs
Where should I promote my dating affiliate offers?
The first place to start promoting your dating affiliate offers is your website or blog. However, you can also promote on various social media platforms, including Twitter, Instagram, YouTube, guest blogs, and podcasts.
What makes a good online dating affiliate program?
There are various factors to look out for when choosing the best dating affiliate program. Some of the conditions to look at include the sub-niche, cookie duration, commission rate, and payment model. You need to study these options before making a decision on the affiliate programs you wish to partner with.
Is a dating affiliate blog a good option?
Your primary job is to reach more people, as that would allow you to get quality leads and make more money in the process. A blog is usually more personal than a general website. Effective bloggers engage their audience and develop a loyal following.
Dating is obviously a rather personal thing, so if your blog audience trusts you and enjoys your content, you have a far better chance of them taking up offers you put in front of them. Essentially, a well-written dating blog with quality content is a great place to start, and then scale up into other channels including social media.
Can I make good profits from promoting affiliate dating offers?
Absolutely. As a multi-billion-dollar industry, you have the potential to make thousands of dollars monthly. However, it is important to know that dating is a highly competitive niche, so you need to be on top of your game.
Furthermore, you need to constantly update your site and social media accounts, giving your audience the latest information before they register on a dating platform or subscribe to their services.
Can I promote multiple dating sites on my blog?
Yes, you can. The decision on the number of dating sites to promote depends on you. Just make sure to constantly test different creatives and calls to action to find which work best for you. You may find that only showing 1 or 2 offers on a page will perform better than 10 different dating offers.
What is the ideal monthly income for an online dating affiliate marketer?
What you make monthly depends on you and the effort you put into your business. The more you put into list building, blogging, posting on social media platforms and forums, and promoting your products, the higher your expected monthly income. If your ideal monthly income is $10,000 per month, then it is possible, but you will need to put in the effort.
Final Thoughts
The online dating niche is a super competitive one, and there are numerous affiliate programs you can promote. However, the affiliate dating sites explained in this article offer some of the best commissions, provide excellent customer support, and offer various marketing resources to help you make money.