Affiliate Programs for Loans – Introduction:
Loans continue to play a key part in the consumer and business finance market, especially in uncertain times and as people consider flexible finance to meet their needs. Affiliates working across the financial sector have a wide range of loan offers available from banking brands, affiliate networks, and other sources.
From supporting major purchases through to home and car loans, to business or student loans down to payday and title loans, the market is a multi-billion dollar business across the US. Affiliates producing content about finance can use loan affiliate offers as part of the strategy, alongside credit cards, savings, and investment offers.
With many types of loans, competing rates, and deals, affiliates can create content that engages their audience and use affiliate offers to direct people to the best loans for their circumstances. Less complex than forex or crypto, it is a segment of the finance sector that is well worth investing in.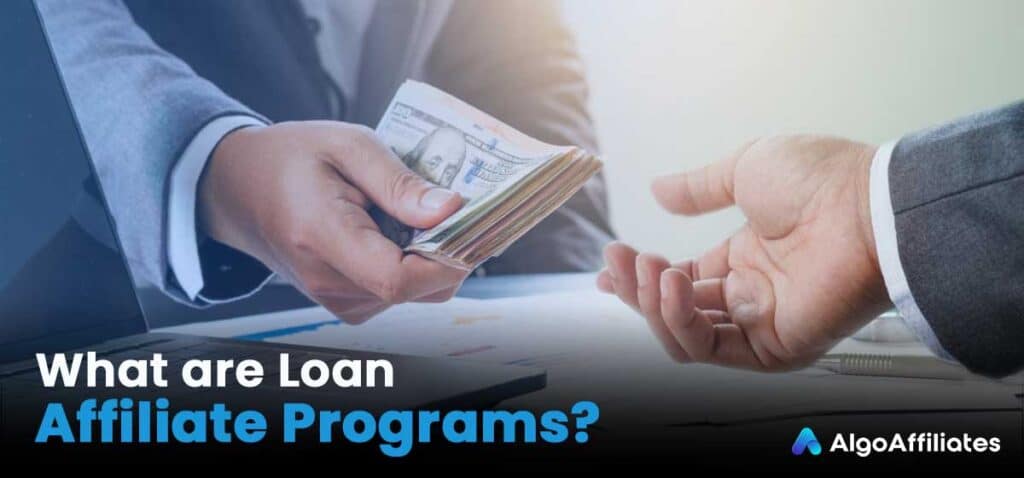 What are Loan Affiliate Programs?
Affiliate programs provide content creators, lead generators, influencers, and other marketers with affiliate offers that they can promote to their audiences. A commission is paid when a referral meets certain criteria, such as applying for a loan.
In the case of loans, affiliates will find plenty of traditional finance brands offering many types of products. Brands are always on the lookout for finance bloggers or money management experts to spread the word and drive traffic to their loan portals or sites.
Many loan providers offer a range of loans, so their affiliate offers can have broad appeal, while others focus on, say, student or payday loans. Alongside finance brands, affiliate networks offer a range of loan programs, many including new finance products and competitive loans.
The advantage of working with an affiliate network is the ability to create content across a wide area of subjects and use appropriate affiliate offers across many areas, including finance and loan offers. For example:
Car bloggers can talk about second-hand car deals and use affiliate offers for automotive loans.
Education content creators can discuss schools, universities, courses, and student loans.
How to do Affiliate Marketing for Loans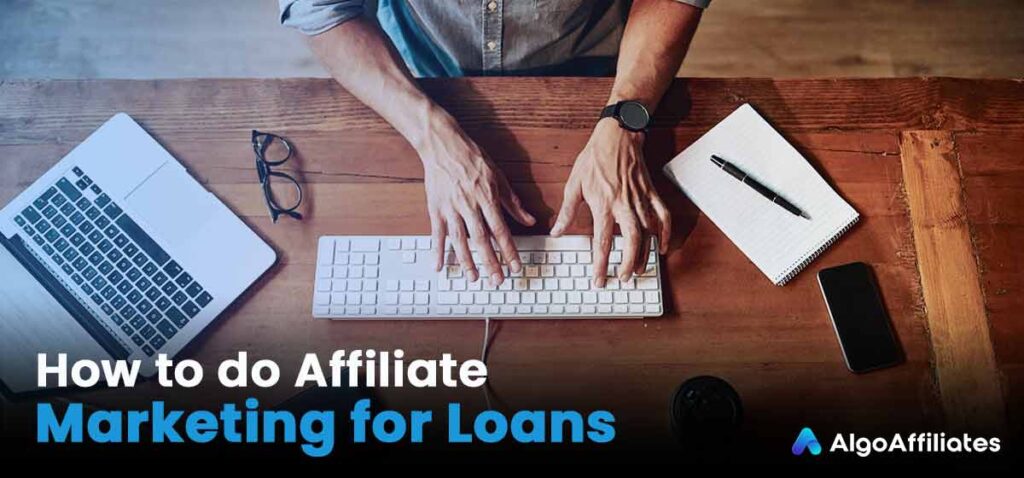 Banking and loan brands will expect their affiliates to have a high level of content and audience engagement before working with them. Some require audiences in the hundreds of thousands. If you don't have such an audience or content, then affiliate networks are happier to work with beginners and provide the help and support to get you started.
As an affiliate, you display the ads, links, and landing pages, and when your readers or viewers click on them and take out a loan, you get a cut of the proceeds, typically a fixed fee upfront, or a percentage of the loan value.
Before that affiliate revenue comes in, you will still need some content to place your affiliate offers next to. This can be done by choosing one of the segments mentioned above, reusing existing content, refreshing it with a finance slant, starting afresh covering a topic you love, or doing some research and finding a topic that will be a winner.
Before you start, research the area properly, see what other affiliates are doing to generate success, and check out the growing number of affiliate networks and programs to see which offers the right types of deals for your audience.
Some interesting stats:
Car loans regularly top bank loans as a search term.
Interest in student loans spiked massively during the US government forgiveness program.
Rhode Island is the state with by far the most searches for "home improvement loans."
Delaware and Mississippi are the leading US sub-regions for car loans.
As a beginner affiliate, you should build a basic level of content that starts to attract traffic. Then focus on content that delivers and grows your audience through social sharing, email newsletters, advertising, or other means to make money from them signing up for loans. Learn how to use the affiliate program or network tools to measure engagement and success and keep adjusting your tactics to improve performance.
Once you are all set, these are the leading affiliate programs and networks we recommend you consider for your affiliate loan offers.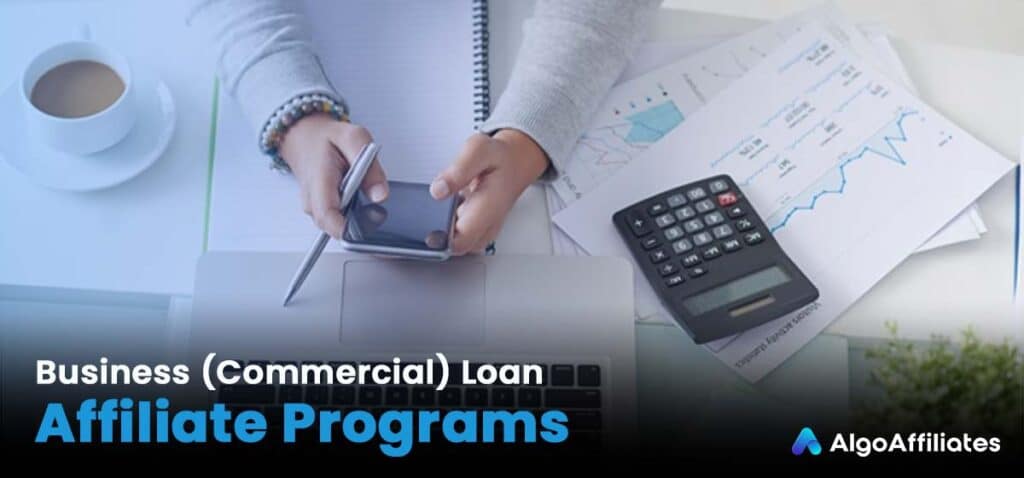 Business (Commercial) Loan Affiliate Programs
The business world, from smaller-to-midsize firms to enterprises, often relies on credit facilities and loans to support them through challenging times or to deliver growth. Few companies run solely on their funds, so every business is a potential affiliate opportunity to sign up for a corporate loan.
OnDeck Business Loan Affiliate Program
OnDeck provides loans and credit lines to US, Canadian, and Australian firms, with over $14 billion loaned by the service. Loans can be used to fund growth, acquire equipment or invest in new opportunities. OnDeck provides loans from $5,000 to $250K with repayment terms of up to 24 months, all managed through a straightforward online application process.
The affiliate program is powered by Impact and can deliver $800 in earnings for just one loan deal. If you manage to drive your commercial audience to sign up for funded loans, the earning potential is huge, if you can attract the right customers.
The OnDeck affiliate program provides affiliate offers through marketing links, and imagery, with link and source tracking to manage affiliate activity. As an experienced brand, this is an easy affiliate opportunity to sell, but to avoid disappointment, you should clarify that the applicant business must have been operating for a year, with $100K in revenue, and that the person applying must have a decent personal credit score.
OnDeck Details:
Payout: 2%
Referral period: 60 days
Payments: 15 days after EOM
Caplona Business Loan Affiliate Program
Caplona is a UK-based loan broker for businesses that provides a range of finance options for companies from asset and invoice finance to secured and unsecured loans. As a broker, it finds the best loan options from several lenders, so the customer can get a range of competitive rates.
The Caplona affiliate program provides a white-label partner login for affiliates, so you can use your brand as part of the promotion. There's also an active hub that highlights the progress of any loan deal as it goes through the partner finding, approval, and signing process. Commissions are paid once the deal is funded, with the commission split 50/50 with Caplona, based on the size of the loan.
Caplona provides affiliate account managers to help build a profitable partnership, and the white label option is a unique feature that enables affiliates to grow their own loan business without any of the financial investment or commitment. And with the UK business landscape under financial stress, there is enormous demand for business loans.
Caplona Affiliate Program Details:
Payout: 50% of the commission
Referral period: Not specified
Payments: On completion of the deal
DialABank Loan Affiliate Program
India is the world's next booming economy and is expected to grow 6.5% in 2023. As western companies continue to move manufacturing and business operations to more friendly locations. DialABank is taking advantage of India's new-found power with business and other loan offers made available through its affiliate program, with earning opportunities of around $1,250 (converted from 5 lakhs).
DialABank is one of India's leading digital financial services platforms. It works with affiliates to sell loans across the 1.4 billion+ population and the country's enormous business engine room. The DialABank Affiliate Panel, called My Office, provides details on loan progress as loan providers make the best offer for each business loan application. All affiliates have to do is refer clients and the system will do the rest.
Anyone addressing the Indian and south-east Asian markets will understand the flourishing market conditions, and affiliates who grab a foothold now, stand to earn well into the future.
DialABank Affiliate Program Details:
Payout: Commission not specified
Referral period: Not specified
Payments: On deal completion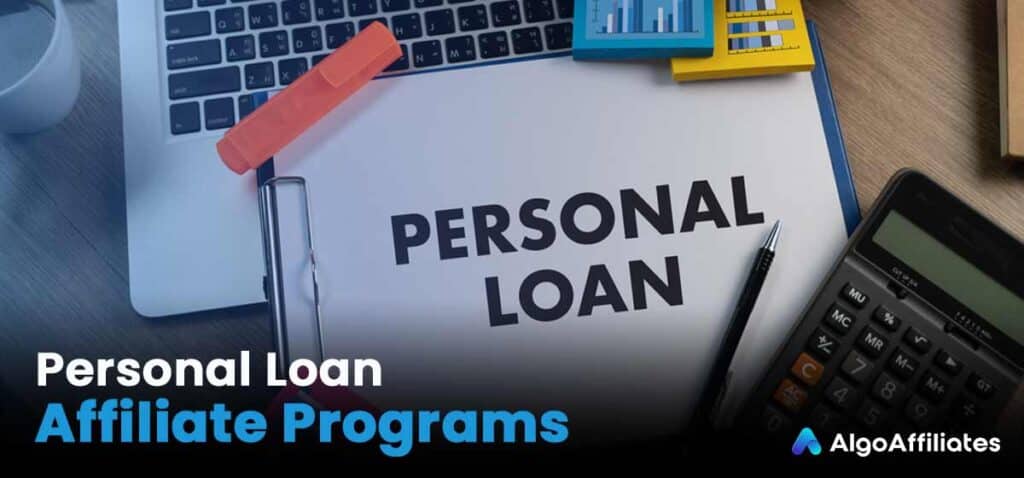 Personal Loan Affiliate Programs
Consumer personal loans have been a mainstay of personal finance for decades, but with the closure of main street bank branches, and people increasingly relying on apps, there are plenty of challenger banks and finance specialists capturing loan market share away from traditional banks. A personal loan is typically unsecured, so not tied to a property or vehicle, making them ideal for many people.
Whatever the need, personal loans are in high demand and affiliates can tempt their audience with aspirational goals and needs to complete deals and earn sizeable affiliate incomes through the latest offers.
 SoFi Personal Loan Affiliate Program
SoFi is an example of a challenger finance service, delivering quick and smart online banking services for the digital age. Personal loans for US customers from $5,000 to $100K are available at variable interest rates from 8% across two to seven-year terms.
SoFi's affiliate/referral program can bring in up to a capped $10,000 a year based on loan referrals, with up to $150 per product sold. SoFi has paid out over $20 million to affiliates so far, suggesting a strong brand that will only get bigger.
Affiliates need to get their traffic to download and install the SoFi mobile iOS or Android app, where users can apply for loans. There's a 60-second "check your loan rate" feature so prospects can find out how much their loan would cost. And there are other products to promote beyond loans to drive further engagement with your audience.
SoFi Affiliate Program Details:
Payout: Up to $150
Referral period: 120 days
Payments: 90 days after a successful loan application commences
LeadsMarket Personal Loan Affiliate Program
LeadsMarket provides personal loans for the US market, along with UK and US payday loans. Focusing on its personal loans affiliate program, it provides a professional and powerful method for affiliates to generate income by providing higher returns and a 3% referral bonus for new leads you bring. It works with multiple loan lenders to provide prospects with the right loan for them,
LeadsMarket's affiliate program comes with a live dashboard with user insights, reports, and statistics to help improve your performance, and a centralized payout system, wherever the revenue comes in from.
LeadsMarket works on a CPA commission model, providing from 90% to 95% of any total lead value, up to $240. The affiliate program has plenty of advice for generating leads, and they accept leads from all types of traffic, making it more flexible for affiliates that use varying marketing channels.
LeadsMarket Affiliate Program Details:
Payout: CPA (Up to $240)
Referral period: 30 days
Payments: Weekly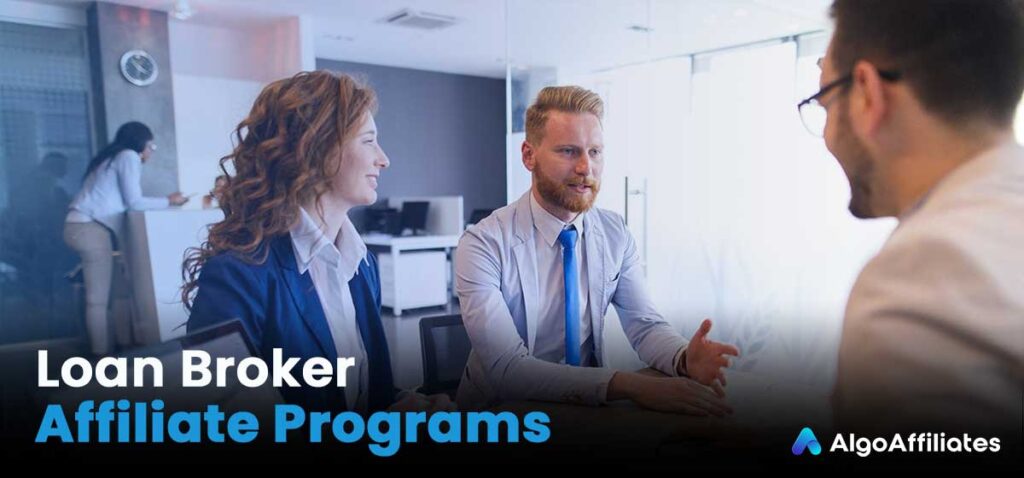 Loan Broker Affiliate Programs
Loan brokers are an in-demand service covering the middle ground between loan applicants and loan providers. Basically, why go to one bank, when you can go to a loan broker who will harvest the best offers from a wide range of finance providers? Brokers help affiliates and customers:
Save time on research
Save money on loans
Provide access to a wider range of products
Manage the approvals process
Find the right loan for each customer
All of this means being a loan broker affiliate adds firepower to your marketing, especially when so many people are unsure about what loan they should apply for.
Leadtree Global Loan Broker Affiliate Program
While there are plenty of traditional brokers that offer an affiliate program, Leadtree has created an efficient, simple, and profitable solution for affiliates, brokers, and lenders in the short-term loan space to work together. Leadtree provides loans across the UK, US, Canada, Australia, South Africa, and other select territories.
Leadtree's affiliate offers vary from £25 to £75 per lead, depending on the type of loan, including short-term, installment, and payday loans, with up to 100% commission depending on your audience. Each product is presented with a stylish landing page, with language and imagery focused on each target market.
The Leadtree affiliate program provides easy integration into your content, with real-time reporting as your audience signs up. And there's some useful information for your audience in the FAQs, about ensuring fields are filled in correctly to reduce rejections and boost your revenue.
Leadtree Affiliate Program Details:
Payout: £25-£75 per deal
Referral period: Not specified
Payments: Monthly, on deal completion
Biz2credit Loan Broker Affiliate Program
Biz2credit is a subsidiary of Biz2x, a business finance platform. It has been in operation for 15 years, providing small businesses with funding options for their projects or capital needs.
Biz2credit provides brokered business financing solutions, providing over $7 billion for their almost 250,000 small business customers, with facilities and loans to support payroll, tax, banking, and licensing.
Biz2credit's affiliate program promises a five-minute sign-up process and offers a competitive but unspecified percentage for every loan deal you provide that gets approved.
To drive business, there are professional marketing materials including banner adverts and the opportunity for co-branded landing pages. Loan decisions are made within 24 hours and are funded within 72 hours, making it a fast process for businesses in need of funds.
Advanced affiliate features include Yodlee Integration to link bank accounts, DocVault to store transaction details, and widget Integration to share finance calculators and other tools that can help prospects complete a loan application.
Biz2credit Affiliate Program Details:
Payout: Percentage of the loan value
Referral period: Not specified
Payments: Not specified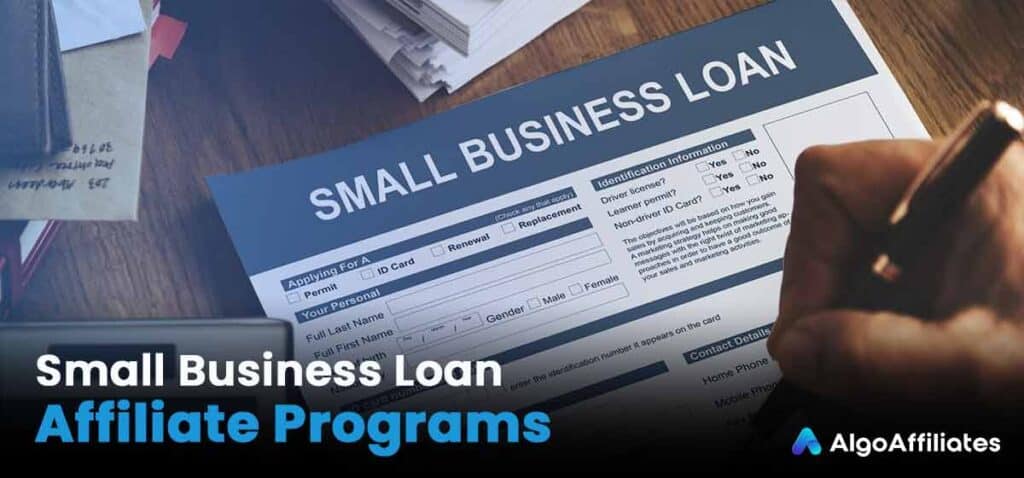 Small Business Loan Affiliate Programs
Startups and SMBs – particularly those not stylish enough to attract venture capital, including typical trades like hairdressers, plumbers, key service providers, and even niche traders – often rely on loans to get their operations up and running. Most business loans require a minimum turnover, but small business loans are more accessible for firms with more prosaic needs.
There are plenty of traditional ways to get business financing, but with so many business forums, blogs, advisors, and other content, entrepreneurs are more likely to come across loan offers on these sites than waiting for a flyer or email from a bank. This gives affiliates a great opportunity to help small businesses get going.
Capify Small Business Loan Affiliate Program
Capify provides small business loans to firms across the US, Australia, and the UK. Capify recently raised £40 million in financing to share with businesses, concerned about inflation and other small business challenges. Capify promises loans from $5,000 to $5 million within 24 hours, based on some basic criteria.
Affiliates are provided with email marketing content, landing pages, social media content, and sign-up forms for lead generation. Capify offers a range of cost-per-click (CPC), cost-per-lead (CPL), and/or cost-per-acquisition (CPA) revenue models for affiliates and other partners, with terms discussed after you sign up and talk to their partner managers.
Capify has good reviews from customers and has been in operation since 2008, so is a good long-term bet for affiliates with a strong business and finance pedigree, but applicants must have been trading for at least a year to apply.
Capify Affiliate Program Details:
Payout: On a deal-by-deal basis
Referral period: Not specified
Payments: On a deal-by-deal basis
Wayflyer Small Business Loan Referral Program
Focused on the e-commerce market, Wayflyer is an ideal loan choice for smaller online retailers and similar outfits looking to operate in chaotic and complex markets. Small businesses from around the world can benefit through the Funder loans, while larger or high-growth firms can use the Scaler product to fund their growth. Wayflyer also offers services beyond loans including marketing support for fledgling e-commerce businesses to help get them started.
Wayflyer's affiliate referral program can deliver up to $4,000 per customer for those affiliates who can refer new clients that take a loan of over $3 million. However, deals of that size don't come often, so more realistically, affiliates can make $1,000 for loans over $250K.
If you talk a lot about business, especially e-commerce on a blog or marketing site, then Wayflyer is a good way to make introductions for prospects and earn high-tier rewards, while helping other businesses grow.
Wayflyer Affiliate Program Details:
Payout: Depends on loan size
Referral period: No limit
Payments: Arranged individually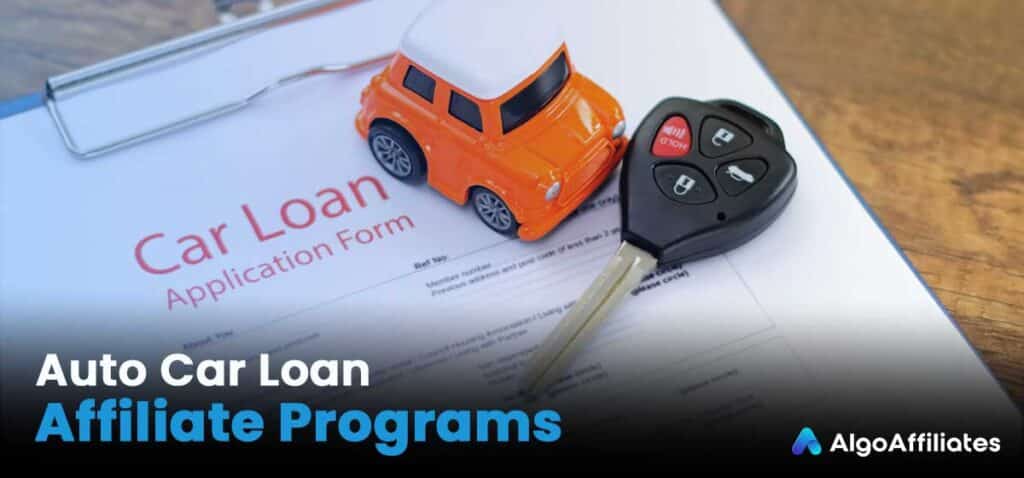 Auto / Car Loan Affiliate Programs
The rising prices of new vehicles, due to global supply chain struggles, particularly second-hand vehicles, have created a huge and competitive loan market. Lenders have a valuable asset they can recover should the customer default. Also, the current growth trend of switching to hybrid and electric cars is showing no sign of slowing down.
CarsDirect Car Loan Affiliate Program
CarsDirect is more than just a loan provider, they buy and sell cars through a large number of dealers across the US. This means affiliates can discuss automotive news, the latest models, great bargains, and more, and then present car loan options.
The CarsDirect affiliate program offers modest returns of $7 for dealer leads and $6 for loan finance leads, with everything managed and tracked by the Rakuten Marketing affiliate service.
CarsDirect also operates Instantcarloan.com which might be more appropriate if you want to focus content purely on car loans and financing services. It supports poor credit rating applicants, working with local lenders to provide a suitable loan product with no-money-down options.
CarsDirect Affiliate Program Details:
Payout: $6/7 per lead
Referral period: 30 days
Payments: Monthly
Auto Credit Express Car Loan Affiliate Program
Auto Credit Express provides both dealer offers and lender options for US and Canadian customers, regardless of credit history. From leasing to buying, they provide details on vehicles from 4,500 dealers and loans from a range of banks and finance providers, driving around 3 million car sales each year.
The Auto Credit Express affiliate program is open to anyone that passes their requirements, that is addressing a suitable audience, and is happy to show the latest vehicle offers. Their team is focused on driving conversions and are experts in the field, so the affiliate offers you show should have a high conversion rate. Affiliate marketing content includes co-branded application forms, skinned forms, responsive-design application forms, and banner ads plus other creatives.
Auto Credit Express Affiliate Details:
Payout: Varies per offer
Referral period: Ad dependent
Payments: Monthly
Home Loan / Mortgage Affiliate Programs
A home, from a downtown condo to a detached house in a cul de sac is still the most expensive thing most people will ever buy. Naturally, the home loan market has expanded as consumers look for the best deals, rather than stick with their traditional bank, and plenty of these services provide affiliate offers for those in the realty or property finance spaces.
LendingTree Home Loan Affiliate Program
LendingTree provides a range of loans and finance, with a focus on mortgages and home refinancing. As a broker, it works to find the best options based on a prospect's personal circumstances, and affiliates are rewarded with a fixed fee of up to $44.50 per deal.
LendingTree's affiliate program is managed by Sovrn Commerce, and it has a great feature in its tools that can scan your content and turn existing product links into affiliate links. Affiliates can also use their tools, like a home affordability calculator and mortgage payment calculator to drive leads.
LendingTree Affiliate Program Details:
Payout: CPA up to $44.50
Referral period: 14 days
Payments: Monthly
Loan.co.uk Mortgage Affiliate Program
This UK loan site aims to simplify the complexity of applying for loans and mortgages and is happy to work with affiliates to generate more business. The site uses AI power to reduce costs and speed up transactions, offering new mortgages, remortgages, and second mortgages.
The Loan.co.uk affiliate program offers the personal touch with brokers in offices around the UK ready to take your leads and turn them into paying customers.
Working as an "introducer" or "lead generator" for Loan.co.uk, there's a field in the sign-up form that asks if you are Financial Conduct Authority (FCA) registered and a compliance questionnaire. You don't have to be, but presumably, it will help your application. Once successful, Loan.co.uk can provide co-branded banners, mortgage calculators, and unique landing pages plus account managers to help you drive your affiliate opportunities forward.
Loan.co.uk Affiliate Program Details:
Payout: Varies
Referral period: Not specified
Payments: Monthly
Start-Up Business Loans Affiliate Programs
Startups typically need money fast to acquire operating services, develop products or buy stock or hire key personnel to get the business moving. And with venture capital about to undergo a major crunch, VC guru Tom Loverro predicts an "extinction level event," that will result in startups looking to loans as a better way to get moving forward.
Tide Startup Loans Affiliate Program
Tide is a UK digital bank for businesses that is happy to work with the smallest of firms, no need for 12 months of accounts or other hoops. It offers startup loans among other financial products and fast digital banking, linking directly to your existing bank account. Tide startup loans help small and new firms to make their business dreams become a reality.
For affiliates, you can use Tide's affiliate program, managed by Impact Radius, to earn £50 for each new client you refer to the bank. The affiliate application process is easy, and the real-time dashboard provides reports, a library of useful links, and high-performing creative assets.
Tide Affiliate Program Details:
Payout: £50
Referral period: Not specified
Payments: Monthly
Unsecured Loan Affiliate Programs
Whether it be for a holiday, home renovations, emergency repairs, or debt consolidation, the unsecured loan remains a go-to for many consumers. Whatever the purpose, there are plenty of loan vendors using affiliate marketers as a way to reach out to potential customers.
Algo-Affiliates is an affiliate network, with a range of programs covering different parts of the finance market. One of the key benefits of working with us is that you can pick from a range of affiliate offers across finance or business areas, and other niches to create a compelling mix of offers that are likely to perform strongly and deliver great income.
We have a range of affiliate personal loan offers, and we specialize in working to bring top-tier rewards for our affiliates, including up to 75% CPS rates or $24 CPA for leads through our current offers. Our loan marketing materials and landing pages are attractive and simple to engage your audience, drive sales, and save you time.
With over 1,500 offers across a range of niches, Algo-Affiliates can deliver high-value and relevant offers for your audience, plus our user-friendly dashboard makes keeping track of your performance super easy. We also provide Smartlinks traffic monetization technology that dynamically adapts ads to your audience, to present them with the ideal affiliate offer.
Algo-Affiliate Program Details:
Payout: CPL/CPA Varies
Cookie period: 30 days
Payments: Monthly
 Bad Credit Loans Affiliate Programs
Consumers suffering from bad credit ratings need access to loans and finance but cannot use most traditional loan services from banks. However, there is a solution to this. There are plenty of lenders that are prepared to take on these riskier clients. There is a huge demand for bad credit loans, and this presents some amazing affiliate opportunities.
OneMain Financial Loan Affiliate Program
OneMain Financial is a US finance group offering loans and credit services. It can find consumers the best loans based on their circumstances including those with bad credit, through a simple 5-minute application process, with loans starting from $1,500.
Applicants do not need a minimum credit score to apply but must have some form of credit history. And note that some states have minimum loan amounts that may put them out of the reach of low-credit score applicants.
OneMain's affiliate program offers CPA rewards for affiliates that can drive personal loan deals. The program works through affiliate links or APIs. There is no dashboard though, so affiliates get daily email reports, and you'll only find the affiliate offer rates and rewards once you apply.
OneMain Financial Affiliate Program Details:
Payout: Varies
Cookie period: Unconfirmed
Payments: Unconfirmed
LendingClub Bad Credit Affiliate Program
LendingClub is on a mission to help Americans restore their credit rating and improve their finances. It has won over 4 million customers with its "fits-your-budget" offers, plain-speaking approach to finance, and simple applications and money management advice. It has delivered over $80 billion in personal loans to help consumers save, consolidate debt, and take charge of a brighter financial future.
LendingClub markets itself as operating with lower costs than traditional banks and passing on these savings in the form of lower interest rates to borrowers. Which makes for a good story to tell in your content.
The LendingClub affiliate program, managed by Impact Radius has a specific option for personal loans, It offers $40 per referral and uses Impact's powerful creative and technology to drive conversions, plus a smart back-end to monitor performance.
LendingClub Affiliate Program Details:
Payout: CPA up to $40
Cookie period: 30 days
Payments: Monthly
Loan Affiliate FAQs
1.     What is a loan affiliate program?
A loan affiliate program provides affiliates with offers to promote loan services. For every referral sent by an affiliate that results in a lead or a deal for the lender, the affiliate earns a commission for their efforts.
The affiliate program provides all the necessary technology for tracking and payments, plus a variety of marketing content for the affiliate to use. The program also gives support to affiliates to help them with their marketing efforts.
2.     Can anyone promote loans and mortgage affiliate programs?
Yes, as long as you do not claim any undue financial expertise or claim to be part of a group or network of financial providers. Check any rules and regulations around financial marketing in your area before starting down the finance affiliate route.
It is worth noting that some loan affiliate programs do have certain minimum requirements before you can work with them, such as a minimum amount of monthly traffic to your site, or a certain number of followers across social media channels.
3.     Is the loans market a good affiliate niche?
The Loan affiliate niche is counted  to be among the highest Paying affiliate programs and is highly lucrative, evergreen niche. The loan space is highly competitive, so your marketing needs to be sharp if you want to stand out and achieve success. There are also specific nuances when it comes to loan marketing, so it is vital to gain a solid understanding of the industry and marketing techniques that work. Those affiliates who crack the formula make excellent returns.
4.     How should I promote loans and mortgage affiliate offers?
Much financial jargon is confusing to many consumers, so you can take a plain-speaking approach and deliver "making things simple" content to them. For the business audience, you can promote loan offers as a new way of financing from smart technology-focused providers that are on their side, as opposed to the staid approach of traditional banks.
As with all affiliate marketing efforts, you have to have a clear marketing strategy and plan that includes all the channels you intend to use. Some of the most popular ways that affiliates promote are using SEO content, paid advertising channels, and social media. Just be aware that most paid channels have very specific rules when it comes to loans.
5.     How do I handle the regionality of finance providers?
Core to affiliate success is targeting, so it comes as no surprise that your marketing content needs to be geared towards a specific market and audience. In other words, if you plan on promoting different offers to varying markets, each needs to be as laser-targeted as possible. Do not try using a "one size fits all" approach.
6.     What is the long-term value of loan affiliate offers?
Mortgages and loans will never go out of fashion. Therefore, to build long-term value for yourself, you need steadily growing and consistent traffic. Unfortunately, very few affiliate programs pay for repeat borrowers, so you may only earn the first time they take a loan.
Building a subscriber base and email list is a solid strategy that will allow you to regularly send out new loan offers and build long-term value. You could look at sending a monthly newsletter with some interesting stories, and then include some offers.