As affiliate and marketing methods and technologies diversify, and improve to deliver better results, the focus of businesses continues to move away from straightforward traditional advertising. One great example is Commerce affiliate marketing.
Instead of adverts pointing to additional content about a product or service, eCommerce affiliate activity is focused on driving the visitor directly to the online store, and specific products within the shop. This can be to drive sales during key seasonal or sale periods, attract attention to new products, or clear stock ahead of a new season's line-up.
Whatever the retailer's market and objective, from clothes and beauty to digital music and technology, using affiliate marketing techniques place those products in front of people most likely to purchase them. This is lower cost than typical online advertising, is performance-based, more flexible, and delivers a strong return on investment.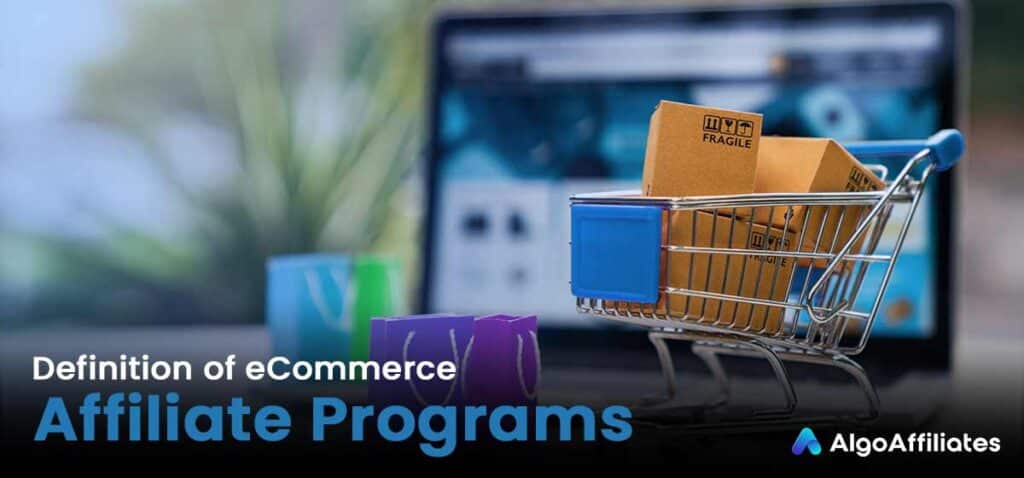 Definition of eCommerce affiliate programs
An eCommerce affiliate program is a service that connects online content creators (you, the affiliate) with retailers and brands who have something to sell online.
The affiliate uses various online marketing tactics to attract potential customers for the brands. When a sale is complete, the affiliate gets a commission, typically a percentage (generally in the 5% to 10% range) or fixed fee and can build their income from repeated sales.
The affiliate program uses a cookie, custom link, or another method to track sales, and provides regular commission payments.
For the affiliate, the high-sales nature of the products will deliver strong commissions on sales. There is also a constant treadmill of new products and offers. And, as eCommerce has evolved, it is easy to set up an eCommerce store, dropshipping products from other suppliers, to build up your brand, earning more revenue from your affiliate efforts. Dropshipping business is growing at around 27% yearly to reach around $1.6 trillion by 2030, highlighting the boom in this market.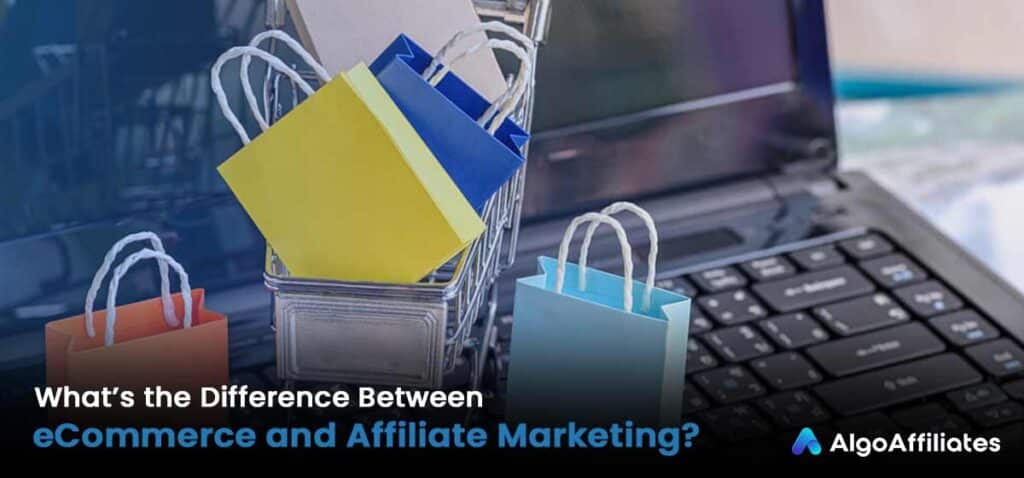 What's the Difference Between eCommerce and Affiliate Marketing?
eCommerce is defined as the buying and selling of products over the internet. eCommerce includes the processes of transaction processing, supply chain management, inventory management, and more. eCommerce can be simply thought of as a shop that is located online with all the processes going on in the background.
Affiliate marketing is a type of marketing technique where a 3rd party (affiliate/publisher), refers potential customers to the eCommerce store in return for a referral fee (commission) if a sale takes place.
As you can tell from the above, eCommerce and affiliate marketing are completely different components of online commerce but are obviously linked as they both have the common goal of generating sales. In essence, affiliates focus on marketing, and eCommerce focuses on the product and operations.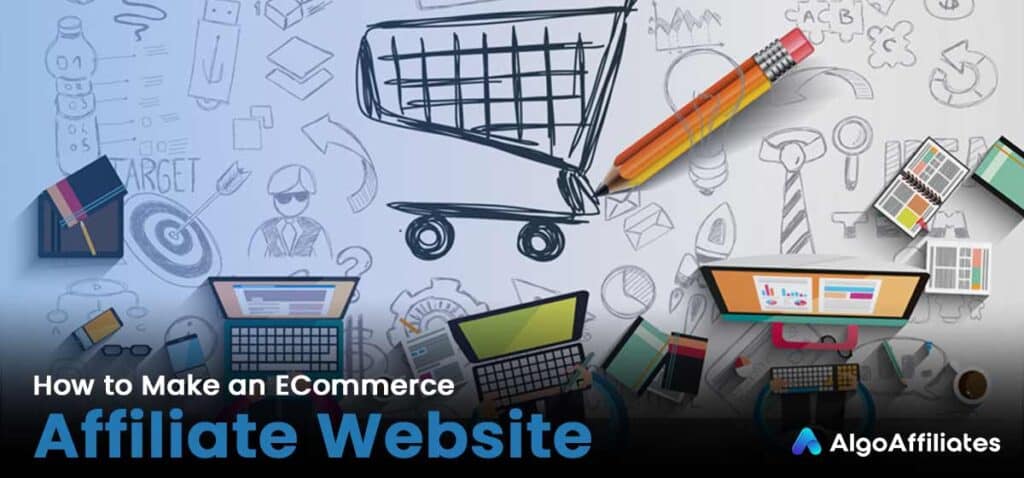 How to Make an ECommerce Affiliate Website
Anyone can build an eCommerce affiliate website these days with the plethora of website builders. Many services automatically help you build a website with minimal skills or content needs. The key requirement is to build a site that focuses on the types of products you aim to link to.
The key to affiliate success is to create an attractive site that builds an audience of loyal users who want to engage with the affiliate offers. Typical audiences that you might want to focus on include:
Technology enthusiasts
Media and entertainment consumers
Fashion and beauty consumers
Bargain hunters
Travel and holidays
Luxury and high-end products
Each of these areas has a broad scope for eCommerce and retail segments, and it is possible to build pages of suitable related offers that will attract multiple clicks from your audience.
It is worth noting that you don't have to build a website to earn with eCommerce affiliate offers. You may want to use a blog, or social media channels to promote products. You could also use ad networks, mobile apps, and many other online marketing channels.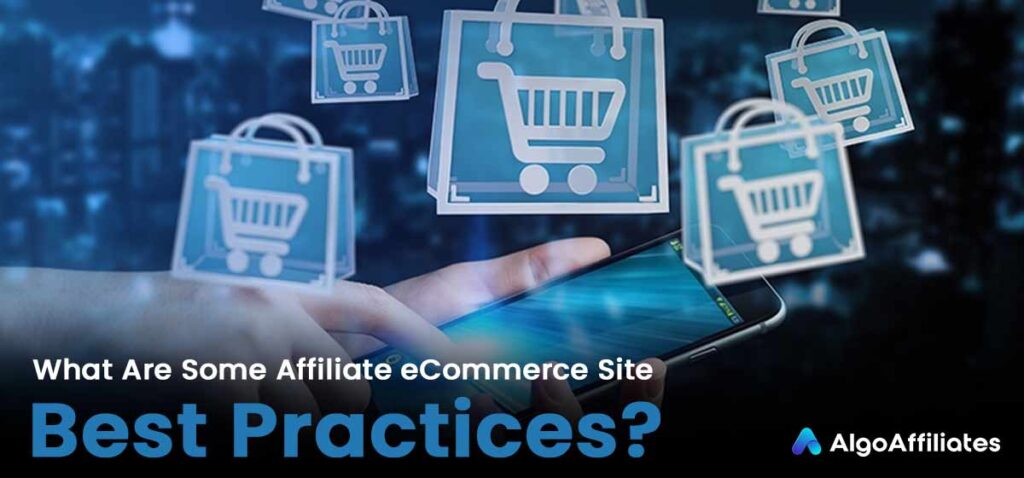 What Are Some Affiliate eCommerce Site Best Practices?
Firstly, you should plan your site, content, and eCommerce marketing strategy based on the markets or products you want to focus on presenting to your audience. Decide how much time (and money) to invest, and what you expect as a return.
Your audience and income should be part of your goals and objectives. If the audience isn't growing, what can you do? And as you build in flexibility to adjust the site and eCommerce ads to maximize your revenue, you should consider when it is a success or when to move on and try a different approach.
Work with a number of affiliate programs and networks to find the ones that work best with you and deliver the strongest results. Look for networks with strong support, and quality marketing materials, and who regularly add fresh offers to deliver new products and promotions for your audience.
Work on a content plan that creates shareable, attractive, pages for enticing offers, and keep updating them, sharing, and promoting them. You don't need to be an influencer, although it can't hurt, but bring your knowledge and passion about a subject or market to make unique and enjoyable content.
Something to pay extra special attention to is the user experience. Consumers want a fast, smooth buying experience, so don't put obstacles in the way for them. Plus, if the eCommerce site you refer them to has a tedious buying and checkout process, this will hamper your earnings.
Another great tip to help you succeed with your eCommerce affiliate marketing efforts is to learn about the science of eCommerce consumer behaviour. Companies like Amazon and eBay have invested millions in understanding what makes buyers buy. Simple things like a call to action or the colour of a "buy now" button can have dramatic impacts on performance.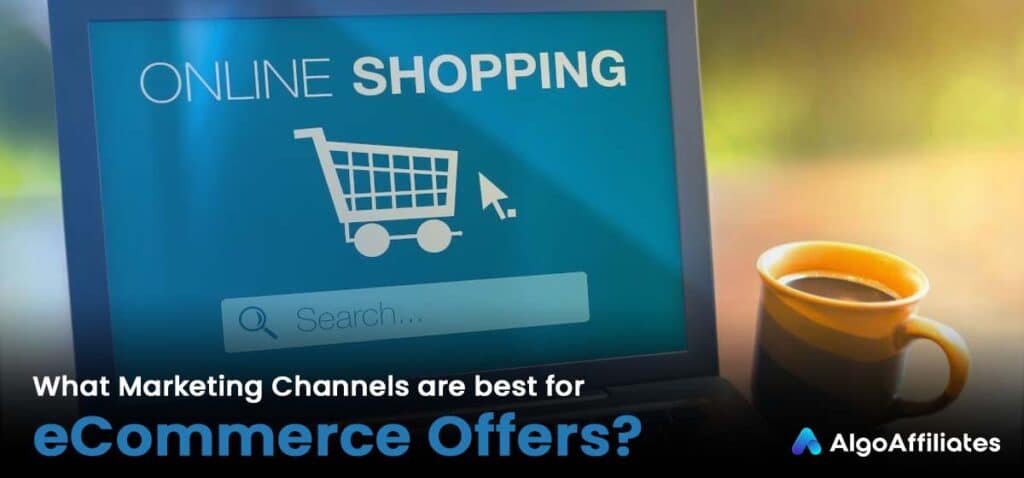 What Marketing Channels are best for eCommerce Offers?
Traditionally, affiliates have used websites and created blog content or landing pages to engage with their audience, but as social media and alternative forms of content creation and production boom, there are many approaches to take including:
Blogging – write about what you love or know and encourage readers to click your eCommerce links.
Video content – make shows from interviews, and demonstrations, and highlight the products in action to wow an audience.
Email newsletters and marketing – send relevant news, deals, and adverts to your audience.
Social sharing – talk about products on social media, forums, and in other areas.
Mobile apps – put content and adverts into apps for people to download.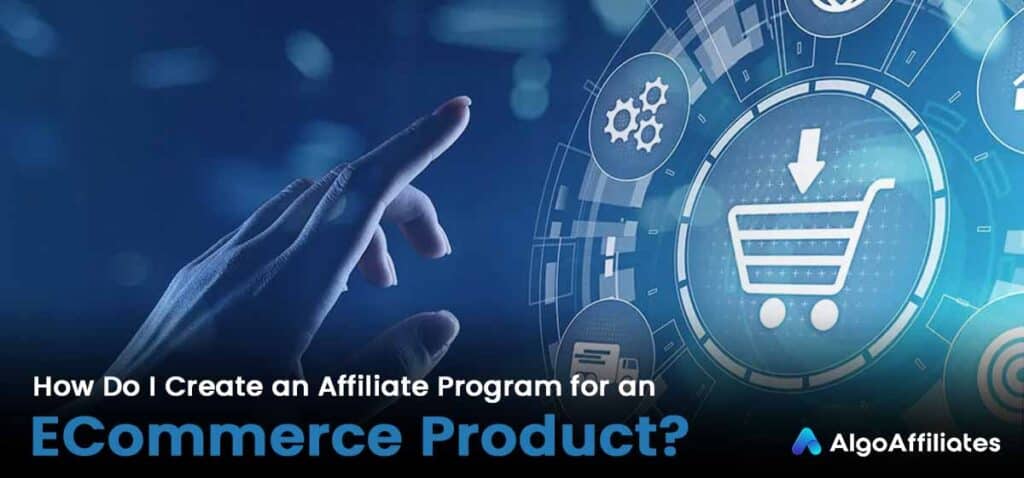 How Do I Create an Affiliate Program for an ECommerce Product?
Most affiliates are happy to use existing programs to deliver adverts on their content, but there are also creators, manufacturers, and new retailers looking to build their own affiliate programs that they can promote via the affiliate market.
For those, the same applies, there are plenty of strong eCommerce-focused affiliate networks and programs in operation that you can join to create your own-branded program. Popular examples include Ratuken, Impact, and us at Algo-Affiliates, to deliver results for your eCommerce products.
Signing up to create an affiliate program is not that much more complex than becoming an affiliate. However, additional details, payment, and having the advertising content to use are all prerequisites. But for new businesses, we can offer plenty of advice and resources to create marketing content that affiliates will want to use with their marketing.
Working with affiliate networks to launch your program can reduce much of the admin and management of the program, and as eCommerce sales are increasingly driven by affiliates, you will be getting into the market ahead of the massive, predicted growth.
What's the Easiest Way to Create an eCommerce Affiliate Program?
If you want fast results, creating a program with an existing affiliate eCommerce network will deliver thousands of affiliates ready to promote offers and have millions of followers and traffic. Tapping into these networks should boost sales and deliver a strong ROI, even with affiliate and network commissions taken into consideration.
If your needs are more complex, or you need finer control of the program, you can build your own using affiliate white-label applications. These let you use an existing service but with easy customization for your brand and bespoke requirements. You can approve the affiliates you work with and adjust the eCommerce program to your business and market needs.
Finally, you could create a bespoke service, if you have the team and resources to build it. This ensures you retain maximum revenue and can approve every stage of the affiliate process, adjust every step of the eCommerce process, and maintain control of marketing, affiliate interactions, and the value chain.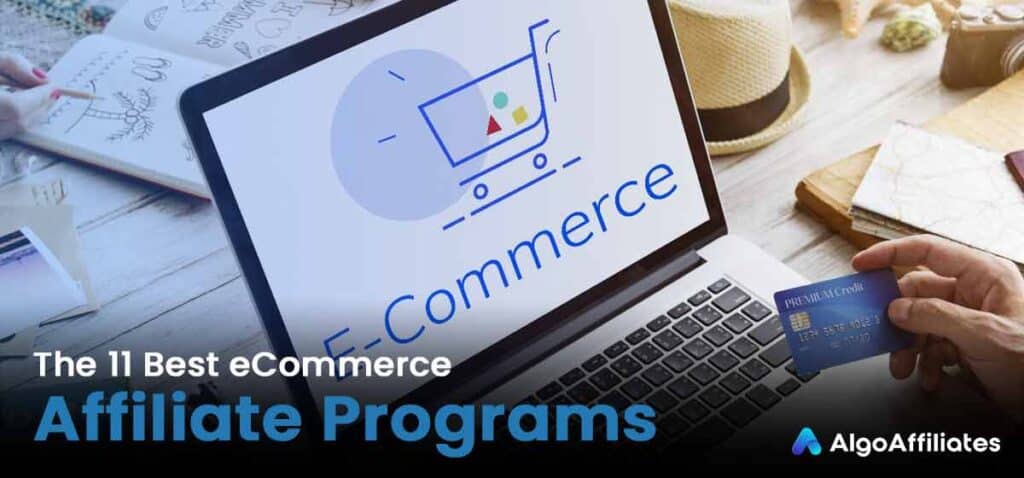 The 11 Best eCommerce Affiliate Programs
With the above information in mind, there are plenty of approaches you can take to becoming or growing your affiliate eCommerce footprint. Some publishers are happy sticking to traditional affiliate programs that deliver a broad range of offers for their audience, while others might want to push further into retailing, either as a dropshipper or running their own store.
And with eCommerce being such a huge market, there is nothing to stop people from innovating and building their own products, having them made in connected factories around the world, and having them delivered direct to customers. This approach has revolutionized commerce, sales, and marketing in the last decade, with much more to come.
Whatever the approach, these are some of the leading eCommerce programs and affiliate networks that you could work with.  When it comes to eCommerce there are several monstrously big players in the market, but also up-and-coming affiliate networks that can deliver rapid results around innovative content. Check out these players you might want to work with:
1.     eBay Partner Network
What started out as a personal auction site is now a global retail behemoth, supporting many big-brand stores and boutiques in every retail niche and market. To help sellers focus their products on the right audience eBay runs a partner network to push products out to a wider audience, rather than rely on searching and promotion.
Free and easy to sign-up for, the eBay Partner Network offers smart links, creative galleries, and APIs to enable affiliates to show off products in the best way to match their content. It provides a smart platform that shows ads and revenue activity, providing the solutions you need to build ads and campaigns, drive traffic to increase revenue, monitor performance, and optimize results.
Approaching 1.5 billion listings, with 80% new items, the second-hand yard sale stigma is long gone. eBay works with Adidas, Phillips, Crocs, Super Dry, Reebok, Asus, and many other top brands, making it easy for you to find products to sell that suit your content and audience.
For affiliates, eBay offers between 1.5% and 4% across its retail categories, with a cap of $550 per sale. As long as your audience uses "Buy it now" or puts a bid in within 24 hours of using your ad/link (and wins the product) you get the commission.
And there's nothing to stop you from putting your own goods on eBay and linking to them on your affiliate pages. Many people build up strong incomes from buying remaindered stock, second-hand items, or collectibles and listing them in the store. Flipping goods is just as much fun as driving affiliate sales and for those in the right market, a great way to make contacts that can drive further business.
For some segments, eBay has Featured Categories, typically for watches, sneakers, and trading cars, with extra features to guarantee authenticity that can become part of your content and coverage. And with global reach, plenty of niche brands, boutique vendors, and the lure of bidding for a bargain, there are many approaches to take to tempt your audience.
Affiliate operator: eBay
Cookie duration: 24 hours
Commission: 1.5% to 4%
Payment terms: 10th working day of the month
Benefits of using eBay partner network:
A huge and endless selection of products to sell
eBay Creative Gallery makes for striking links to products and categories
90% of items are sold as "Buy it now" for faster sale completion
Negatives of using eBay partner network:
Relatively low commission rates
Some still associate eBay with "used", but you can help change that
Selling on eBay
Anyone can create an eBay account and start selling as an individual or eCommerce trader. Subscribing to eBay's Stores feature allows you to pick from various tiers of store types from the starter, all the way up to enterprise, and personalize it before stocking the store with products to sell.
2.     Amazon Associates
The other big seller in the eCommerce jungle is Amazon, selling across almost every product category you can think of, and providing partner stores for many retailers and brands. As the affiliate or "associate" as Amazon calls them, you can place eCommerce ads next to your appropriate content to help sell individual products or focus on popular product categories like homewares, fashion, technology, and entertainment.
Signing up to be an Amazon Affiliate is free and simple to do. Once confirmed, you can immediately start linking Amazon retail products from your pages through text or rich links or use Amazon's banners.
As with eBay, commission rates vary wildly from 1% on the most popular items like video game consoles, 3% for Amazon's own range of technology and smart devices, up to 12% for fashion and luxury goods. As well as specific products, you can also help promote Amazon's eCommerce events like Amazon Prime Day as well as more seasonal events.
When you are checking Amazon's products, the SiteStripe feature makes it easy to create a link to any section or product without even visiting the Associates site, and they are easy to share via Twitter and Facebook.
Amazon's dashboard is a relatively simple affair, showing the number of clicks, how much commission you get on sales, and the now (seemingly inevitable) reductions for returns, as many buyers cancel their purchases.
Affiliate operator: Amazon
Cookie duration: 24 hours
Commission: 1% to 12%
Payment terms: Monthly
Benefits of using Amazon Associates:
Massive marketplace with focused sections and huge brands
Banners make it easy to appeal to "just browsing" shoppers
Amazon's fast delivery makes it hugely popular in the marketplace
Negatives of using Amazon Associates:
Short cookie duration
Amazon's brand power might be waning, but there are plenty of other brands to promote
Selling on Amazon
If you have eCommerce products you want to sell on Amazon, you can join for $39.99 a month and build your storefront. Amazon takes its cut off your sales, but potentially provides some $50,000 worth of benefits including credit for adverts, up to 5% back on your first million in sales, and information on brand protection and other eCommerce issues.
You don't need physical products either, you can sell eBooks on Amazon's Kindle store, digital training and education courses, music, and digital artwork. Amazon's reseller market makes it easy to sell second-hand products alongside new ones.
3.     Algo-Affiliates
As an affiliate network, Algo-Affiliates is offering a different route to eCommerce success compared to a broad-spectrum retailer where you can pick from almost any product.
From hot-selling technology items like portable heaters (ideal as the energy crisis rumbles on and prices continue to rise) to smart home security cameras that plug into lighting sockets, through our advertising partners, we offer the useful and inspired. That expands to health and beauty products, music and video, and much more.
Algo-Affiliates, is focused on what is a hit with the market and provide the ads and impressive landing pages that deliver you great returns compared to those offered by major eCommerce stores to affiliates.
The network's affiliate managers are committed to supporting and helping newcomers to eCommerce affiliate programs get the most value from Algo-Affiliates.
Affiliate operator: Algo-Affiliates
Cookie duration: 30-day
Commission: Depends on the product
Payment terms: Monthly
Benefits of using the Algo-Affiliates eCommerce program:
Access to a wide range of innovative products and affiliate offers
New and unique eCommerce products, updated frequently to support fresh content
High commission rates and EPC eCommerce returns that vary by offer
Negatives of using the Algo-Affiliates eCommerce program:
A limited number of eCommerce offers but growing fast.
4.     Thinkific eCommerce Training Tools
Not everyone is interested in selling gadgets or physical products. There are many people who have a market, business, personal or other knowledge, that they can sell as a product by turning it into training material using a service like Thinkific. This service helps them create, market, and sell their knowledge as online courses or learning communities.
The Thinkific online course platform lets users turn their knowledge or expertise into high-value revenue as they deliver the courses to a growing audience, typical examples include:
Business training and education (such as cybersecurity, entrepreneurship, sales management, and more).
Education information for teachers, students, pupils, and parents.
Business onboarding courses and packages.
Learning how to make it in particular markets or lines of work.
Teaching about finance, investing, coding, or other high-value subjects.
Thinkific's Academy provides all the guidance and information for getting the knowledge down on-screen and packaging it up into attractive content that can be sold as courses. From blue-sky thinking to proven strategies, and from practical big ideas to small tips, a good course can net substantial income.
Note that Thinkific has its affiliate program, so you can benefit by selling its service to your audience who can go on to create its products. Affiliates can earn up to $1,700 per customer per year depending on the Thinkific services they adopt.
Affiliate operator: Partnerstack
Cookie duration: 90-day
Commission: 30% lifetime recurring commission on all monthly or annual paid subscriptions
Payment terms: Monthly
Benefits of using Thinkific:
A proven way to deliver knowledge and training.
Creates high-value products that deliver both income and branding.
Negatives of using Thinkific partner network:
Many course creators lose motivation quickly and will cancel their subscriptions.
5.     Shopify eCommerce Store Builder
Since we are on the subject of eCommerce, it would be rude to not mention Shopify, the online store builder of choice for the cloud generation. Affiliate favorite beauty store Sephora runs its eCommerce site on Shopify and there are thousands more examples from massive brands to boutiques that are all built on the platform.
Shopify enables any size of business to create and operate its eCommerce store for physical or digital products. Shopify stores are responsible for 10% of all US eCommerce and generate over $440 billion in sales. Having control of your store makes it easier to:
Run and plan a business
Take a greater share of the profits
Have affiliate programs and affiliates deliver customers for your goods
Expand and scale your business easily
When signing up you can choose from one of three paid plans, from small business to enterprise. Stores can be built in a matter of minutes with templates, or they can be developed, crafted, and customized as needed, depending on your resources. Key features like checkouts and back-office services are all built-in, and there is a huge online community and courses to provide advice to newcomers.
Even if you don't need Shopify to build a store, you can use the site to identify new or niche products that you might be able to sell to your audience. There are plenty of ideas and advice to be found.
Naturally, Shopify wants to expand to new businesses every day, so has its own affiliate program. This enables you to generate revenue if your audience is the type of people or content creators keen on running their own stores.
Affiliate operator: Impact
Cookie duration: 30-day
Commission: $58 commission for each subscription
Payment terms: Bi-weekly
Benefits of using Shopify:
A proven store-building application that creates great eCommerce stores
Create a storefront for all types of eCommerce products
Negatives of using Shopify:
With so many Shopify stores opening, you are unlikely to get any free promotion, leaving all the marketing up to you.
Alternatives to Shopify: With eCommerce being such a massive market, there are plenty of alternatives, with Odoo representing an open-source approach to eCommerce store creation for those who require a more flexible approach to website design, creation, management, and sales tools. They also have in-house experts who can build your store for you, taking the pressure off non-technical businesses.
6.     Brandbassador Creator Marketing Management Platform
The modern eCommerce brand is fighting thousands, if not more similar businesses in the battle for brand awareness and market share. That's why many come to rely on affiliates, influencers, and brand ambassadors to help promote them.
Brandbassador is focused on delivering ambassador marketing for eCommerce brands. Think of brand ambassadors as personal salespeople, who use their brand, websites, YouTube, or TikTok channels to promote brands alongside their regular content.
To join Brandbassador as an ambassador, you have to have some level of influence in your subject, market, or niche. Growing topic examples include:
The metaverse and virtual reality
Consumer products with artificial intelligence built-in
Environmental advocacy for new eco trends
Cutting-edge healthcare and life sciences
Alternative economic lifestyles
As an eCommerce business, if you want to work with Brandbassador, you can use them to manage relationships with the ambassadors, build engagement with audiences, track the ROI on your eCommerce sales efforts and create the content that delivers engagement. And, Brandbassador has its own MVP affiliate program to help sell its services far and wide through traditional affiliate efforts.
Affiliate operator: Brandbassador
Cookie duration: 30-day
Commission: Amazon vouchers for prospects and dollars if they become customers
Payment terms: Monthly
Benefits of using Brandbassador:
Broadens the nature of affiliates to a higher level of influence
Ideal for brands that are looking to make waves in the market
Negatives of using Brandbassador:
No guarantee of success, especially in crowded markets
7.     MandM Direct Partnership Programme
Not all eCommerce affiliate programs need to be with giant eCommerce retailers like Amazon. MandM (not to be confused with the candies M&M) is a UK-based discount sport and fashion retailer operating across most of Europe. Focused on value, it provides exciting campaigns and influencer events to tap into the online market, working with brands like Adidas, Puma, New Balance, and more.
Through the affiliate program, affiliates can tap into and leverage strong offers, typically 50% off or multi-buy deals. These are ideal for impulse buying, tying into sporting seasons, tournaments, events, sports fashion, and emerging trends.
Affiliates can use MandM's broad range of product links, banners, and a selection of lifestyle imagery, which is great for getting away from the usual product shots. Weekly newsletters for affiliates provide details on up-and-coming promotions, best sellers, and offers. These can help you tweak your content and affiliate advertising plans.
MandM products have plenty of "selling fast" and "low stock" alerts beyond the adverts to hurry sales along, and with prices going up in many areas of life, any retailer taking the bargain approach will be in high demand, bringing in plenty of affiliate income along the way.
Affiliate operator: Partnerize
Cookie duration: 30-day
Commission: 10% commission for new and between 1% to 3% for returning customers.
Payment terms: Monthly
Benefits of using MandM partner network:
Strong focus on sports and lifestyle bargains
Also sells shirts, dresses, and accessories
Negatives of using the MandM partner network:
Only available across Europe
8.     Rakuten eCommerce Brand
Rakuten has grown from being Japan's biggest eCommerce brand into a global giant, with a huge affiliate business of its own. Not bad for a brand whose name means optimism in its native Japanese.
One of its major features is enabling western eCommerce brands to trade in Japan with 50,000 eCommerce stores under its umbrella, reaching 110 million members for over 25% market share. Rakuten also operates in most major European countries and the US market across a range of services.
In the US, Rakuten Rewards, video, and messaging brands all work in harmony to deliver value to eCommerce brands. That is led by the massive Rakuten Affiliate Program, built up through several acquisitions plus its dominant market position to help deliver value for both brands and affiliates.
There are over 150,000 Rakuten affiliates around the world and whether you want to join their ranks to leverage their eCommerce products or sign up as a brand and make use of the millions of views they attract; it is a simple and productive service to use. There are thousands of different programs to compartmentalize and focus on customer requirements, with many that will suit the eCommerce niche.
Affiliate operator: Rakuten
Cookie duration: Varies by brand and product
Commission: Varies by brand and product
Payment terms: Net 60 terms
Benefits of using the Rakuten affiliate program:
Massive reach and brand power with major eCommerce names
Always happy to work with new and growing affiliates
Negatives of using the Rakuten affiliate program:
So big that you are just another number unless you stand out from the crowd
9.     Sonos Speakers Affiliate Program
Not every eCommerce affiliate has to focus on low prices and high sales approaches. There are plenty of major brands out there that deliver high-quality, high-price products, especially in the consumer technology space.
These can be the focal point of affiliates blogging or vlogging about home entertainment, music, gadgets, and technology. Sonos is a great example brand with a range of audio technology that is popular in the US and prime European markets.
Sonos attracts strong brand loyalty from customers, with the potential for a Sonos product in each main room across the home. And there are many accessories and annual product refreshers to drive repeat sales.
As a major brand it will only work with high-quality affiliates with a proven audience, but once accepted through its FlexOffers-managed program (Sonos works with various affiliate networks in different countries), its eCommerce store is your playground with links to key items and services that all deliver a strong commission.
Affiliate operator: FlexOffers
Cookie duration: 30-days
Commission: 8% on sales
Payment terms: Monthly
Benefits of using the Sonos affiliate program:
Can provide additional brand benefits with a halo effect around your content
Lots of technology to talk about and enthusiastic owners to discuss it with
Negatives of using the Sonos affiliate program:
The audio space is highly crowded and competitive with many big brand names like Sony, Samsung, and others
10.  Etsy Affiliate Program
At the other end of the eCommerce and technology spectrum are markets like Etsy, home to everything hand-crafted, boutique, and niche. While you could probably find something for every subject or market, you need a very targeted audience that laps up the innate value of a trinket or artwork compared to the hard price tag.
The Etsy affiliate program market offers affiliates the opportunity to share in the rewards from this global craft fair, with less restriction on audience size and engagement. Etsy creators are more than likely happy to see their products in front of a fresh audience and see a few more sales.
Etsy provides categorized banners, tracking links to products, curated pages, and an affiliate newsletter to keep the ideas flowing. These make a great way to drive and earn commissions on creative products.
And, if you have your own production line for home-crafted or small manufacturing runs of attractive products, then sign up as an Etsy seller and put them in front of a massive audience, while other affiliates promote them alongside their content.
Affiliate operator: Etsy
Cookie duration: 30-days
Commission: Between 2% to 4% on sales
Payment terms: Paid twice monthly
Benefits of using Etsy's affiliate program:
Recognizable brand
Opportunity to tap into a unique space
Negatives of using Etsy's affiliate program:
There is a $5 refundable joining fee
11.  Rebag Fashion Affiliate Program
If Sonos is for the gadget-obsessed man around the house, then big-brand luxury bags are a staple for the lady of the house, either as a gift or a treat. The luxury market is split between the top retailers selling their own products and other eCommerce brands trying to sell them a little cheaper.
Rebag is a great example that will appeal to the affiliate market with tote and clutch bags from global icon brands such as Burberry, Bvlgari, Cartier, Chanel, Dior, Dolce & Gabbana, Prada, and Rolex, among others. It also sells high-end fashion shoes, jewelry, apparel, and watches.
Typical products have a high price tag, but that won't be a problem for the fashion-focused affiliate with the appropriate audience wanting the latest in fashion trends, and what the stars are carrying their makeup in.
Affiliates will find that Rebag's affiliate program can generate high commissions thanks to a typical order value of over $1,000. There is plenty of money to be made from fashion-conscious eCommerce customers.
For collectors or those wanting an upgrade, they can also resell unwanted high-end fashion products through the store, creating a keen second-hand market that can prove just as lucrative for affiliates. And this means that people in this market do not need to create their own eCommerce store to compete.
Affiliate Operator: ShareASale
Cookie duration: 15 days
Commission: 5% up to sales of $4,000 (3% for over)
Payment terms: 30 days
Benefits of using Rebag's affiliate program:
Provides an accessible approach to fashion eCommerce
Endless opportunity and value from the resale market
Negatives of using Rebag's affiliate program:
High-ticket items that have a very specific audience
eCommerce Affiliate Program FAQs
1.     Why choose affiliate eCommerce marketing?
A key reason for choosing eCommerce affiliate offers is that it is a massively growing market that is predicted to grow at 27% CAGR to reach annual revenues of $1.6 trillion by 2030. By establishing yourself well in this space, you stand to earn your piece of this gigantic growing pie.
For product-focused content or sites, affiliate eCommerce marketing is a great way to monetize your audience with products they are most likely to want. Whether your site is full of blog posts, reviews, photos or videos, etc. products that relate to that content will have a greater prospect of attracting sales.
2.     Is affiliate eCommerce profitable?
Some 81% of brands use affiliate marketing, and the overall market was worth over $21.6 billion in 2022. That's plenty of legroom for affiliates either experienced or new to the marketplace to find their niche and earn commissions.
How much you will make is down to the amount of effort you put into creating content and marketing that will attract and engage an audience. With traffic flowing, you then need to focus your attention on constantly optimizing to find which marketing techniques and products convert best.
The bottom line is that eCommerce affiliate marketing has massive profit potential, but like anything in business, you need to do things the right way and with diligence to reap the rewards.
3.     How do I create an affiliate eCommerce site?
This can be as simple or complex a process as you need. There are plenty of website creation services available like Wix, Shopify, Squarespace, and others.  All of these services use simply drag+drop tools that allow anyone to build a website.
If you are a little more technical and want to use an open-source CMS like WordPress, there are plenty of powerful eCommerce plugins you can use such as WooCommerce.  WordPress is a fantastic platform to learn as it will give you plenty of flexibility, and with the plethora of plugins, you can really use technology to your advantage. Best of all, WordPress is free, and you can get started with low-cost hosting for less than $10 per month.
The alternative to the above is to build the site from scratch by hiring designers and developers. This will be the most time-consuming and expensive. However, you then have the option to create everything exactly the way you want.
4.     How do I use my eCommerce affiliate links?
The first step always will be to log into your affiliate account and find the eCommerce offer you want to promote. Then, select one of the banners or text links for the offer and you will see some strings of code, they could be as simple as a URL with some extra unique number/letters attached to the end.
Always copy the entire code and do not edit it or it may not track properly. If you are using a text link, it is as simple as just linking some text to that URL. You can use it on your site, social media, guest blogs, PPC ads, or anywhere you like.
If you chose to use a banner, Smartlinks, video, or any other type of creative, you will notice a longer piece of code than the above text link. This code will need to be implemented into your site in the places you want the ads to show.
Whatever option you choose to implement your links, always test afterward that they are working i.e., redirecting to the merchant without any issues and that they are tracking to your account.
5.     How do I use Shopify as an eCommerce affiliate dropshipper?
Shopify is a global eCommerce platform. It enables anyone to set up an eCommerce store or online shop. Shopify enables entrepreneurs to start with minimal overheads and create a good-looking store with checkout and other features.
The dropshipping part of the equation provides affiliates with the option to sell products with access to order fulfilment services. For example, you can create a store selling tech products made by a Chinese brand or cosmetics from South America and use drop shipping to deliver them to customers around the world.
With much of the process automated, including packaging and delivery, you can run a store without ever having stock, a warehouse, or needing transportation. Even returns and cancellations are largely automated.
This explains why dropshipping has become such a phenomenal growth industry and is ideal for those not satisfied with plain affiliate marketing who are keen to step up to something with greater earning potential.
6.     Can I use Amazon affiliate eCommerce links on Shopify?
If you want the best of both worlds, yes you can put Amazon affiliate links on Shopify pages, as long as your store page is approved by Amazon, and the links go to Amazon stores. Note that you will have to link ads country by country, depending on which Amazon store you intend to promote.