Dieting and health are hugely popular affiliate segments, especially around the key seasonal events of New Year when people make resolutions to go on a diet, and in time for summer when the push for that "beach body" is on.
People are more likely to search for typical diet terms around those times. But for many health and other reasons, diet aids and supplements are in constant demand. Dieting trends come and go, but the move to Keto is among the most consistent in recent years.
Across the history of diets, there have been plenty that rely on a slow-and-steady approach (and a lot of determination), some on fasting or a focus on cutting out particular foods, but Keto has plenty of science behind it and many advocates.
The basic function of a keto diet is to starve the body of carbohydrates (aka carbs, typically, starches and sugars found in bread, cereals, sweets, soft drinks, and more). Doing so causes the body to start burning its fat supplies. Burning fat in the liver produces ketones as fuel, hence the name Keto diet.
Keto diets are great for diet and health affiliate marketers, as the science is more than just counting calories. To achieve ketosis, the number of carbs needs to be severely restricted and there are plenty of diet offers that use mobile apps to calculate, or a range of gadgets to measure them.
To encourage people to avoid carbs, keto diets recommend foods like:
Meat
Eggs
Seafood
Avocados
Vegetables
Nuts
Dairy
All of these can be promoted alongside keto diets, along with exercise equipment, sports clothing, and accessories on blogs and health sites. This works as part of a balanced approach to marketing and encouraging people to take positive steps in their lives. With a steady stream of people always looking to start a diet, health, diet, and Keto content will always be in demand and can deliver strong results for affiliates.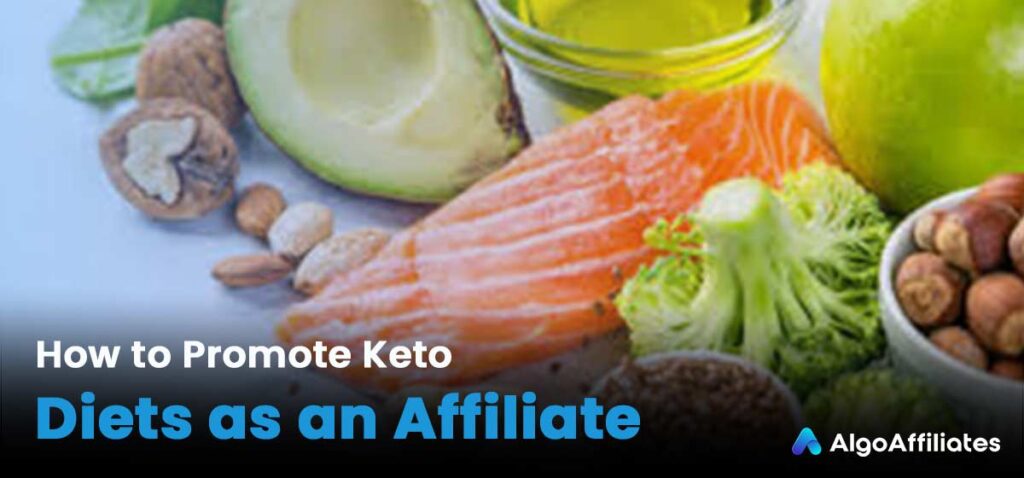 How to Promote Keto Diets as an Affiliate
Naturally, this popularity, and the hype behind Keto, means there are many affiliate marketing programs that provide Keto diet affiliate offers. Keto diet brands want to promote their products to a huge audience, and affiliate programs large and small are also keen to get in on the action.
This list provides a guide to some of the leading and new players that should be able to deliver great results with some strong affiliate work. Check out these ideas for keto affiliate content:
Check Google News for the latest about keto, including new products, celebrity users, and related trends. Repurpose that content for your own site and add even more value for your audience.
Cover the struggles of fitting Keto goals into a real-world diet.
If you have succeeded using Keto, then use your own stories to inspire others.
Look at the different combinations of diets to broaden the content and add value.
Provide practical suggestions including realistic goals.
Explain the science in plain terms for people who don't "get" science.
Finally, do not pretend to be a health expert unless you have the qualifications to back it up.
Once you have the content in place and are building an audience, you can sign up for affiliate marketing programs. Explore and use their keto offerings to interest your audience and drive sales.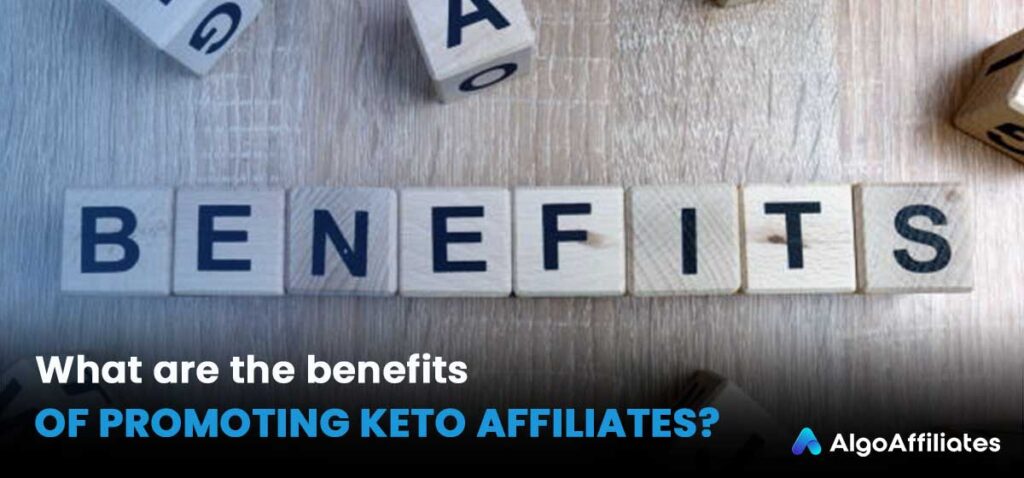 What are the benefits of promoting keto affiliates?
One of the major benefits is that several of the affiliate programs are happy to send out samples and tasters, to help you create content around their products that go into the taste, smell, and sense of well-being, rather than writing about them in the abstract.
Also, diets in general see strong seasonal searchability and discovery as people look to get ready for key seasons. This means sites with strong content and a positive message should find plenty of readers to convert those adverts into affiliate sales.
The dieting niche has always been popular and will continue to be as more people across the globe join the trend of healthy and sustainable living. Keto is a science based approach for weight-loss, so as an affiliate you can have confidence that you are promoting something that is proven, and not just trying to flog some other fad product that is more hype than based on science.
What are Issues that diet bloggers should avoid in their content?
The commonsense approach is to only talk about the possibilities of a keto diet or your own experiences. Do not try to sound like a health professional or try to make health claims on your content that are unsubstantiated.
It is vital to ensure that your content is fact based and while you may be tempted to "hyperbolize" things to create hype to drive sales, do not make false promises. It would also be prudent to include some sort of disclaimer that for example, people with pre-existing health conditions should consult their doctor first before embarking on a diet.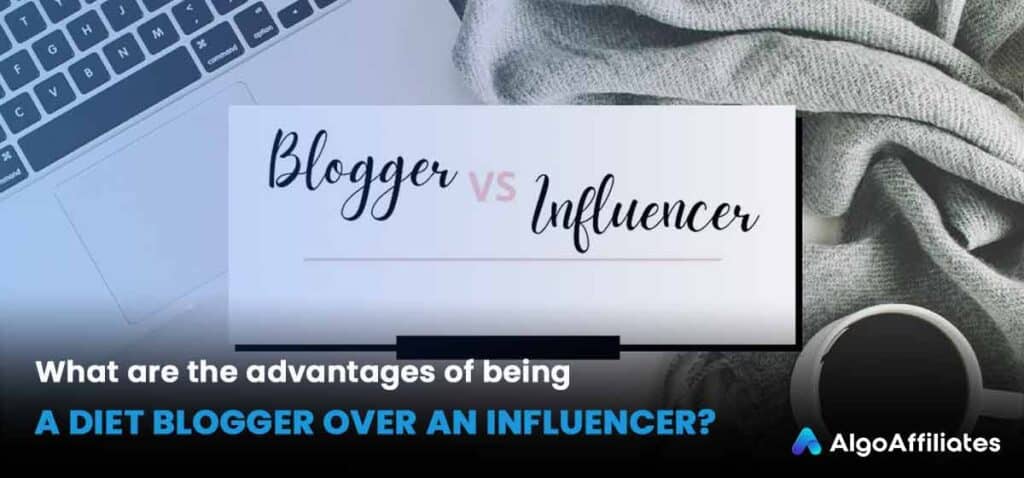 What are the advantages of being a diet blogger over an influencer?
Influencers put their own image and brand in front of anything they promote. That means that if they go on a diet and then fail at it, followers might consider their image (and the brand of keto diet they are promoting) tarnished. In the same breath, if you are an influencer, you need "lead by example", so you can't do things like show videos of you being totally overweight and then try to convince others the diet works. Bloggers essentially have the advantage of not having to reveal more than what they post on their blogs.
However, a blogger, especially general health bloggers can go through the positives and negatives of a diet or health product and talk about the failures through a more balanced perspective. Always remember that one of the most powerful marketing approaches is to sell the benefits and not the product. For example, you don't need to constantly emphasize "weight loss" but rather the benefits such as feeling healthier, having more energy, lower risk of diseases, etc.
How do I apply for a keto affiliate marketing program?
As you will have seen from the above list, some brands run their own affiliate schemes. You apply directly and are more likely to be accepted if you have a strong content site focused on a health, diet, or lifestyle interest area with a decent audience. They will likely turn down spammy or overly promotional sites.
Affiliate networks on the other hand are more likely to accept a wider type of blog or content site and will offer a wider range of advertising for the affiliate to use. Affiliate marketing networks have greater power to deliver more valuable and interesting offers that can help the affiliate generate a regular and solid, if not spectacular, income.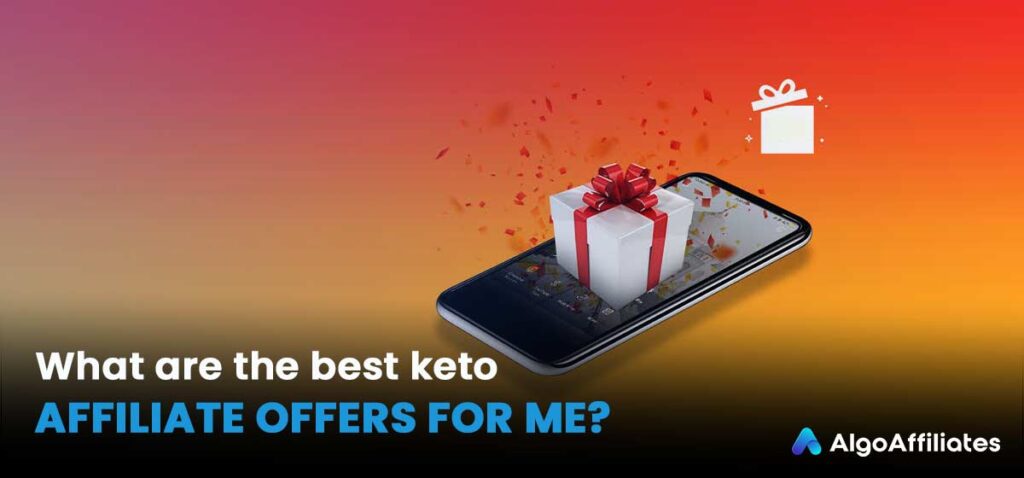 What are the best keto affiliate offers for me?
The ones that sell the highest-value products or have a strong subscription element are more likely to deliver the best sales and financial results. But always be prepared to focus on any keto service, product, or diet innovation that links to a celebrity or a trend that can deliver extra search value and strike a note with your audience. Finally, as dieting is about incremental gains (well, weight loss) be happy to accept small but regular commissions on lower-value health products that will always sell consistently.
While the advice above may give you some direction, when it comes to performance marketing, you have to consistently be testing offers, tracking performance, and optimizing your marketing. So, to answer the question of "what are the best keto affiliate offers", the answer is the ones that deliver results. What may work well for a particular website or geo, may not be optimal for your web properties or target markets.
Top 13 Keto Diet Affiliate Programs
Keto affiliate offers are some of the lead performers in the massive weight loss market with a large ecosystem around the actual diet. Affiliate programs provide ads linking to subscriptions for diet programs, meal packs and diet plan concepts, health supplements, books, and the wider health market. Check out our guide to the most promising diet products and services, to help identify the best options that resonate with your audience.
Whatever your health or diet site, getting in on the keto market through affiliate programs should deliver great results and a steady stream of new business.
1.    Green Chef Keto Affiliate Program
In the modern, busy, world, many people do not have the time to create their own meals, especially when it comes to crafting the nutritional requirements of a Keto diet. Just as there are plenty of almost-ready meal providers out there, Green Chef Keto provides pre-packed meals that subscribers can cook and enjoy, getting all the benefits of great organic food while their body works hard on the Keto diet part.
Green Chef offers around 30 different meals from $5.99 with discounts and plans for different numbers of people and meals per week. The affiliate program, managed by CJ Affiliates, offers affiliates $15 per sign-up. There is plenty to talk about, such as tasting and reviewing their meals, promoting the gift cards, or talking about the new meals as they arrive on a weekly basis.
Additionally, the service provides Paleo diet boxes and vegetarian and premium meals among others, so you are not constrained just to the Keto message and can promote Green Chef to a wider audience.
Operator: CJ Affiliates
Commission: $15 per sign-up
Cookie duration: 7 days
2.    Perfect Keto Diet Affiliate Program
It is hard not to want to work with a brand name like that, and Perfect Keto has plenty of scientific backing behind its range. Perfect Keto offers low-carb meals, snacks, and recipes to go along with your audience's main diet offerings.
The range of products helps users remain in ketosis while keeping the munchies at bay, and Perfect Keto runs its own affiliate program. You need a minimum audience of 5,000 monthly unique visitors in order to sign up for the Perfect Keto affiliate program and get from 15% up to 20% commission based on performance. Perfect Keto also gives you free products to try, great for building content, and special prices for your audience along with other goodies.
The brand also sells oils, powders, and supplements, and there is plenty of activity with new products appearing all the time. Five-figure monthly incomes are possible for the leading affiliates, and as keto continues to boom, you could also start pulling in big fat commission checks.
Operator: Perfect Keto
Commission: Up to 20% commission on sales
Cookie duration: 30 days
3.    Algo-Affiliates Keto Affiliate Program
While there are plenty of dedicated keto brands out there, lots of affiliates are looking for broader offerings from a range of providers. To simplify that process you could work with a performance marketing network like Algo-Affiliates.
As performance marketing network specialists, we do all the hard work and present you with some of the best keto affiliate offers, eye-catching creatives, and perfectly optimized funnels across the diet and health niches, so you can find plenty of offers for your audience.
There is a range of revenue opportunities from keto diets, health, and nutrition, with adverts targeted at different regions, and new products regularly available.
Our easy-to-use dashboard shows what's on offer and how your campaigns are performing, plus there are various tools, such as Smartlinks to boost your performance.  Free to join, we provide on-time payments, excellent support, and highly competitive rates.
Operator: Algo Affiliates
Commission: from $0.50 to $60 CPA
Cookie duration: 30 days
4.    Joel Marion 14-day Keto Challenge Affiliate
Some people need a bit of shouting at to get moving on their diet and the Joel Marion challenge looks, even from the advert like a drill instructor-led approach. Joel is a certified nutritionist and has a thing about the French Paradox diet.
The Keto Challenge affiliate is managed by Clickbank, and the end result is a challenge that upsets traditional keto thinking by mixing keto and carbs, with life-changing information available in the eBook, downloadable for instant consumption. Note, Joel has sold a lot of diet books over the years!
This hard-sell approach does put the onus on your audience to get cracking and lose those pounds, but some people benefit from that type of incentive, along with all the shouty language in his promotional material.
Operator: Clickbank
Commission: Varies
Cookie duration: 90 days
5.    Nutrition Forest Diet Affiliate Program
As a retailer of vitamins, herbal extracts, and metabolism boosters, Nutrition Forest has the extras anyone on a keto diet needs, all FDA-approved. They sell a keto diet supplement that helps to prevent fat from forming, burns it faster, and claims to help improve sleep and control appetite.
The Nutrition Forest affiliate program offers 15% commissions on sales with 14-day payment terms, and the products will appeal well to those looking to boost their keto diet performance. All applications for the program are thoroughly vetted to check if you are suitable, but they are welcoming to new content creators and bloggers in the health space.
Operator: ShareASale
Commission: 15% commission, up to 25% for referrals
Cookie duration: 90 days
6.    Lumen Metabolism Track Affiliate Program
For some people, a diet book and some recipes are not enough. Nowadays, many people want technology to guide them and track their diet and help them meet their goals. One of the newer gadgets on the market is the Lumen metabolism tracker, an ideal affiliate product on any tech-focused or gadget site, as well as for those focused on traditional dieting.
The Lumen claims to be the "first device to hack your metabolism" but in reality, it just speeds up the process of getting a ketosis result. Based on that it can personalize your diet recommendations, but the rest – as ever – is up to the person.
But as an affiliate product, it hits a lot of a marketer's dream goals, tech, lifestyle, diet, and personal ambition. And, best of all Lumen's $299 for a 12-month subscription pricing means great potential for long-term revenues.
All of that power is woven into the site, glossy recommendations from big names, and polished affiliate materials. The affiliate program is free to join, with monthly payments and support to help boost your income, with additional benefits for high performers.
Operator: Lumen
Commission: Varies
Cookie duration: 30 days
7.    Kiss My Keto Affiliate Program
One of the struggles that early keto diet adopters found was the lack of snacks and sweets they could eat. Of course, it didn't take long for someone to come up with a few nibbles, and one of the most successful is Kiss My Keto and their gummy snacks, chocolates, and other keto goodies.
With the Kiss My Keto affiliate program from Refersion, affiliates get personalized promotional codes, 10% off codes to share with their audience, and stylish content, with fortnightly payouts and a 20% commission on sales.
Affiliates can earn long-term revenue if they get people to subscribe to Kiss My Keto's subscription delivery offers. Flexible schedules and orders should make this a service that lots of dieters will be interested in.
Operator: Refersion
Commission: 20% on sales
Cookie duration: 365 days
8.    Konscious Keto Affiliate Program
Artificial intelligence (AI) is pretty much everywhere these days, and it was inevitably going to get used in the latest batch of diet products to help sell them with a technological angle. Konscious Keto is branded as "The first system in the world to combine AI diet technology with advanced keto supplements and personalized coaching" which should excite those who appreciate smart help with their diets.
What that means, in reality, is that the "AI" helps formulate a meal plan according to each user's goals and dietary likes. This makes for a good way to lure people into subscribing (US and UK) and then buying all the Konscious Keto meal plans from $75, and a range of products from the store.
The Konscious Keto affiliate program is run by FlexOffers and a few other affiliate networks, typically offering a 5% commission on sales. Talking about the plan calculator would be the best way to get people interested.
Operator: FlexOffers
Commission: Varies
Cookie duration: 30 days
9.    Tasteaholics App Affiliate Program
Another app-based effort at dieting, the Tasteaholic's Total Keto Diet app offers a range of low-carb Keto and Paleo recipes, guides, and weight control tools, all delivered through an iPhone or Android apps that have good reviews on their app stores.
Anyone who has used a similar app will have seen the benefits of counting calories, but this moves the idea onward with a keto focus and plenty of advice for subscribers. Features include a macro and exercise tracker, and custom Keto meal plans with access to thousands of recipes. Plus, the inevitable keto calculator, shopping lists, and beginners' guides.
The subscription-based service provides diet plans to help your audience achieve their goals on their keto diet journey. Affiliates can join Tasteaholic's partner program and benefit from 50% to 60% per referral, 90% upsell rates and fast payments. They also promote custom Keto Meal Plans and the "Keto in Five" digital cookbook series for plenty of variety and consistent results.
Operator: Tasteaholics
Commission: 50% to 60% commission
Cookie duration: 30 days
10.Keyto Weight Loss Affiliate Program
Mixing the gadget and app approach, Keyto offers a 16-week course to help lose weight through the app and measurements taken via a breath sensor. This hi-tech approach is highly marketable and has expert advice to deliver a custom program that should help shed the pounds.
All of this costs around $150 and the Keyto affiliate program provides a 10% commission. It is operated by Refersion and there's plenty to talk about with the sensor helping show the body's reaction to different foods and how they affect ketone levels, something that many would-be dieters would love to use.
Operator: Refersion
Commission: 10% of each sale
Cookie duration: 30 days
11.Keto and Company Affiliate Program
Operating across three brands, Keto and Company have a great deal to offer the diet affiliate, with a large range of products and lots of marketing activity. The primary focus for dieters is likely to be the Keto and Co online store, full of ingredients and recipe packs to support those on a keto diet. With detailed breakdowns of the keto and carb value of each product, there's a slick look across the sites and plenty of value in the form of recipes, deals, and advice.
Also of interest will be the meal shakes site providing fast nutrition. Sign up for the affiliate program and get a 10% commission from both stores. Additionally, there is a $25 bonus for any first order over $50, which is pretty easy to manage given the cost of some of the products, and the higher-value bundles on offer. The program pays out on achieving $100 in commission.
Operator: Refersion
Commission: 10% of each sale
Cookie duration: 30 days
12.Bulletproof Keto Affiliate Program
Bulletproof looks like it started out selling focused on high-performance coffee blends but has expanded into Keto with ideas like the Keto Frozen Hot Chocolate and other appealing ideas. Subscribers can save 20% on their orders, making it a tempting-sounding proposition for affiliates to promote.
With a bunch of clever keto-friendly ideas like keto popsicles, along with appealing sounding coffees, Bulletproof-branded accessories, and other goodies, this is a high-value brand that does plenty of business through the Impact-managed affiliate program.
Affiliates get monthly payments, daily updates, and commissions are a tiered percentage of sales, with plenty of high-value offers.
Operator: Impact
Commission: 10% of each sale
Cookie duration: 120 days
13.Predator Nutrition Affiliate Program
At the apex of the health world is the body-building market, and UK-based Predator Nutrition caters to the people who pack away keto power for breakfast, lunch, and dinner. They sell high quantities of keto fat loss, endurance-boosting, and recovery-improving powders for the fitness market along with pancake and brownie mixes.
Their affiliate scheme offers a range of commissions, with a typical order value of £75 (around $92) across a huge range of products. With strong advertising materials, this is an ideal affiliate program for those looking beyond dieting into the fitness, performance, and health market.
Operator: Predator
Commission: Various commission
Cookie duration: 30 days
Summary
These affiliate programs should give you an idea of the best of what's available to promote alongside your diet blog or content. There are plenty of other brands with similar offerings and their own affiliate programs that you might want to check out. One might offer a slightly better value proposition over another, or one might have better, newer, content, it all depends on how you want to engage with your audience.
One thing is true of dieting, the market never stops evolving and technology is increasingly involved, so keep checking to see what 2023 and beyond offers as the keto market moves on and new ideas come to the fore.