Travel and tourism are firmly back on the agenda for 2023 after the rough pandemic years. This creates great opportunities for affiliate marketers to build content with affiliate offers to highlight the best travel deals, or tempt customers with vacation hotspots, corporate travel, cruises, and boutique destinations as people look beyond their backyards for pastures new.
Reports suggest that the travel and tourism industry will boom by some 30% in 2023. While still below pre-pandemic levels, the figures are approaching normality after some devastating years for the industry and show that consumers are happy to spend money to find sun, relaxation, and new adventures.
From flights and hotels to car rentals, package holidays to accessories, river and ocean cruises to new destinations, most players in the travel and tourism industry spend a fortune on marketing, trying to reach a wider audience, something affiliates, new and experienced, are well-placed to take advantage of.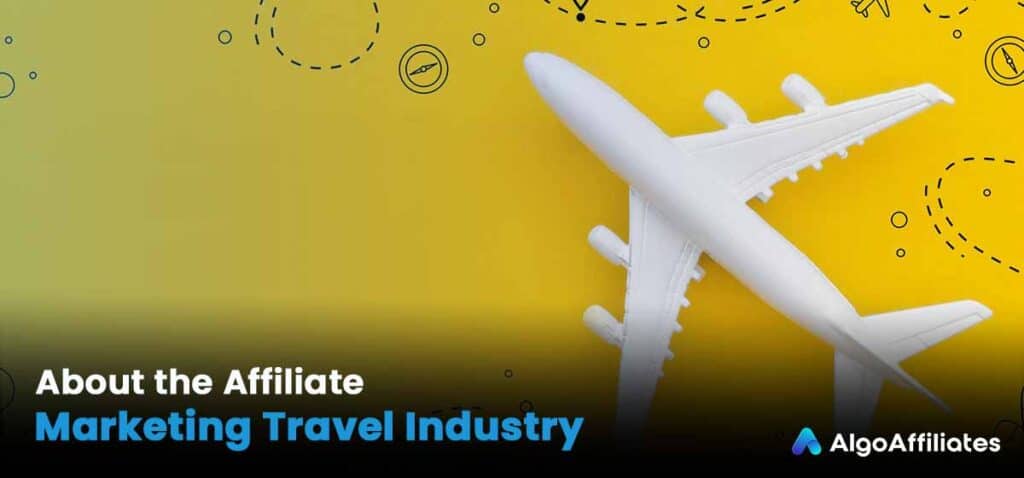 About the Affiliate Marketing Travel Industry
Across all popular marketing channels, the travel industry spends huge sums on online adverts. Most of these are ignored by consumers browsing the internet as they appear alongside general news or random content.
Travel programs love working with travel affiliates as they address an audience keen to go places, are happy to book deals online, and looking for the next great destination. By writing about travel, holidays, and a recovering industry, affiliates can earn a profit from every referral or booking.
Eager affiliates can take a piece of the soon-to-be $1 trillion travel industry pie by working with travel and hospitality affiliate programs, and affiliate networks that work with multiple industry partners. They provide affiliate offers that you can use with blog content, travel news, influencer videos, practical guides, and social media posts.
Commissions range from 5% to 40% depending on the travel product the affiliate offer is for. That can grow depending on the affiliate program you work with, and your relationship and experience with them, with better offers for top performers.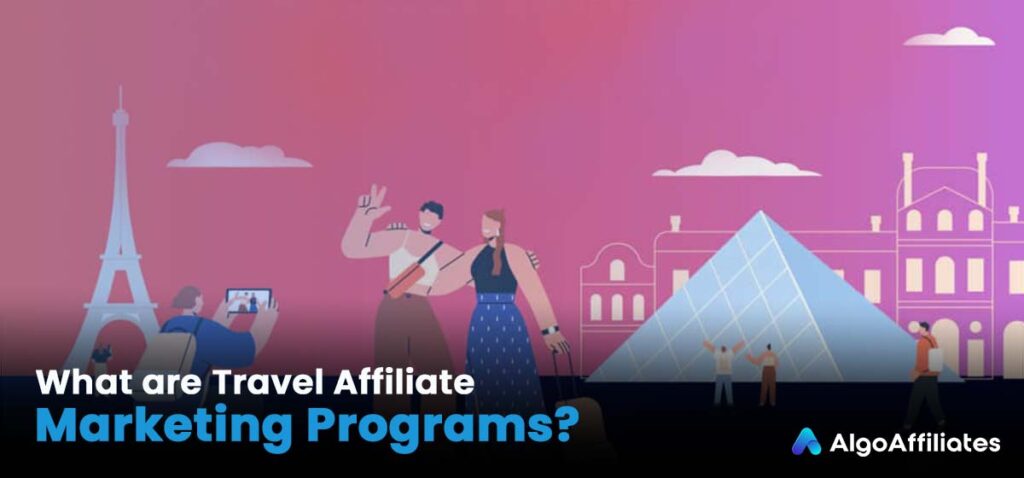 What are Travel Affiliate Marketing Programs?
Travel affiliate marketing programs are used by those in the travel industry to work with travel and tourism content creators, bloggers, and influencers to promote travel products to a keen audience. With a regular stream of new and last-minute offers, it is an exciting niche of the affiliate industry to be in and constantly changing with the seasons and trends.
The programs provide affiliate offers that deliver the latest bargains, destinations, and other products essential for good travel. These can be links in affiliate content, banner ads, landing pages, or video content.
The travel industry knows they will get a better response by talking directly to people interested in travel, so the deals are often better than generic adverts that you might see on CNN and other sources.
When a consumer buys a flight, holiday, insurance, or a package trip, the travel vendor shares some of that revenue with the affiliate network and in turn with the affiliate as commission to encourage more content and affiliate offer sharing, creating a virtuous circle as peak tourism seasons come and go.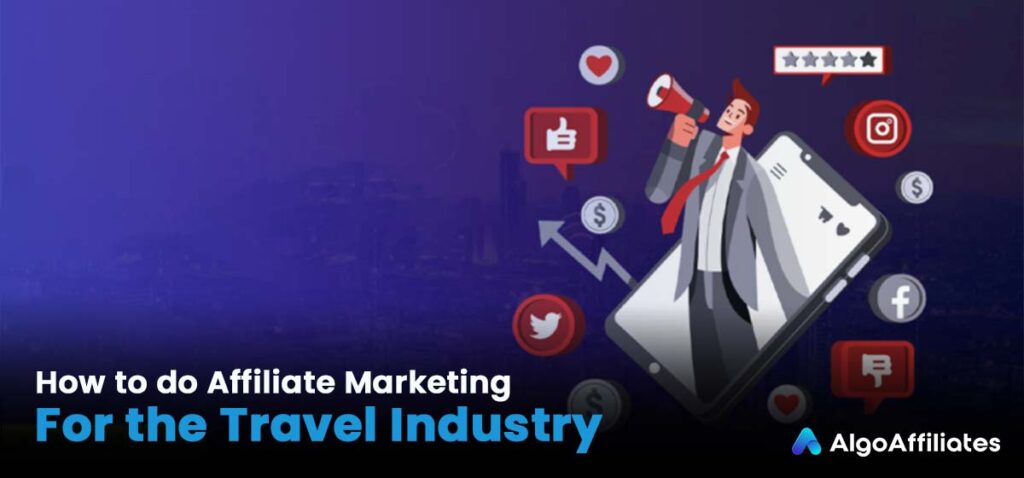 How to do Affiliate Marketing for the Travel Industry
The key to any affiliate marketing is research. You need to find out what the latest trends are, and create websites, apps, or content that engages a specific audience for each affiliate network, program, or offer that you plan to use. Also, study industry terms, notably "family fare upsell" where travel brands get customers to pay more for an upgraded travel experience.
You might create a very generic holiday offers site, one that shares the latest news and laces those with cpa affiliate offers. This will appeal to the broadest audience, delivering a high volume of clicks on those affiliate offers.
Another idea is, you could create content that focuses on cruises for the older market, who are becoming more active online, and focus on affiliate offers to provide cruise deals out of Miami, the Mediterranean, or other hotspots. You might get fewer clicks from this smaller audience, but the value of their bookings, and therefore your affiliate income, can possibly be higher.
During your research, you might want to ask:
What are the most popular vacation types?
What travel niche seems to have the least competition?
Should I work within my own country or look further afield?
Which airlines, travel companies, and brands spend the most on advertising?
Should I focus on my own experiences as a traveler or build all-new content?
What are the industry influencers talking about?
What should I plan to cover in 2024/25 as the market recovers further?
Factor those into your planning and you will have an idea of a content plan, an affiliate marketing strategy, and a list of brands you will want to work with. As an affiliate, you might find that various brands have minimum requirements (audience, value, engagement) before they will work with you, so be creative and plan to work up that value chain.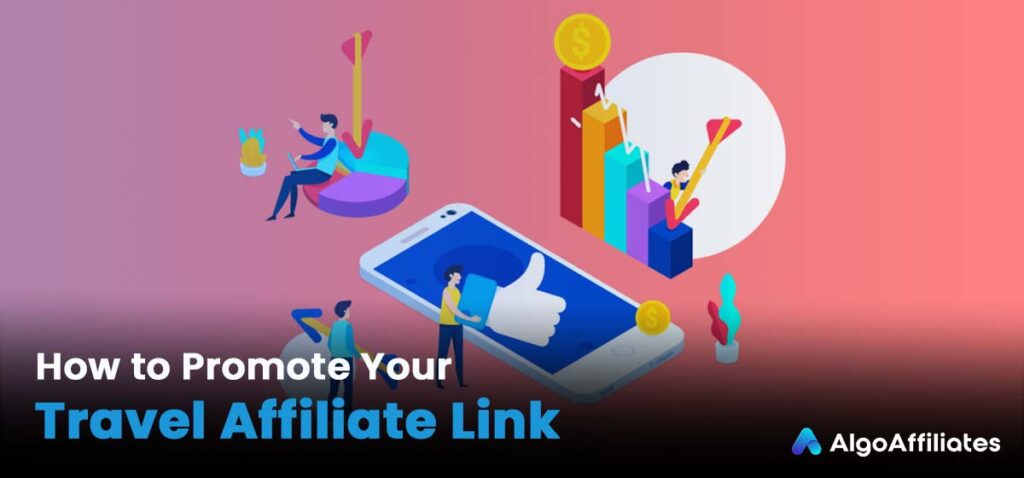 How to Promote Your Travel Affiliate Link
Once you have the content in place and have signed up with some travel affiliate programs or networks, you will have a series of affiliate offers ready for an audience. Aside from organic growth from search results, you will want to attract an audience that wants to click on those links and complete travel purchases.
You can drive traffic and revenue by sharing your links across social media networks including Twitter and Instagram, with appropriate use of images. You can link to your affiliate offers through chat and forum discussions or create videos about the feature of travel being discussed and share them on YouTube.
Other ways to promote links include creating an email newsletter, sharing links with other content creators, and possibly your own paid advertising. But do be aware that many affiliate programs forbid affiliates from competing on paid search terms for their key properties.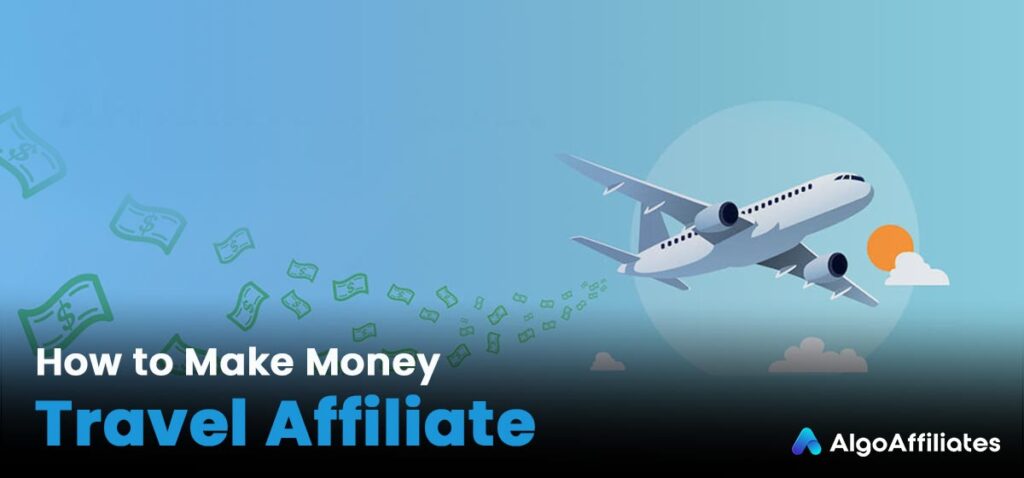 How to Make Money as a Travel Affiliate
During the research phase, you should have identified how much commission you can earn across a range of low, medium, and high-ticket affiliate offers. You can use keyword research to identify strong keywords and terms to promote offers, and will quickly learn what types of content work best to deliver conversions.
When live you should check the performance of your affiliate offers regularly. And keep checking in for the latest affiliate offers and best deals, likely across several affiliate programs, to ensure the best and freshest deals are live on your site.
Finally, remember to establish how much your efforts cost, in terms of time and money spent, and if you are not earning enough affiliate revenue, you will need to rethink your approach.
If the offers convert well but you are just not driving enough traffic, then you will need to scale up your traffic. If the offers are not converting well, then swap them out for new ones. Data is the only truth when it comes to making performance marketing decisions, so don't allow your emotions or gut feelings to cloud your vision.
The 20 Best Affiliate Programs for Travel Bloggers and Content Creators
With all that under consideration, the following provides a breakdown of the affiliate value you can earn from the leading, newest, and most competitive travel affiliate programs and networks. Work with the ones that fit your focus, or a number of them to deliver the offers that your audience is most likely to respond to.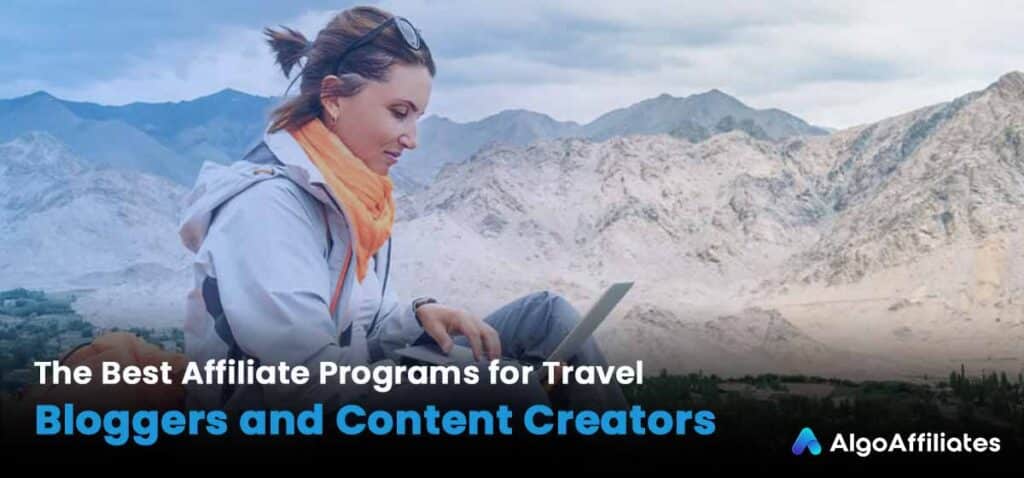 1. High Ticket Travel Affiliate Program: Travelpayouts
Providing multiple offers, Travelpayouts' affiliate program, works with major brands in the travel industry including the likes of TripAdvisor, Expedia, and Booking.com as well as more niche travel agents that can provide you with more bespoke and engaging content. With flights, hotels, car rentals, insurance, tours, and activities, there is something for everyone to develop strong content offerings.
A more established affiliate program, Travelpayouts has plenty of benefits for high-performers to ensure you focus on their offers. Travelpayouts has paid out over $46 million in commissions, with a $13 million payout in 2022 alone highlighting the growth of the travel affiliate sector. It has a global focus with tools in over 60 languages to support all affiliates, with fast payouts once your account hits $50.
Examples of this perks-based approach include:
A basic commission is typically around 4% to 5%
A 10% boost for affiliates who earn over $3,000 per month
Custom commissions for high-volume affiliates.
And when you sign up, look for the many promo codes that could earn you up to 60% on your first commissions.
All of these combine for huge earning potential from the brands with high-value travel offers, or an endless supply of bargains that should provide high levels of completed bookings. And it doesn't end there with additional bonuses for affiliates.
If you talk about your affiliate experience with others, then you can collect a three-month 90% commission bonus. And, if you attract fellow affiliates and get them to sign up with Travelpayouts, there's an extra 7% of the revenue they generate for 24 months.
2. Travel Insurance Affiliate Programs: AIG Travel Guard
Not all travel affiliates need to focus on high-value travel and tourism that might have a slow pickup, especially during off seasons. As a good companion affiliate program, offering travel insurance through the likes of AIG Travel Guard's affiliate program is a great way to deliver a more sustained income, as everyone needs travel insurance.
The affiliate program, operating in conjunction with CJ Affiliates offers varied commissions per quote received, and encourages website and blog owners to use all site content to advertise Travel Guard products and earn lead referral fees.
And, as Travel Guard supports over 6 million travelers each year with coverage for trip cancellation, travel interruptions and delays, emergency medical expenses, lost baggage, and more, it is something every traveler needs.
3. Best Travel Agency Affiliate Program: Expedia
If you want to work with a single brand's travel affiliate program, Expedia is probably the go-to choice, as it dominates the online booking industry. Along with Booking.com, they claim around 92% of the US market.
Offering the full spectrum of travel essentials, including car rentals, flights, hotels, and package tours, Expedia got so big by buying many smaller rivals and works as a consortium of brands and operators, so you don't have to look like you are only promoting Expedia products. You can promote the likes of Hotels.com, Abritel, Stayz, and other brands too all from within the Expedia affiliate portal.
The Expedia affiliate program typically offers between 2% to 6%, with up to 11% commission on Expedia Premium Plus range hotels. Add car rentals, flights, insurance, and other elements into the mix and the cost of most trips can deliver a decent payout, and by working with such a giant, there is a constant supply of new offers to promote and discuss.
4. Best Travel Book Affiliate Program: Lonely Planet
People put a lot of time and effort into planning the trips of their dreams. Lonely Planet produces some of the best-known guidebooks, and the lonely Planet affiliate program offers a 15% commission on travel book sales.
The affiliate program is available globally and can act as a strong earner alongside higher-value travel affiliate offers. With popular guides covering New York, Japan, Italy, Paris, and Thailand, there's a world of opportunity for affiliates to discuss any of their own travel exploits in the content.
5. Best Off-the-Beaten-Path Travel Affiliate Program: Anantara Resorts
Not everyone wants to lie on the same beach, tour the same antiquities or traipse through the same fun fair as everybody else. If your audience wants to head to far-flung destinations across  Asia-Pacific, the Middle East, or Africa, Anantara is a major hotel group that serves those regions.
Affiliates can partner with the Anantara Resorts (Global) Affiliate Program, managed by Awin, to promote luxury resorts and earn a 3% commission on high-class vacations across the world on lush sandy islands, new world cosmopolitan cities, heritage destinations, and find uncharted beaches. Anantara Affiliates get links, well-designed widgets, and banners embedded with tracking codes or encoded links to help promote affiliate offers.
Available globally it offers visits to places including Vietnam, Indonesia, Maldives, Malaysia, Mauritius, Sri Lanka, and Thailand. Each trip offers world-class services and experiences. And with the average price of a trip at around $950, it can be a decent earner for affiliates.
 6. Best Airline Affiliate Program: Qatar Airways
Air travel is booming again, and while Qatar may be one of the world's smaller countries, its airline is a global top 10 player with a fleet of Airbus A380s and Boeing Dreamliners spanning the globe. The strong brand appeals to mid and high-budget travelers, which will help when it comes to your affiliate efforts.
The Qatar Airways affiliate program, managed by CJ Affiliates, delivers 2% commissions on each ticket purchased by a customer visiting their website from your affiliate links. It provides an affiliate support team to boost sales and discover new ways to grow your income.
While US customers may prefer homegrown airlines, Qatar flies to Doha from most hub airports, opening up a world of travel, including:
Dallas-Fort Worth
Houston
Los Angeles (LAX)
Miami
New York (JFK)
San Francisco
And, Qatar's planes are a common sight at most international airports around the world, delivering passengers in comfort. With the opulence of its upper-class cabins (seriously, you have to promote this or similar videos to your audience), the high ticket prices can make up for the low commission rate.
7. Best Travel Accessories Affiliate Program: Wanderlust
To make travel more comfortable, people increasingly like to take their little luxuries with them, and that can include bags and travel essentials that weren't picked up in a rush at the discount store and look like all the others on a baggage carousel.
Wanderlust provides boutique bags and accessories for those looking to travel in a little style and look good while doing it. Their affiliate program, aka Tribe, is ideal for affiliate marketers to co-promote alongside flights and cruises, adding value to your content and helping people think more about the luxury options available to them.
Operated by Shopify Collabs, the affiliate program offers commissions that are individually negotiated, with multi-stream collaboration opportunities, discounts for your audience, and features in their marketing for high-value content.
With bags priced from $100 up to $450, and with plenty of accessories to upsell, Wanderlust might not sound as enticing as high-price holidays. But as part of an affiliate strategy, it can keep bringing in revenue and creating an attractive talking point.
8. Best Travel Affiliate Network: Algo-Affiliates
At this point, you may have realised that you might need to sign up with a lot of different affiliate programs to create a rounded content offering with something for everyone in your audience. The way around this complex and time-consuming approach is to work with an affiliate network that can have affiliate offers from multiple brands and travel vendors, reducing the amount of effort you need to make.
At Algo-Affiliates, we offer a fast-growing affiliate network that has offers in several vertical markets, including travel, fashion, and insurance that will be of use to travel content creators. A mix of our affiliate offers creates a way for publishers to maximize their income and broaden their content.
With our performance marketing tools, funnel optimization, a commitment to strong business partnerships, and a focus on the details, we have an advanced network of high-tier offers.
Making use of our proprietary traffic monetization algorithm and smartlinks, your audience will see high-quality banner adverts and landing pages for the most relevant and best-performing links to match their needs. And with CPS earnings of up to 75%, you can earn extremely well.
9. Best Price Finder Affiliate Program: RateHawk
Not everyone wants to wade through pages of offers to find a flight or hotel. Instead, the likes of RateHawk let people type in their destination or needs and deliver the best prices and results for a set of dates.
RateHawk started its affiliate program in 2021 and offers 5% or higher commission on completed sales, with over 1.5 million hotels in 190 countries. With a simple link or widget, travel bloggers, startup travel agencies, and others in the trade can get consumers checking out their dream locations or urgent destinations with none of the fuss of other travel portals, and get alerts as prices go up or down.
10. TripAdvisor Travel Affiliate Program
TripAdvisor started out as a review site for holidays but has bloomed into one of the largest booking sites, with an all-encompassing travel portal spanning the globe.
The TripAdvisor Affiliate program, powered by CJ Affiliate, is focused only on the hotel side of the business. But, it takes a gentler approach to many, realizing that many consumers do their research well in advance of booking. Therefore, affiliates get paid for each customer they send to a hotel partner, and when they do book, it provides a typical 50% commission for affiliates.
TripAdvisor uses multitouch so that even if your audience uses multiple devices, you will still get the credit once they book. With great brand power, TripAdvisor can deliver up to 30% conversion rates.
However, it gets lots of affiliate applications, so it may take some time to get back to you. Even so, it welcomes low-traffic sites and social media focused creators, so should be well worth applying for and sticking with.
11. Best Low-Budget Affiliate Program: HostelWorld
Not everyone can afford or wants to spend a fortune on accommodation. If your blog and audience are more interested in a rough-and-ready approach to travel, carting a sturdy backpack, the hostel approach is highly marketable and opens up new destinations and routes.
The HostelWorld affiliate program, powered by Partnerize, should naturally attract the student, backpacker, and wanderlust audience. It provides affiliate offers with up to 22% commission on completed sales. And HostelWorld offers access to 36,000 properties in over 178 countries, with its own social media, plus hints and tips, for people headed in the same direction.
12. Best Boutique Destination Program: Time and Place Affiliate Program
For an audience looking for a quieter getaway, looking to get far away from the cramped hotels full of "other" tourists, there are plenty of boutique destinations offering small hotels, private properties or villas, and other escapes from the typical tourist traps.
Time and Place has over 20 years of experience finding just the right place for discerning consumers and focuses on luxury holiday homes around the world. Add in a concierge service to cater to the customer's every whim, and it is easy to see why this is a booming business. But it can be hard for consumers to discover, which is why Time and Place offers an affiliate program for content creators that match its aesthetic.
The Time and Place affiliate program offers 3% commissions, typically $300 per sale. It provides affiliates with regular exclusive offers, and your content can look awesome with professionally shot beautiful photos and insider information for each holiday home and destination to make them really appeal. And it pays commission 30 days before travel, unlike many affiliate programs that wait until the travel or holiday is over before paying out.
13. Best Experience Travel Affiliate Program: Viator
For some, there is nothing like coming back from a trip having done something amazing or unique. For those that seek unique adventures, Viator exists to deliver experiences, over 300,000 of them across 2,500 destinations for people looking for something a little different.
The Viator affiliate program is open to anyone and provides an 8% commission on all experiences with a 30-day cookie, and weekly payouts. From an epic dining experience to helicopter rides, from shark dives to sunset cruises in some of the world's most desirable locations, there is plenty to base your content on and promote a near-endless stream of events.
From Stonehenge to the Vatican, from Hawaii to Washington DC by moonlight, Viator creates great memories that you can share with your audience and drive potentially repeat business as they look for the next great experience.
14. Best Nearly-Forgot-That Affiliate Program: Amazon
Airports and hotels love to charge top dollar for those little, or big, things you forgot or realized didn't fit anymore the day before you travel. Amazon has the answer with next-day delivery to practically anywhere via its drop-off points that appear in business and transport hubs around the world.
The Amazon affiliate (associates) program is a great way for affiliates to remind people of whatever it is they could need for their next trips, such as a swimsuit or binoculars, a new camera, luggage, or personal security gear.
Take for example the luggage trackers that have become a must-have item to help find lost luggage. With a reasonable percentage on sales, typically 4% to 8%, and an endless supply of items you can mention on your pages or post as Amazon affiliate offers.
They are even more convenient as people can have them delivered to whichever airport or location they are headed to, making packing and preparing to travel less stressful.
15. Best Cruise Line Affiliate Program: Virgin Cruises
Rather than being cooped up in airports and planes, cruising is supposed to take the stress out of a holiday, and Virgin Cruises offers luxury around the world for customers looking to see the globe with plenty of fresh air and endless views.
Cruises sail around popular destinations like Florida and the Mediterranean, and further afield including the Indian Ocean and Far East. Affiliate links provide easy access to Virgin's cruise search engine, with cruise-and-stay or fly-and-cruise options available.
Virgins' cruising affiliate program, managed by CJ Affiliate, offers up to 2% commission on cruises, which might not sound much but given a typical cruise package starts at $4,000 and can go well over $40,000, there is plenty of upside for affiliates.
16. Best Skiing Affiliate Program: Ski France
Winter sports fans can argue over the best prices, but for most skiing in around France or Switzerland, it is as close as you can get to true skiing, from the alps ski vibe to the quality of the overall vacation experience.
Ski France offers an affiliate program, managed by Awin, along with Summer France so you can offer your audience trips all year round. Ski France is one of the larger rental providers in the country, with chalets, hotels, and villas on offer, depending on your family or group's needs.
The average booking for a Ski France vacation is around £1,100 ($1,330) and the 60-day cookie duration, regular booking incentives and great creative marketing materials make for a compelling offering for affiliates and their audience.
17. Best Flight Compensation Specialist: Air Advisor
The stress and heartache of missing a flight, and the subsequent haphazard attitude of many airlines to restitution sees flight compensation businesses booming. Affiliates can take advantage of this, mentioning such services alongside the promotions of flights and holidays with a note of caution.
Air Advisor offers a compensation legal service for delayed or cancelled flights. The affiliate program helps get the word out to people who might not expect or believe they are owed compensation, and affiliates get paid on the successful completion of a claim.
This could be a productive niche for affiliates in the travel content sector. And you can help spread the good news whenever poor or positive customer service outcome stories appear in the media.
18. Best China Tours Affiliate Program: TravelChinaGuide
With China and Hong Kong being extremely popular destinations, there is huge opportunity for Asian-focused travel. The Hong Kong government is offering 500,000 free flights to the region and China is keen to restore its tourist trade.
ChinaTravelGuide offers small group tours around the best parts of China and its affiliate program with "generous commissions" for group bookings. The company is celebrating 25 years of operations and has call centers in the US and Australia to attract western customers.
Individual day trips start from $89, but the major package tours can reach over $3,000 for a fortnight's trip around China. ChinaTravelGuide provides plenty of offers for affiliates, and if Chinese tourism continues to grow, it could prove to be a valuable revenue stream for travel affiliates.
19. Hot New Travel Affiliate Network: Mondee
Mondee's affiliate network is the new kid on the travel affiliate block, literally launching in early 2023. It is the latest offering of a major travel player that has acquired and launched many booking and travel brands over a decade of growth, with the parent company listing on NASDAQ in 2022.
Mondee has identified the content space (affiliates) as generating a strong supply of content that "narrowcasts to an opaque channel" (talking to a specialized audience). That provides a strong interest in perishable inventory (last-minute flights, soon-to-expire holidays), generating revenue from ancillary and fare family upsell (bargain prices to get customers to spend more).
Working with many major and experienced travel brands, including airlines, hotel aggregators, low-cost carriers, and many others; Mondee's affiliate network provides the tools for affiliates and travel agencies to generate sales and income from travel deals.
20. Best Bottom of the World Travel Program: Polar Latitudes
If your audience wants to go to the furthest corners of the world, that means the poles, and even with tourism on the rise, only a tiny fraction of people has seen either. Polar Latitudes offer incredible tours to the southern oceans, and experiences to match including camping and kayaking.
The Polar Latitude affiliate program offers around $3,600 per booking if you can attract the right type of audience with your content. And then there's all the extra warm gear and high-end equipment they'll want to take that you can mention through additional content offers.
While extreme tourism might not be for all, the number of tourists continues to grow and no destination is now considered too hot or cold, making it a smart niche for affiliates to pick.
Travel Affiliate FAQs
1.    What is a travel affiliate program?
Travel affiliate programs aim to put travel offers, typically flights or vacations, in front of eager consumers who are more likely to click on them than the general online audience. As the affiliate, you highlight the offers alongside suitable travel-related content and take a cut of completed flight or travel sales.
2.    Is the travel market a good affiliate niche?
While individuals might only book a few flights or holidays per year, there is strong repeatability across the traveling audience, and with millions of people starting to take flights and vacations post-COVID, there is huge market potential, and even a cheap trip or break can provide a strong ROI for affiliates.
3.    How should I promote travel affiliate offers?
There are so many options and strategies one can take when promoting travel affiliate offers, from blogging to reviews, PPC ads, paid ads, social posts, and more. If you are new to affiliate marketing, investing the time to learn different channels and techniques is essential for success.
Where possible use your own experience to highlight the benefits of an airline experience or vacation destination. A really effective sales technique is focusing on benefits or value the customer will get instead of just listing features. For example, if you are listing some features of a spa at a hotel, mention things like "you will get to relax and destress", customers can start dreaming about feeling chilled and happy.
4.    How do I discuss local/long-distance flights or holidays?
As with most affiliate markets, it is easier to talk about topics you know and understand, but the joy of travel is often about the exotic and the lure of far-flung destinations. If you are lucky enough to be close to a tourist hot spot, all the better.
As a content creator, you can take inspiration from hot destinations like Dubai, Singapore, and Australia, riffing on existing "top things to do" articles, or do plenty of research based on reviews, feedback, and promotional material.
5.    How much can I earn from travel affiliate marketing?
That depends on the effort you make in building and engaging an audience, but typical results can stretch from $200-$300 a month based on a few sales, up to $10,000 and beyond each month for those really delivering in their chosen niche or focusing on high-end travel.
No month will ever be the same, but affiliates that stick with the travel market will see strong cyclical activity around holiday periods. And, as they get to know what an audience wants from particular parts of the travel market, affiliate income should grow substantially.
Summary
These travel-related affiliate programs represent some of the best out there, but there are many more in sub-niches we have not covered, or that offer a slightly different service that might appeal better to your audience.
Working with a range of affiliate programs across multiple content types or sites can bring in a steady income thanks to the high-end nature of tourism and the high-growth of the industry that is expected in the coming years.